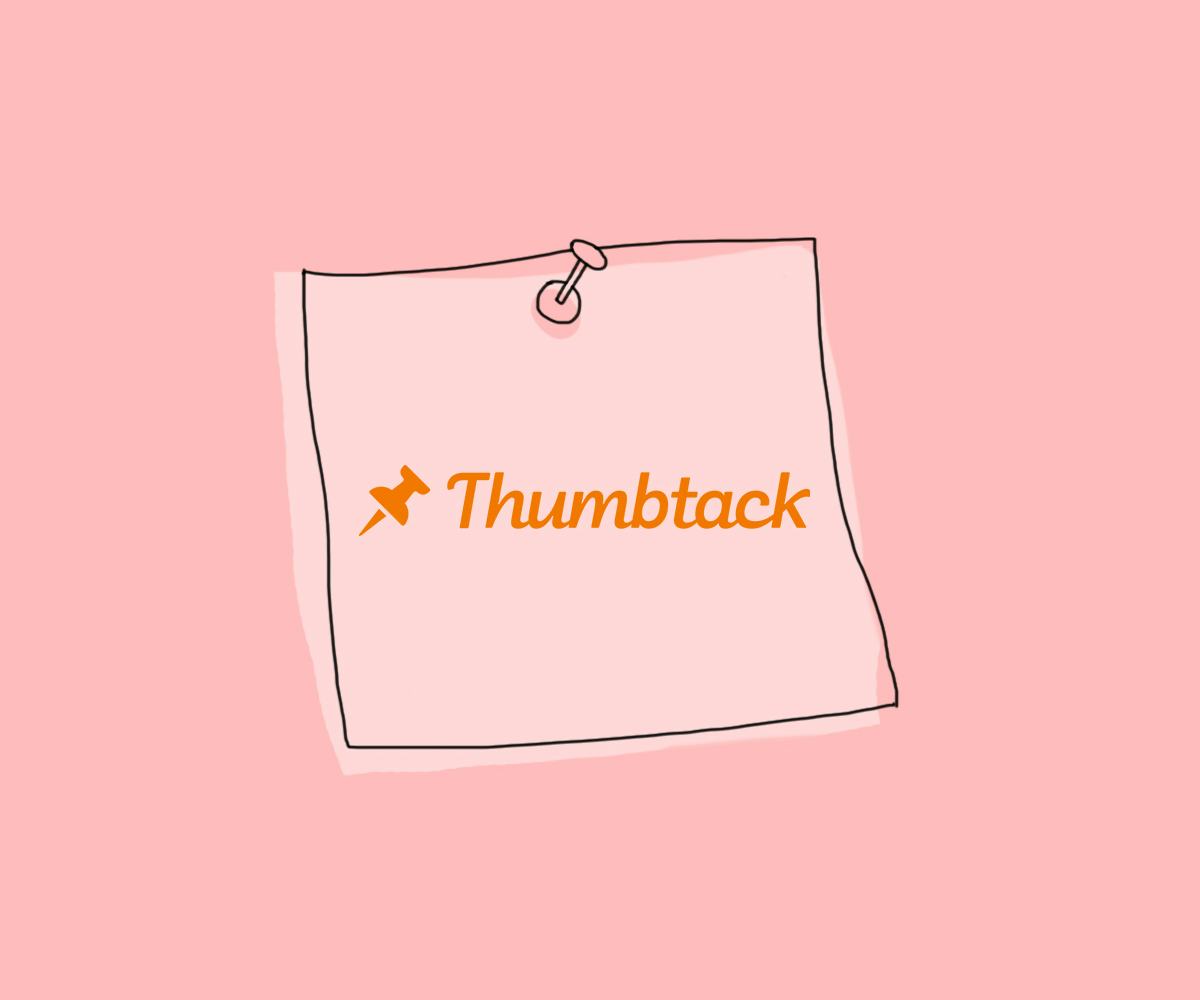 I Tried Thumbtack, And It's The Ideal Do-Everything Service For Millennials
And busy people and the holidays…
Necessity is the mother of invention. This was clearly the foundation for Thumbtack, an online service that matches customers with local professionals that "get things done." And by things, they mean everything. A hybrid of Craigslist, TaskRabbit, and Postmates, Thumbtack is a service made for the busy millennial—one who prefers not to email and to have all their services Uberized. With 1,000+ categories, Thumbtack connects people to a wide-ranging set of pros, including everyone from personal trainers and home cleaners to teachers (be it for music, calligraphy, or flower arranging), astrologers, and even wedding planners.
Mildly disappointed in the past with both TaskRabbit (proved too expensive for what I requested) and Postmates (there were crazy price minimums on things that I wanted) and not a little creeped out by hiring people off Craigslist (even though I was fine with scouting apartments there), I turned to San Francisco-based startup Thumbtack. Though it's been around for the past few years, Thumbtack flew under my radar until this summer, when I realized that my menial weekend chores were starting to transfer from one week the next—and then just never actually getting done. Generally a do-it-myself-er through and through, I was faced with a new realization (though not before my apartment underwent significant and unexpected construction leaving behind a mess and disrupting my gas and heat) that my time may be currently more valuable to me than money. Welcome to New York!
I first set out to find someone to clean my apartment. I am one of those people who takes pride in how thoroughly and meticulously I clean my apartment; I take several hours on the weekend to get into every corner and crease, and hate having strangers clean it for me because they never do as good job as me. (I know this because they never have, I've tried!) But given the mess caused by the aforementioned construction, I was too discouraged to attempt a huge cleaning myself.
So I turned to Thumbtack's homepage, where I had the option to type in the service I needed into the search bar. If you're uncertain of what you need, you can pick categories below the search bar, be it events (specialty acts, music entertainment, food, weddings, event services), home (house cleaning, handyman, painting, roof repair), lessons (music, sports, tutoring, language), wellness (massage, life coaching, relationship counseling, private chef), and more.
Settling on "house cleaning (one time)," I was next taken through a series of questions, from the size of my apartment (less than 500 square feet—again, welcome to New York!) to whether I wanted the inside of my oven cleaned (hell, yeah). After submitting my request, I was told that I would be getting custom quotes by email. Within minutes, quotes started coming in from professionals—and very reasonable quotes at that, some significantly cheaper that I've seen anywhere else. By the morning, I had half a dozen; based off of the reviews (provided by other Thumbtack customers) and prices, I narrowed it down to one pro. After sending a message on Thumbtack asking them about their availability, we quickly set up a convenient time for both of us. When it came down to the cleaning, the pro I selected did the best cleaning I have ever seen a stranger perform on my apartment. Not only did she have the exact same method of cleaning as I did (even down to the order of cleaning supplies used), but she also managed to put all my supplies back (without ever seeing from where I pulled them out or asking me where they go back) and switched out my bath mat (again without having to ask me and figuring out where I kept my clean ones). Be it simple luck that the first Thumbtack pro that I selected was a miracle worker or not, I now have a reoccurring person who is set to come in monthly to tidy my apartment, at a price I can actually afford, as I instead spend those two to three hours enjoying my weekend. 
Next thing I needed to tackle: closet space in my studio. My two tiny closets were overpacked, giving me more anxiety than any inanimate objects should, and I had no idea what to do with them. I repeated the same steps as above, this time looking for a closet organizer. After again filling out the questions (yes, I needed to reorganize my clutter; yes, I needed recommendations for storage products and solutions; yes, I needed to learn an organization strategy to follow in the future), I similarly got several quotes by morning time. Selecting a pro this time took me a little longer as I debated between going with a home organization company or an individual. I went with the one-person team based off of the positive reviews and fearing that the bigger company would mock my tiny space. Again we messaged each other over Thumbtack and decided on a time. And, again, my pro didn't disappoint. From color coordinating my clothes to maximizing my closet in ways I never knew possible, she tackled my entire apartment in less than two hours and left a list of products that would expand the space even further. It goes without saying that I gave both pros glowing reviews, a first for someone who gets annoyed even having to select the number of stars following an Uber ride.
The only inconvenient part of the experience is paying for the services, as there's no automated system where Thumbtack can take down your credit card information to then facilitate the payment of services for you; instead, you have to pay the pro yourself, either in cash, with a check, or via PayPal and Venmo. While some consumers might not enjoy having to deal with that themselves, others will like the fact that their private information is not stored on yet another website. I am part of the former group but to each their own.
At the end of the day, the beauty of Thumbtack, is that you can get as broad (tarot reading, wedding makeup) or as specific (popcorn machine rental, tv mounting, hanging up holiday lights) as you like. Whether you want a pro to come to you for, let's say, a piano lesson or a couple's massage, or travel to them for a boxing class or a spa facial, the variety of vendors, and the ease and affordability of booking one, makes this for an ideal service for busy modern-day, internet-filled lives, especially come the holidays. Not only can you get a bartender to mix drinks at your Christmas house party but you can hire professional tablescapers and florists (ever wanted to learn how to make wreaths?) to do all of the holiday decorating, hire a caterer to make the meal, and even set up an ongoing meal delivery to keep the brood happy and fed the entire holiday break, all the tap of your fingers. You can similarly gift this experience to someone who you know can use the extra help this holiday season; they'll appreciate it.
As for me, I've already hired a catering pro to drop off some appetizers next weekend at a Christmas party I'm attending in lieu of cooking myself; I will instead be using those two to three hours doing just about anything else I like.