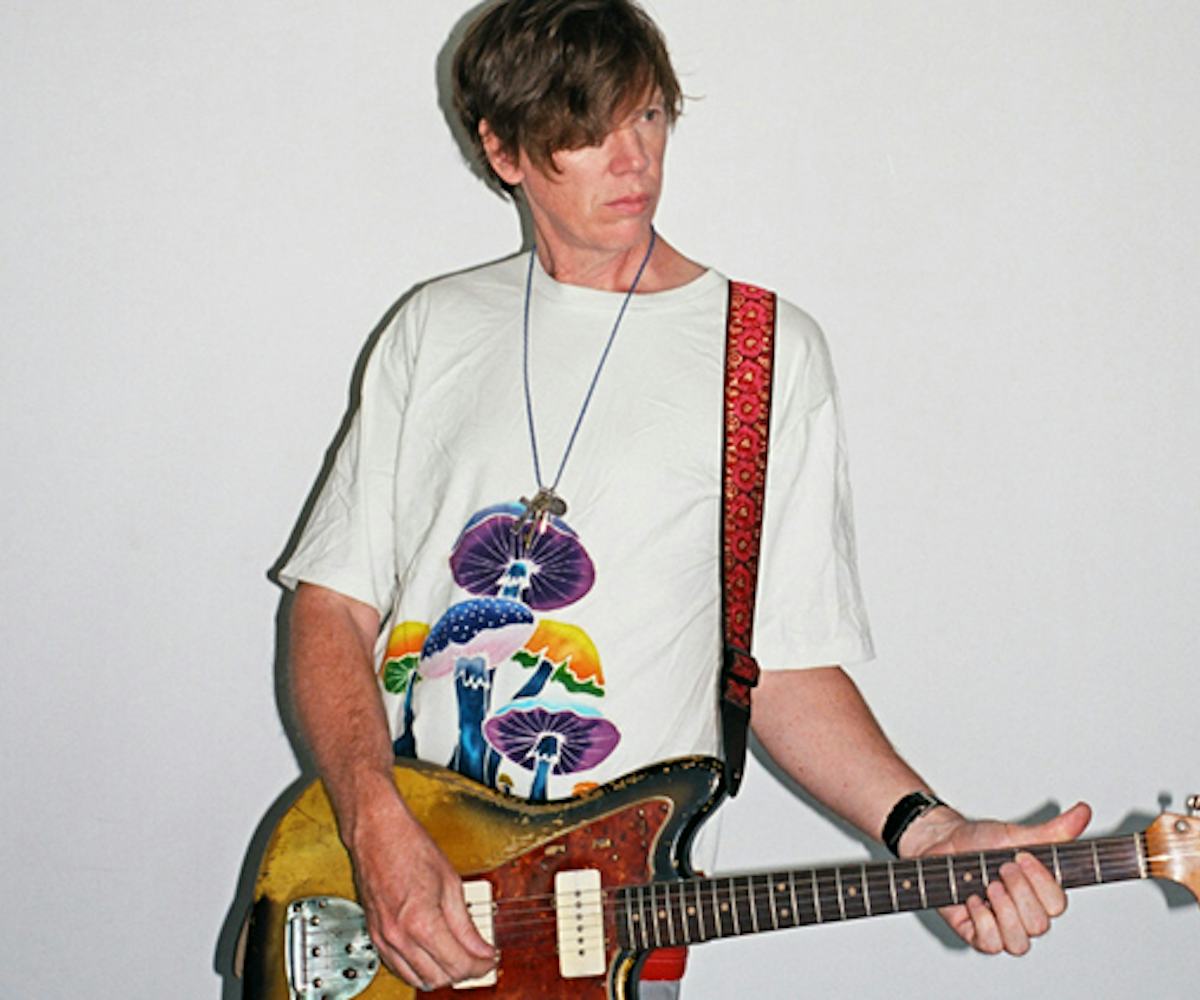 Thurston Moore On 9 Albums That Shaped His Life and Music
"New York's still my hometown," says Thurston Moore, who, on this warm autumn day, is sitting outside an East Williamsburg, moreBrooklyn coffee shop relaying the dramatic changes his life has undergone the past few years. "It's not, like, now that I'm living in London I'm becoming a royalist or something." Moore—who, as co-founder of pioneering New York alt-rockers Sonic Youth, is something of music royalty himself—relocated to the U.K. last year, in large part to live with his girlfriend, book editor Eva Prinz. He's back in town now to promote the excellent The Best Day, his first solo album since Sonic Youth went on indefinite hiatus in 2011, after Moore and bandmate Kim Gordon announced the dissolution of their marriage of 27 years.
Moore recorded The Best Day in London with a band composed of Sonic Youth drummer Steve Shelley, My Bloody Valentine bassist Deb Googe, and Nought guitarist James Sedwards. "The feedback I've been getting is interesting: 'Oh, it sounds like a late-period Sonic Youth record,'" reports Moore, a preternaturally boyish 56-year-old whose jacket is adorned with a BADGER YOUR LIBRARIAN pin (there's an illustration of, yes, a badger with its snout in a book). "I'm like, 'Well, I am late-period Sonic Youth.'" He laughs.
As for whether the group's indefinite hiatus will become definite, he cannot say. "The band can't function with Kim and I splitting up, and to look at the future is almost impossible—it's too intense a fallout," he says. "So we just don't know. There's no official statement that Sonic Youth is over. Nobody's gonna write that statement—I certainly wouldn't." What Moore has written out—on the front of the day's New York Times science section—is his list of records that helped make him the man and musician he is today.
VARIOUS ARTISTS, JAZZACTUEL This is a little self-serving because I compiled and edited this box set with [writer] Byron Coley. It's music from the French label BYG, which in the late '60s, early '70s documented a lot of underground American free-jazz players— Anthony Braxton, Archie Shepp, Don Cherry, Sonny Sharrock—who went to Europe, where they found a lot of acceptance. I got very interested in jazz while touring around America, listening to cassettes in a Sonic Youth van. I became a complete egghead.
SPARKS, KIMONO MY HOUSE This record made [Los Angeles'] Sparks superstars in England, but in the U.S. they were just looked upon as weirdos. I got Kimono My House when I was around 14. It had all these really fascinating arrangements, without being too overblown. The lyrics—which were primarily written by Ron Mael, the keyboard player, and sung by his brother Russell—were really humorous but wildly literate, like some kind of art-school mind- blast. It was shockingly great, and I played it to death.
IGGY AND THE STOOGES, RAW POWER I saw that record in a Woolworth's when it came out. It had a sticker on the front that said "Raw Power by Iggy and the Stooges"—it was this dripping kind of Munsters graphic that drew me in. And that record sliced my head off. The aggression and psychosexual imagery were really mysterious and alluring. In a way, it brought me into all those other aspects of music and literature that were really intriguing, like William S. Burroughs and the Beat Generation.
THE SLITS, CUT You would see pictures of them in the British weeklies that we'd steal from [East Village newsstand] Gem Spa. They were coming out of first- generation London punk, so when Cut came out, you expected this raw, savage punk-rock mess, but it was super-sophisticated dub mixing and idiosyncratic songwriting. It was this female voice talking about issues of being a girl, and it was just hard- core, with no apologies and no judgments. It was naked—to the point where they were naked on the cover.
RAMONES, RAMONES I remember leaving the hospital where my father was passing away, and going into a record store with my mother. The first Ramones album had just been released, and I brought it home. All my family was there and bummed out that my father was dying, and I put this record on. I'd never heard the Ramones. I thought it was gonna be like a Stooges record, and it sounded very jaunty to me. Everybody got up and started dancing to it. They just needed to dance.
BLACK FLAG, DAMAGED In the early '80s, I was playing with Glenn Branca, but I was younger than the people in that scene, so I was kind of caught between New York art damage and the death of Sid Vicious. Then I see these kids with bald heads and leather jackets on St. Marks Place, and Black Flag comes around. It's right when they got Henry Rollins as the singer, and he's a fuckin' monster onstage. It was the most physical, engaged band I had ever witnessed. Black Flag were taking no prisoners, and Damaged captured all of that material.
VARIOUS ARTISTS, NO NEW YORK Brian Eno put together this compilation of the no-wave scene in New York, and he chose four bands: Teenage Jesus and the Jerks, Mars, Contortions, and DNA. At the time, I was on the fence about no wave because they attacked things that I still held precious—they were anti-Patti Smith, anti-Television, anti-lead- guitar solos. But listening to No New York, I really heard the music. The Mars songs were a super- direct inspiration for Sonic Youth.
BRIAN ENO, HERE COME THE WARM JETS I loved [Eno's band] Roxy Music, and when this came out, I listened to it incessantly. It's purposefully art school. The lyrics are completely evocative and funny and wild, and I always wondered what they were about. I heard much later that he just wrote them for the sake of how they would sound. They meant nothing but were created to affect anyone and everyone in their own personal way. For me, it was like, "I want to write poetry like this."
LL COOL J, RADIO My list is kind of a typical, white-boy underground-rock list. But for me, the great music is made in the African-American milieus of jazz, hip-hop, and R&B. The first LL Cool J album was so ferocious and hard-hitting. It was the sound of somebody from New York who actually grew up in New York. When it came out, Sonic Youth was doing our thing, and it was like, "New York City is the best place to be right now." This is the sound of killing it. Just killing it.
Text by Mark Yarm. Photographed by Ben Rayner.