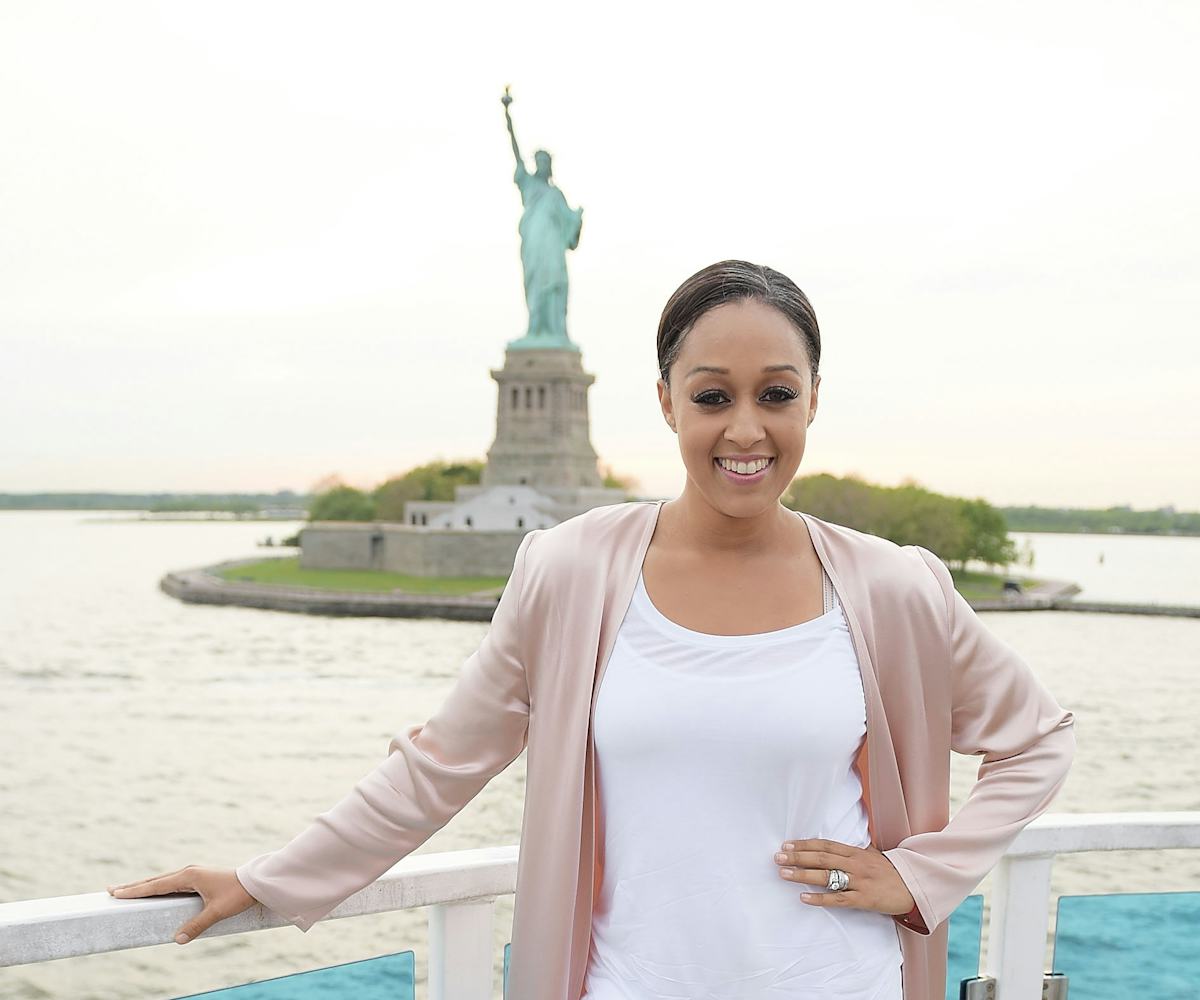 Photo Courtesy Of Getty Images.
Tia Mowry Clears Up Those 'Sister, Sister' Reunion Rumors
And explains how the show paralleled her real life
If Tia Landry were a real person living in 2017, her life would likely follow that of the actress who played her, Tia Mowry. Meaning, she'd be married with one child, an entrepreneur with her own cookbook and cooking show on the Cooking Channel; she'd have bravely opened up about her life with endometriosis, and confidently embraced her gray hairs.
We say this because that's what Mowry herself would like for Landry to be doing. "I would want her to replicate my life, and what's going on in it right now," she tells us while celebrating the global launch of Pepsi's new drink Lemon Lemon. "Just a mom with a family trying to make ends meet and see how that works."
We say this also because, during Mowry's run on Sister, Sister from 1994 to 1999, the plotlines on the show paralleled the actual lives of Tia and her identical twin sister, Tamera. "A lot of people might not know this, but every year at the beginning of the season, me and my sister would sit down with the producers and tell them what's going on with our lives in real life, and they would turn those into stories," she tells us. 
Sometimes, when their busy professional lives interfered with normal teenage activities, the Mowry twins got to experience things on set, rather than in reality. Like, when Tia and Tamera couldn't go to prom, they had their own (probably better) version on television; and when they learned to drive for the first time, they were doing it on set. "As a teenager working on a television show, I wasn't able to experience certain things that a lot of teenagers experienced," she says—or, at least, not in real life.
That's not to say, if given the chance, Mowry wouldn't do it all again. She tells me that she absolutely would; in fact, she's hoping that she'll be able to do just that sooner rather than later. Sister, Sister reboot rumors have been swirling for some time now, and Tia confirms that she wants it to happen, but that the process is taking longer than she'd like. "We're looking, right now, for a producer and a writer, someone who can kind of be a leader of the pack in regards to running the show," she says. "I thought people would kind of be jumping on it, but it's a lot harder than my sister and I thought it would be. Everything in my career has always been a challenge."
Mowry lists Roseanne, Twin Peaks, and Will and Grace, as just a handful of the shows getting the revival treatment. The demand is there, so is the interest amongst the cast; they're just looking for the proper support. "It's not dead in any kind of way," she says. "We're moving forward, we're taking those strides. They're slow strides, but we're pushing as hard as we can to make people happy and make our fans happy."
When that happens, we hope that some of the celebrity guests from the '90s make it a point to stop by again. Mowry says some of her favorite memories from the show were her times on set with late actress Brittany Murphy, Kobe Bryant before he was Kobe Bryant, Gabrielle Union, Christina Milian, and Taraji P. Henson.
In the interim, Mowry's hoping to continue seeking out more fun and inspiring ways to get people in the kitchen, but she also plans on taking on more acting roles. "I'm doing drama roles because people know me as a comedic actress, and I want to stretch myself and do roles that people wouldn't necessarily see me in," she says. Though a little familiarity doesn't hurt, either.