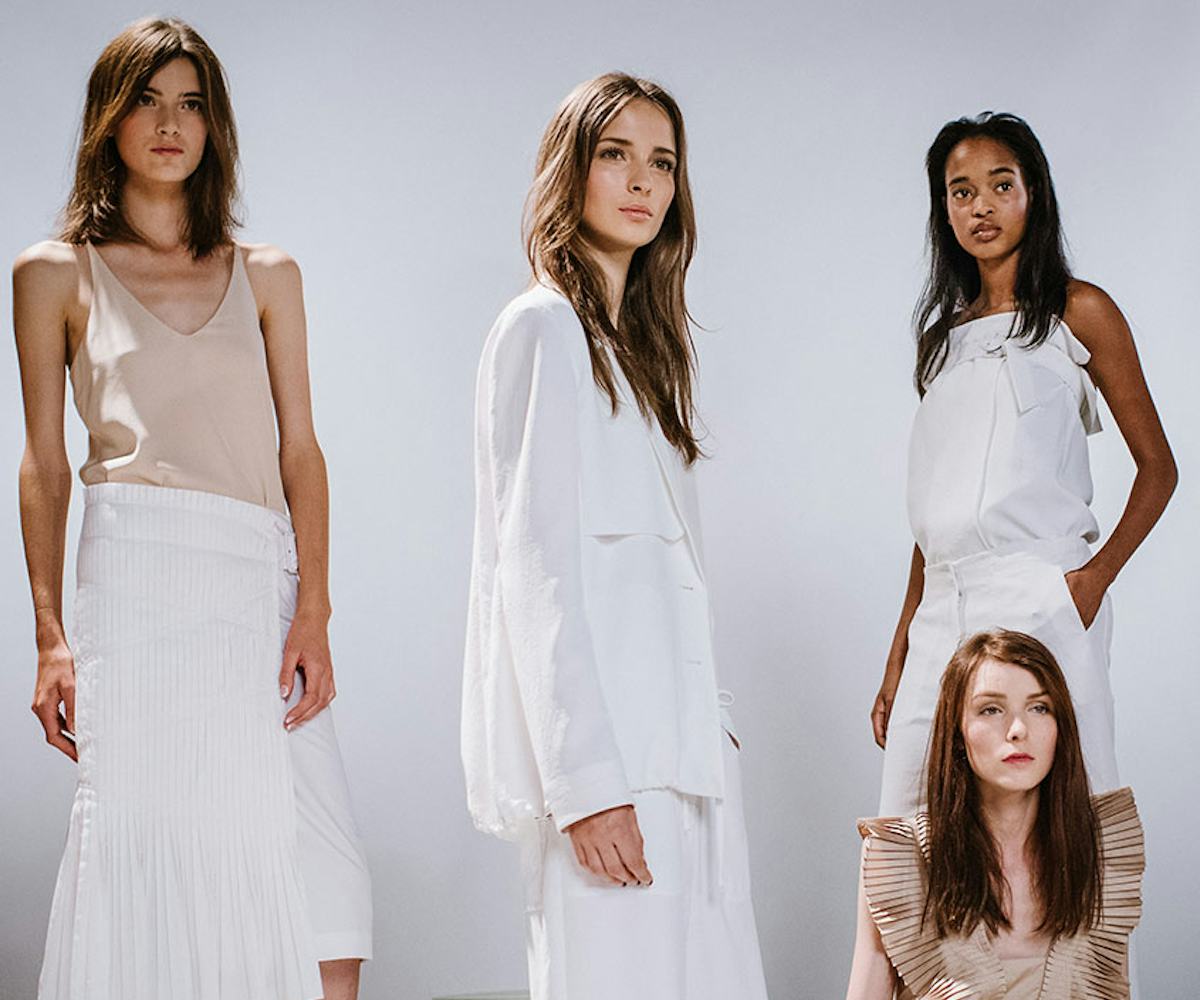 Photographed by Nina Westervelt
tibi is keeping you cool, in all respects
Typically, designers seek out some sort of grand story to guide their direction each season. But Tibi has remained a brand that has always relied on taste rather than theatrics, and this season was no exception. That, however, doesn't mean that there wasn't some stray from the norm.
Inspired by her recent trips to Miami, Malibu, and Cuba, designer and founder Amy Smilovic indeed strayed outside of her comfort zone, and reinvented long dresses and, perhaps most notably, the Bermuda short by incorporating sequins and silk taffeta into the collection. Fluttered in among loosely structured separates, slip dresses, and jumpsuits, these unexpected silhouettes provided a stark, yet somewhat organic contrast to the brand's traditionally minimal aesthetic. 
With a softly defined brow, light sweep of neutral-toned eyeshadow, and a light-pink flushed cheek imagined by Bobbi Brown, and natural-textured hair by Aveda guest artist Frank Rizzieri, emphasis was kept on keeping the models looking as natural and easygoing as possible. A cool, negative-space nail design imagined by Jin Soon added a playful element to beauty.
The collection may not be the most spectacular offering we've seen for the spring/summer '16 season, but it certainly is solid. And after wearing layers of knits and wool for months on end, we're sure we'll welcome the light, breezy layers with open arms.
A look at Bobbi Brown's direction.
A neopolitan color palette for spring.
Gorgeous.
Stylists twisted one-inch sections of hair and sprayed Aveda Pure Abundance Style Prep to add texture.
The calm before the storm.
Working some Jin Soon magic.
Thick, metallic strappy heels will match with any spring outfit.
Just the lightest touch of makeup.
The full beauty look.
Head in an Aveda haze.
Jin Soon's candy-inspired color palette.
Fresh-faced.
Serving varsity realness backstage.
A beauty emergency kit—every girl needs one.
A seriously cool, seriously easy mani? Check.
Charging up and refueling.
This is how we want to display our makeup from now on.
Not quite a midi, not quite a maxi.
Perfect for the alternative garden party.
It's all in the details.
If the Heathers girls were transported to 2015...
Girl gang.
Behind the curtain.
Nude and white—our new favorite color palette.
Serving the prettiest pink highlights.
This is what we want to wear when those April showers hit.
Introducing the new ruffle.
The quintessential model beauty pose.
And...showtime.