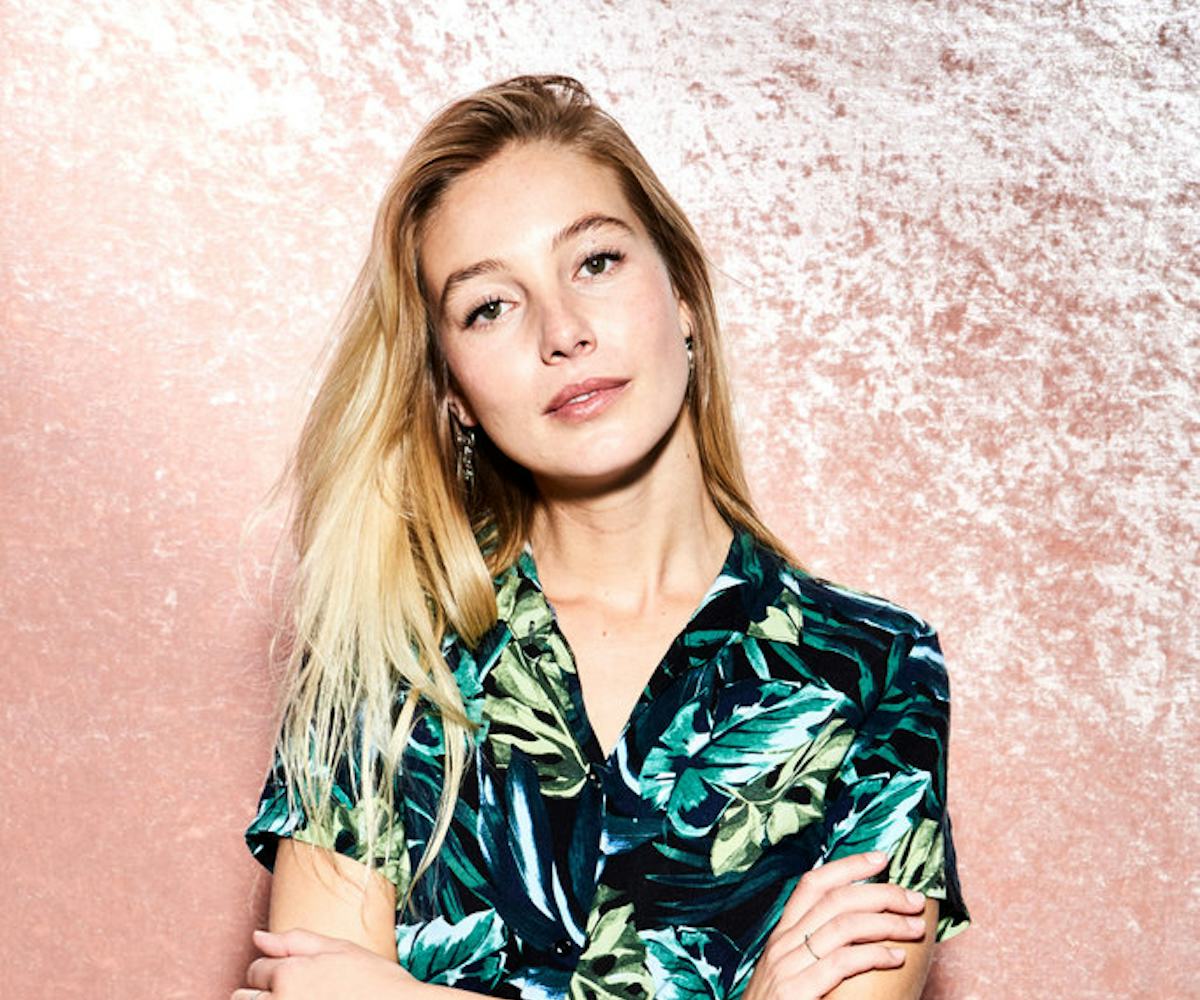 Photo by Sophie Elgort
Check Out Our Exclusive Portrait Gallery From The Toronto International Film Festival
In partnership with NKPR IT House x Scott Brothers Producers Ball
Since last Thursday, Toronto has become a playground to the stars, as the Toronto International Film Festival once again staged its annual takeover of Canada's largest city. For the second year in a row, NKPR, in collaboration with The Scott Brothers Producers Ball and in partnership with Paul Haggis' Artists for Peace and Justice (a donation was made to the foundation for each celeb that visited), set up IT House, an experiential destination in the heart of the city, where talent could take a breather from their hectic schedules. While there, they were also able to stop by NYLON's pop-up photo studio, where photographer Sophie Elgort snapped their portraits before they headed off to their next destination. Check them, and snippets of our interviews with them, out in the exclusive gallery, below.
Amy Seimetz, creator of The Girlfriend ExperienceOn the freedom she has making the The Girlfriend Experience: "The beauty of what we're doing is it doesn't have to be anything. You just have to take the title and fuck it up."
Rebecca Dayan, one of the stars of Novitiate On the biggest challenge of shooting Novitiate: "The character of Sister Emanuel was written in a way that made her very clear, so there was no trouble understanding her. Perhaps the main challenge was to feel the relationship, the love, that drives her to put herself through hell and back for it. I could understand it intellectually but it wasn't until i could experience it on a deeper emotional and spiritual level that I felt I could really do her justice."
Brett Morgen, director of JaneOn movie premieres: "Premieres are very very hard for me. I'm very much like Kurt Cobain in that way. I just can't handle the ridicule."
Charlotte Vega, star of The Lodgers
Coralie Fargeat, director of Revenge
Director X, director of videos for Rihanna, Nicki Minaj, and DrakeOn the success of "Hotline Bling": "Everyone wants to go viral. Personally, I'm superstitious. The moment you say you want to, you're now guaranteed no viral-ness. With that video, we just did our best, and just like all other art, you hope people like it. When we were making it, I thought we had a hit within the hip-hop world. And then we put it out, and it just went nuts. It's now a calling card that I have that can be pulled in any room."
Eli Harboe, one of the stars of ThelmaOn Norwegian cinema: "We're getting more bigger-budget movies and more artistic films as well. I hope we find a way to keep the raw, Scandinavian aesthetic alive while telling great stories. The style is very brooding, a sense of coldness and darkness, the weather is very present."
Ellen Wong, one of the stars of GLOW On one of her worst audition experiences: "I have a fear of things being stuck in my teeth. I always do a tooth check, because before one audition I was starving, and I had a thing of spaghetti in some Tupperware, so I scarfed it down. So they call my name, I do the whole audition, and after that, I go to the washroom, look in the mirror, and there's basil in my teeth. It looked like I had a missing tooth."
Jason Clarke, one of the stars of Chappaquiddick
Jay Duplass, one of the stars and co-writer of Outside InOn playing an ex-con: "It's really different from anything I've ever done before. I met a lot of guys who had been in jail for 20 years or so. The one thing that I learned is that, that 20-year period, from the '90s to now, is maybe the most extreme time warp that has ever existed."
Joe Cole, one of the stars of Eye on Juliet
Ben Schwartz, one of the stars of Outside InOn taking on a dramatic role: "I love doing it because it's me trying to stretch out and learn stuff. When I was on House of Lies watching Don Cheadle, it was amazing. It's always about the person you're next to. So if you're in a scene with Jay [Duplass], and you get to just react, then you're just in heaven."
Kaya Wilkins, one of the stars of ThelmaOn filming the lesbian love scenes in Thelma: "It was a very respectful, closed set for the most intimate scenes. We had fun, relaxed vibes. We made the sound guy play "Kiss From A Rose" like a thousand times. I think Joachim [Trier, director of Thelma] was annoyed, but we loved it. Thank you, Seal!"
Kerr Logan, one of the stars of Alias Grace
Louisa Krause, one of the stars of The Girlfriend ExperienceOn The Girlfriend Experience: "Getting this role is like winning the lottery. It's the best coming out in the television world that I could ask for. I've been surviving as a New York City actress for 12 years, and I completely get off on transforming."
Lynn Shelton, director of Outside InOn having the idea to write a story about an ex-con falling for his former teacher: "I really wanted to work with Jay [Duplass] after seeing him act. In general, I'm interested in relationships that, on paper, don't look like they should work out, or look inappropriate, or improbable, so this popped into my head. I like the idea of there being a physical barrier between two people, so they had to get to know each other over a long period of time but couldn't be together."
Sara Driver, director of Boom for Real: The Late Teenage Years of Jean-Michel BasquiatOn Jean-Michel Basquiat: "He's been so mythologized, and my film really humanizes him. He was a teenager, ran away from home, and was sleeping on all of our sofas, and it's a film that shows how he became the artist he became. Jean-Michel was like a sponge. He absorbed science and art and music and jazz and industrial music. He was a great poet as well as a great painter, and I think a lot of people don't realize that."
Simon Baker, director of BreathOn making a movie about young surfers, based on a popular book: "I could have made a movie set in a different physical landscape, it could have been kids playing chess. But it happened to be the ocean, which is very cinematic. I have a special connection to it. And that book just happened to land in my lap, and as soon as I read it, I felt a compulsion—if someone's going to make this as a film, I can't let them, because they're going to fuck it up."
Mamoudou Athie, star of Brie Larson's directorial debut Unicorn StoreOn his most nightmarish audition: "The thing about this audition that was different was they let you choose whatever you wanted to prepare and whichever character. You needed one movement piece with two of the seven deadly sins as inspiration, and I was like, Gluttony and Lust, duh. I get there and there are all these people behind the table that I respect, and I realize I am woefully underprepared. Sometimes you just gotta figure it out. I start combining the elements of gluttony and lust into this Gollum-like creature. I'm snarling, trying to eat air, and then I vacillate to this sexy lady. They're looking at me, and I'm looking at them, and I just said 'scene.'"
Cuba Gooding Jr.
Matilda Lutz, star of Revenge
NKPR president Natasha Koifman and the Scott brothers
Kaitlyn Dever, one of the stars of Outside InOn the director behind Outside In: "Working with Lynn [Shelton], you don't have to think too much. It's all there in the script, and it's very easy to get to an emotional place."