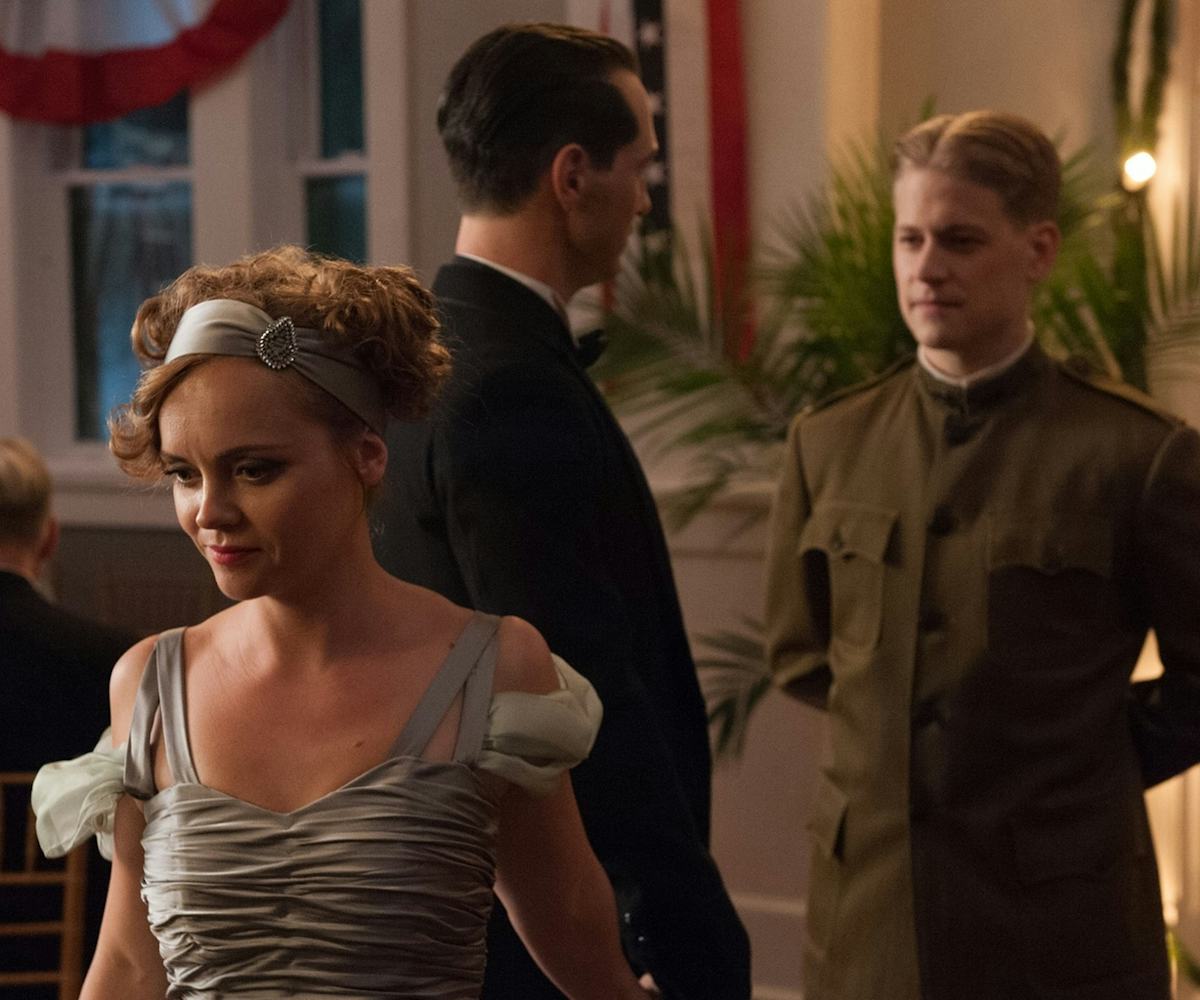 Photo Courtesy of Amazon
Tig Notaro + Christina Ricci Headline Amazon's Latest Crop Of TV Pilots
Amazon just revealed its latest batch of pilots, and once again it's up to you to decide which ones will get a full series order. A slew of boldface names headline six pilots that will stream for free on Amazon Prime this fall. Based on your feedback, Amazon will then decide which pilots get the greenlight. Some of the major talent involved in this year's impressive crop include Sacha Baron Cohen, Tig Notaro, Christina Ricci, and Louis CK. 
Wait, do you hear what we hear? That's the sound of Netflix shaking in their boots. Check out the detailed descriptions of Amazon's new pilots below.
Edge
Based on George G. Gilman's best-selling book series of the same name, which has been described as "the most violent western in print," Edge showcases the sly, raw power of the western genre. Set in 1868, Max Martini (Pacific Rim, Captain Phillips) stars as Josiah 'Edge' Hedges—a Union officer turned cowboy, who prowls the post-Civil War American West doling out his own peculiar (and savage) brand of justice. When we meet Edge in the pilot, his mission is personal and his vengeance hath no fury. Edge also stars Ryan Kwanten (True Blood) as Merritt Harknett, and Yvonne Strahovski (The Astronaut Wives Club, Chuck) as Beth. Edge was developed by Shane Black (Lethal Weapon, Iron Man 3) and Fred Dekker (Tales from the Crypt, Star Trek: Enterprise), teleplay by Dekker and Black, is directed by Black, and executive produced by Black, Dekker, Barry Josephson (Bones, Turn: Washington Spies), and David Greenblatt (Battle Los Angeles).
Good Girls Revolt
In 1969, while a cultural revolution with a soundtrack to match swept through the free world, there was still one place that refused to change with the times: newsrooms.Good Girls Revolt follows a group of young female researchers at "News of the Week," who simply ask to be treated fairly. Their revolutionary request will spark convulsive changes and upend marriages, careers, sex lives, love lives, and friendships. Good Girls Revolt stars Genevieve Angelson (Backstrom) as Patti, Anna Camp (Pitch Perfect) as Jane, Erin Darke (We Need to Talk About Kevin) as Cindy, Chris Diamantopoulos (Silicon Valley) as Finn, Hunter Parrish (Weeds) as Doug, Jim Belushi (Show Me a Hero) as Wick McFadden, Joy Bryant (Parenthood) as Eleanor Holmes Norton, and Grace Gummer as Nora Ephron. A co-production with TriStar Television, Good Girls Revolt is written and created by Dana Calvo (Made in Jersey), directed by Liza Johnson (Return), and executive produced by Calvo, Lynda Obst (Interstellar), Darlene Hunt (The Big C), Don Kurt (Justified) and Jeff Okin (Dark Skies, Stanley Park). The pilot is inspired by the landmark sexual discrimination cases chronicled in Lynn Povich's book, The Good Girls Revolt.
Highston
Highston Liggetts (newcomer Lewis Pullman) is a 19-year-old with a wide circle of celebrity friends—that only he can see. His parents, Jean (Mary Lynn Rajskub, 24), and Wilbur (Chris Parnell, Saturday Night Live) force him to get psychiatric help, but his Uncle Billy (Curtis Armstrong, American Dad!) thinks he's just fine. Highston is a comedy about what it means to be normal in a world that's anything but. The pilot guest stars Shaquille O'Neal (Thunderstruck) and Flea (The Big Lewbowski), and is written by Oscar-nominee Bob Nelson (Nebraska), directed by Independent Spirit Award winners Jonathan Dayton and Valerie Faris (Little Miss Sunshine), and executive produced by Sacha Baron Cohen (The Dictator), Todd Hoffman (Love Stinks), Nelson, and Todd Schulman (Bruno).
One Mississippi
A dark comedy, loosely inspired by Tig Notaro's (Boyish Girl Interrupted) life, One Mississippi follows Tig as she deals with the complex reentry into her childhood hometown of Bay Saint Lucille, Mississippi, to deal with the unexpected death of her mother, the interminable life of the party, Caroline. Reeling from her own recently declining health, Tig struggles to find her footing with the loss of the one person who actually understood her, with help from her older but not always wiser brother, Remy, played by Noah Harpster (Transparent), and her emotionally distant stepfather, Bill, played by John Rothman (The Devil Wears Prada). A surprise visit from Tig's girlfriend, Brooke, played by Casey Wilson (Gone Girl) only compounds the reality of how out of place Tig is in a world without her mother. A co-production with FX Productions, One Mississippi is written and executive produced by Notaro and Diablo Cody (Juno), executive produced by Louis CK (Louie), Blair Breard (Louie), and Dave Becky (Everybody Hates Chris), with pilot directed and executive produced by Nicole Holofcener (Enough Said).
Patriot
The political thriller Patriot follows the complicated life of intelligence officer John Tavner (Australian newcomer Michael Dorman, Wonderland). His latest assignment is to prevent Iran from going nuclear, requiring him to forgo all safety nets and assume a perilous "non-official cover" -- that of a mid-level employee at a Midwestern industrial piping firm. A bout with PTSD, the Federal government's incompetence, and the intricacies of keeping a day job in the "front" industrial piping company, cause a barrage of ever-escalating fiascos that jeopardize Tavner's mission. The pilot also stars Terry O'Quinn (Lost) as Tom Tavner, John's State Department Director of Intelligence father, Michael Chernus (Manhattan Project), as John's older brother Edward Tavner, a young Texas congressman, Kathleen Munroe (Call Me Fitz), as John's wife Alice,Aliette Opheim (Sandor slash Ida) as Agathe, a brilliant young homicide detective from Luxembourg hot on John's trail, and Kurtwood Smith (That 70s Show) as Mr. Claret, John's stickler of a new "boss" at the piping firm. Patriot is written and directed by Steven Conrad (The Secret Life of Walter Mitty, The Weather Man), and executive produced by Conrad, Gil Bellows (Temple Grandin), Glen Ficarra (Crazy Stupid Love, Focus), Charlie Gogolak (Focus), and John Requa (Crazy Stupid Love, Focus).
Z
Z is a bio-series pilot based on the life of Zelda Sayre Fitzgerald, the brilliant, beautiful and talented Southern Belle who becomes the original flapper and icon of the wild, flamboyant Jazz Age in the 20s. Starring Christina Ricci (Monster) as Zelda Sayre, Z starts before she meets the unpublished writer F. Scott Fitzgerald (Gavin Stenhouse,Allegiance), and moves through their passionate, turbulent love affair and their marriage—made in heaven, lived out in hell as the celebrity couple of their time. The series travels through the wild parties, the wicked jazz, the dissolute artists of the era, as well as the alcoholism, adultery and struggle with dashed dreams and mental illness that characterizes their later years. Z dives into the fascinating life of a woman ahead of her time, an artist determined to establish her own identity in the tempestuous wake of a world-famous husband. The show pulls back the curtain on her triumphs and dark secrets. It's a modern take on one of the most notorious love stories of all time, played out in salons and speak-easies from Montgomery, Alabama to the Cote D'Azur. Z is written by Dawn Prestwich (The Killing) and Nicole Yorkin (The Killing), directed by Tim Blake Nelson (Anesthesia), and executive produced by Pamela Koffler (Still Alice) and Christine Vachon (One Hour Photo) of Killer Films, as well as Ricci. The show also guest stars David Strathairn (Good Night and Good Luck) as Judge Anthony Dickerson Sayre, Kristine Nielsen (Savages) as Minnie Sayre, Maya Kazan(The Knick) as Livye Hart, Sarah Schenkkan (30 Rock) as Eleanor Browder, Jamie Anne Allman (The Killing) as Tootsie Sayre, and Holly Curran (Alpha House) as Tilde Sayre.