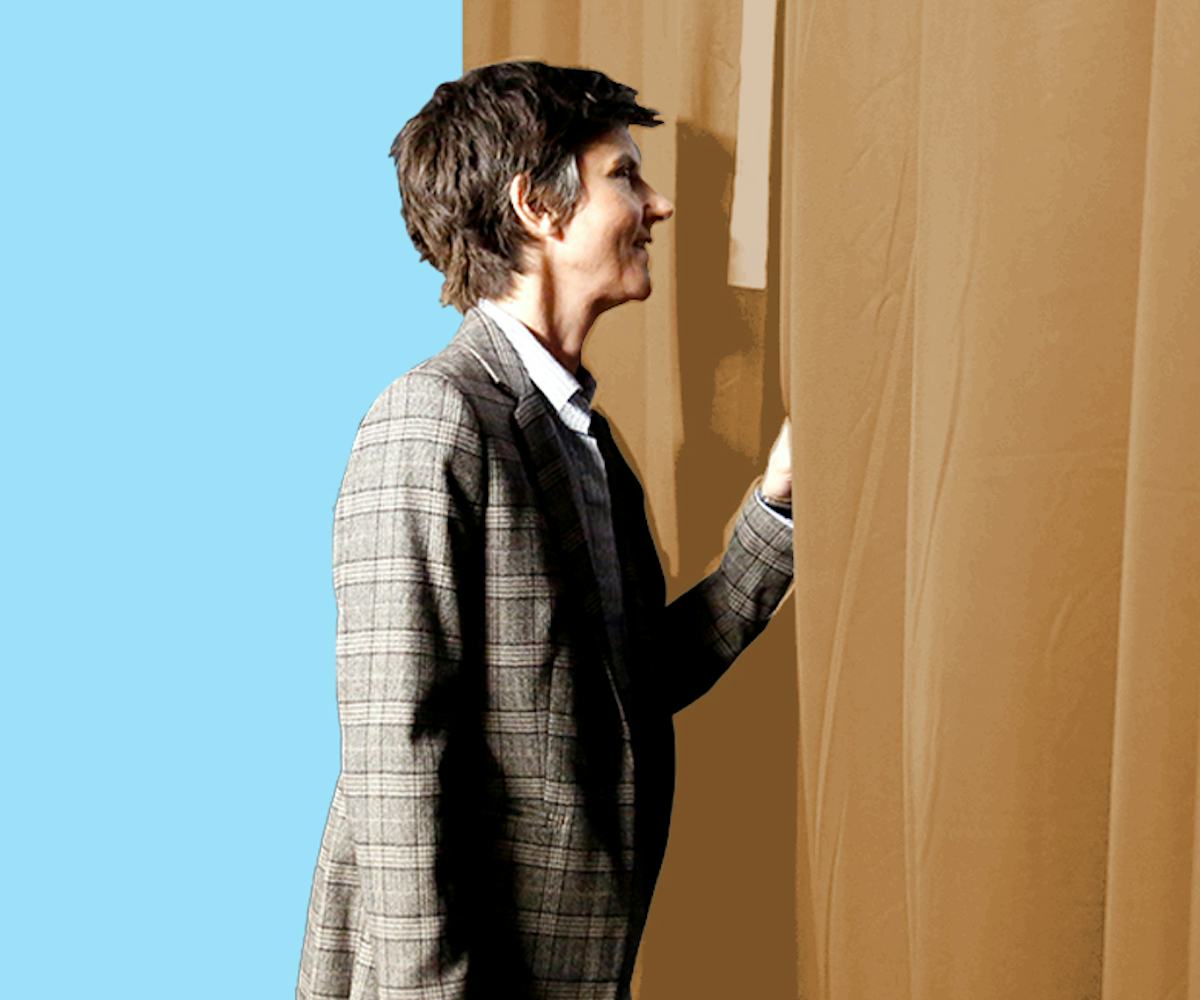 Tig Notaro Explains How To Make A Good Cancer Joke
"A well-constructed story or joke is really the way into breaking down the wall"
Tig Notaro has certainly come a long way since 2012 when pretty much everything in her life was falling apart. She had been in the hospital because of a C. difficile infection, then her mother died in a freak accident, and then Notaro broke up with her girlfriend—and then Notaro was diagnosed with breast cancer. In the midst of, and due to, these successive tragedies, Notaro also achieved one of the pinnacles of her career, when she performed what would become a viral comedy set; its popularity would pitch her career forward in a way she couldn't have expected.
Fast-forward to today. Notaro has one comedy special, Boyish Girl Interrupted, under her belt; it made headlines because, in it, she removed her shirt, exposing the scars from her double mastectomy, and continued to perform the rest of the show topless. Notaro also wrote, produced, and starred in the Amazon original series, One Mississippi, which was a semi-autobiographical account of her life. Though the show lasted only two seasons, it gained a cult following and extraordinary reviews. She's also gotten married to actress Stephanie Allynne, and they have twin boys together. So you could say things have improved since her personal nadir of a few years back.
More than anything, though, Notaro is thankful. She's grateful to have survived the hurdles thrown at her in quick succession, which seemed, understandably, to be insurmountable. Luckily, they weren't, and now we have a new Netflix comedy special from Notaro, Happy to Be Here, which is available to stream today. 
Below, we speak with the comedian about the special, how she uses her comedy platform, and whether or not she wants her act to be "political."
Can you tell me a little bit about how it's been for you to get so famous from what was essentially a viral moment, one different from most of your comedy before that?
It was certainly unexpected. I didn't do that show thinking anything was going to come of it, career-wise. It was very surprising, unexpected, and, obviously, it ended up being a positive. But, it was hard to navigate when everything was going on because the story blew up right when I was in the middle of everything. It was hard to take care of myself physically and emotionally, but also I wanted to share my story, and I kept hearing stories of how my story had helped people. I had this fear that my health would decline, and I didn't know if I had only a certain amount of time to share my story. It was really difficult, and getting known as somebody who is so dark and edgy was kind of odd for me. Even though I have those elements to my personality, sense of humor, I also feel like I am very silly.
What is the most important thing to you about using comedy as a platform to talk about things that aren't inherently funny?
I think comedy really allows people to talk about issues and it really neutralizes things in a way. A lot of times you'll hear the debate, "Should you be allowed to joke about this or that?" Or: "Is this off-limits?" Or: "What's too far?" I don't think it's fair to talk about topics in general, whether you can joke about things or not, because the exciting and amazing things about comedy is a good comedian will come up with a great angle that will blow the doors on the topic. I don't think it's good to start out by saying, "Oh, you shouldn't talk about that," because you don't know what a good comedian is gonna come up with. You just have this idea that people are going to do "ha, ha, sexual assault," or "ha, ha, cancer," and it's like, that is not a good joke. If you're going to do it that way, then that is off-limits. But a well-constructed story or joke is really the way into breaking down the wall and being able to talk about something.
A lot has happened in your life since Boyish Girl Interrupted was released. You got married, you made a TV show, and you have twins now. How have these changes inspired your comedy, and have you brought those experiences into your new set?
I feel like I have hired three writers: Stephanie and the two boys. My new special is called Happy to Be Here because I am literally happy to be here on planet Earth. I'm am happy to be on stage. I feel like I am being given all of this material and I didn't really think too much about it, except, Wow, I have this wealth of material. All of these things are happening, and this is so funny. I have these three writers working for me every day. It is funny, because I really didn't think about the material I was being given, or if I should do it, or what I should do down the road. I want to find the right balance of incorporating my personal life, but also I don't need to blab everything.
Do you feel the need now to address social issues in your work more, with the political climate and the social climate being the way that it is?
It's not my natural go-to as a stand-up [comedian] to discuss those topics. When I was doing One Mississippi, that felt like the right platform to go into political and social issues. Whereas, my stand-up, it's not what brings me joy on stage. To go back to what I was saying before, I really want to do what brings me joy. I feel like I would be doing myself and everyone else a disservice by trying to become a stand-up comedian [in a way] that isn't natural to me. 
Are you looking to get back into TV or any other forms of entertainment other than stand-up right now?
I'm not desperate to get another scripted TV show. I felt really happy and proud of everything we did with One Mississippi. I have other projects that I'm working on. Actually, Stephanie, my wife, and I are writing and developing TV and film together, and that's been an absolute joy. I've also had the really amazing experience to pop into TV and film that others have made—people that I absolutely respect and am beside myself to work with. That's anywhere from doing a silly auctioneer piece on Sarah Silverman's show, or, I have a recurring role in Season 2 of Star Trek: Discovery. That's been really fun, and it doesn't have all of the stress of producing, writing, starring in, and working 12- and 14-hour days [like when working] on my own show. So, I get to just pop into other people's things that they are doing. Developing these other TV and film projects with Stephanie has been really a dream come true. We just love working together.
Did that success of Live and the jokes that you made about your battle with breast cancer change the way that you write or influence the topics that you cover in your comedy?
That was just a moment in time. The material was maybe dark or edgy because it was a dark and edgy time, but I think I am always moving through my career trying to change and grow. I don't want to stick to that time and think that's how it should be done or that's my big inspiration now. It's just such a little time capsule. But, I do leave it open for myself if I want to revisit something, or if I don't. Or, if something heavy happens again in life, then maybe I draw inspiration from my experience before. But, I like to leave it open to allow myself to be silly, or tell a true story, or push a stool across the stage or take my shirt off. I just want to do whatever feels right.
Happy to Be Here premiers on Netflix May 22.