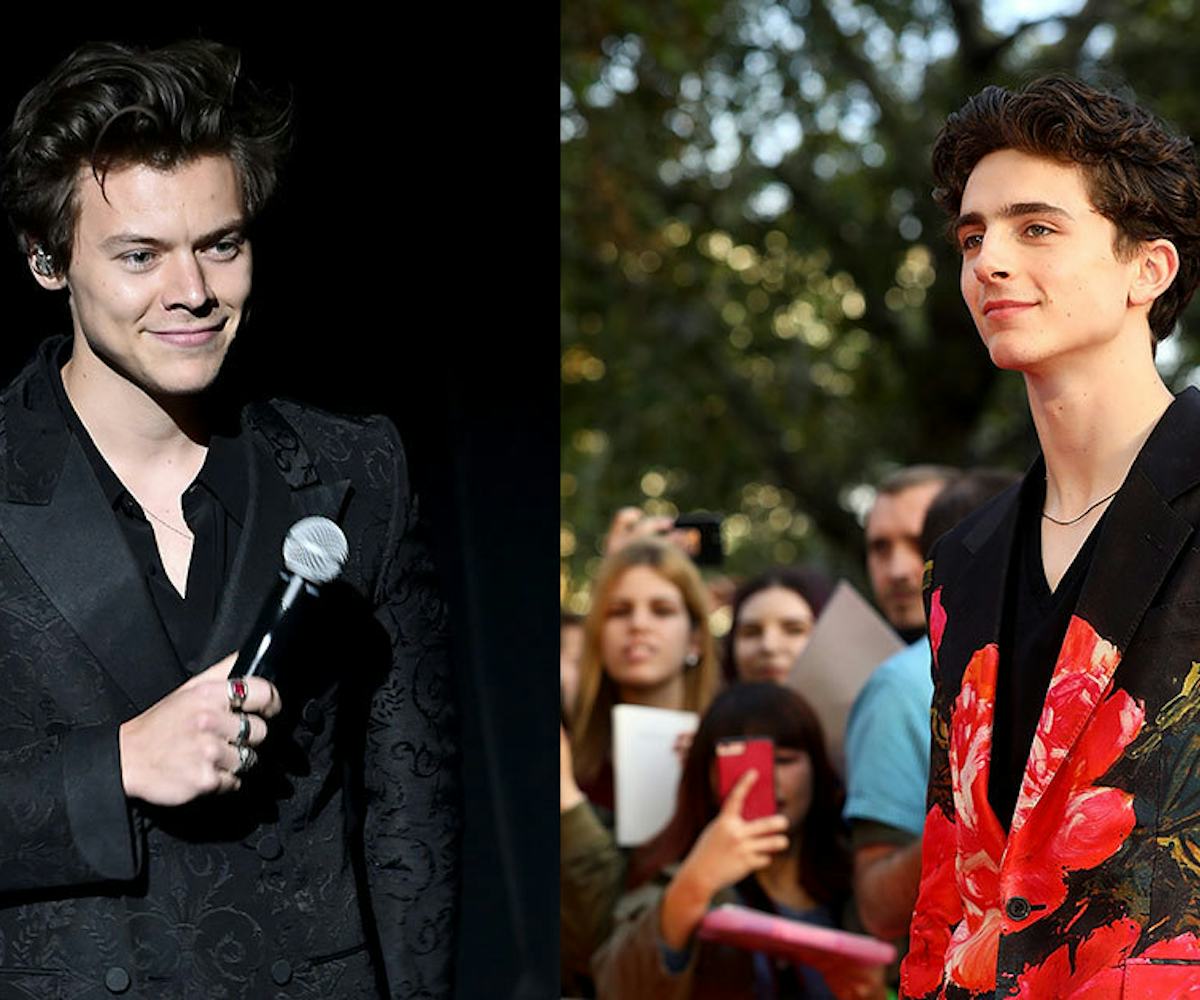 Photo by Steven Ferdman/Getty Images; Photo by Tim P. Whitby/Tim P. Whitby/Getty Images for BFI.
Timothée Chalamet & Harry Styles Believe There's Strength In Being Vulnerable
Prepare to swoon over this conversation between the two
Can you think of a better interview pairing than Timothée Chalamet and Harry Styles? We're usually against the celebrity-interviewing-celebrity articles for a myriad of reasons, but if there's one conversation we would want to be transcribed and distributed to the public, it's one between these two. For the latest issue of i-D, we get just that.
As we've outlined in the past, the concept of masculinity is shifting, and both Chalamet and Styles have been big proponents of the change. In the interview, the stars discuss the topic and the power of being vulnerable in intriguing detail. "There isn't a specific notion, or jean size, or muscle shirt, or affectation, or eyebrow raise, or dissolution, or drug use that you have to take part in to be masculine. It's exciting," Chalamet says. "It's a brave new world. Maybe it's because of social media, maybe it's because of who the fuck knows what, but there's a real excitement from our generation about doing things in a new way…" He then flips the question on Styles and asks what he thinks about the reshaping, and we're just going to print their full exchange here because it's good:
H: I didn't grow up in a man's man world. I grew up with my mum and my sister. But I definitely think in the last two years, I've become a lot more content with who I am. I think there's so much masculinity in being vulnerable and allowing yourself to be feminine, and I'm very comfortable with that. Growing up you don't even know what those things mean. You have this idea of what being masculine is and as you grow up and experience more of the world, you become more comfortable with who you are. Today it's easier to embrace masculinity in so many different things. I definitely find–through music, writing, talking with friends and being open–that some of the times when I feel most confident is when I'm allowing myself to be vulnerable. It's something that I definitely try and do.
T: That's really beautiful and inspiring, and certainly it goes back to feeling comfortable in chaos and creating in madness. It's almost a high to be vulnerable. I really get that. I think it can be achieved in art, but also in intimacy. It's the craziest feeling to achieve that vulnerability. If us having this conversation, in any infinitesimal way, can help anyone, a guy, a girl, realise that being vulnerable is not a weakness, not a social barrier. It doesn't mean you're crazy or hyper emotional, you're just human, which I think is something your music gets at and hopefully my movies do too. Humans are complex; we need to feel a lot of things. We are not homogeneous.
Are you okay? Are you done swooning? Earlier in the conversation, the two also discuss that peach scene in Call Me By Your Name. "Can you still eat peaches?" Styles asks Chalamet. "That's the most awkward scene to see with your parents in the whole world. My poor father…" Styles then responds and implies that Chalamet's father has likely recreated the scene himself at some point, which okay??
The pair then go on to discuss social media (both seem to be in agreement that it has its benefits and its downsides), politics, and journaling. Honestly, the entire interview is worth reading in full, which you can do here.