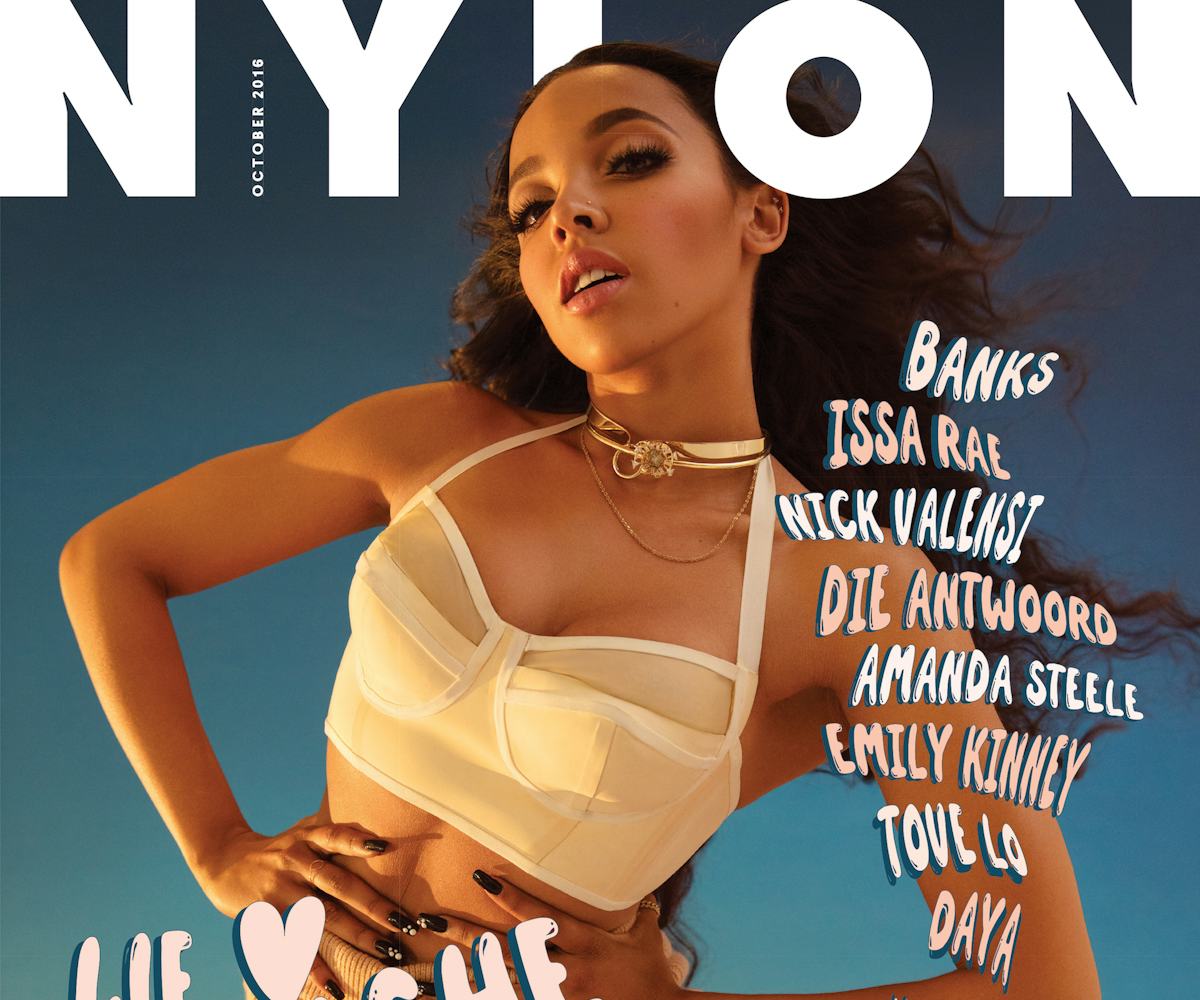 Photographed by Anairam. Styled by Johnny Wujek.
Tinashe Is Our October Cover Star
Album delays, media scrutiny, misogyny, and even self-doubt can't keep this superwoman down
The following feature appears in the October 2016 issue of NYLON.
Tinashe has never seen The Breakfast Club, and her cousin Nakisa Kachingwe and I cannot believe it. The entertainer (or singer-songwriter-dancer-producer-actress-model if we're being thorough) quickly attempts to redeem herself: "I think I've seen parts! Just not the whole thing," she says. We're waiting on two more people to complete our team for a round of Escape the Room, a 1980s-themed interactive performance on New York's Lower East Side, and we've just been informed that not only will this activity require knowledge about a decade during which none of us were alive, but that our cohorts include five prepubescent boys who were born in a completely different century. When a couple in their mid-30s arrives—their awkwardness around each other a clear indication that this is an "early date," as Tinashe posits later—we're relieved.
Suddenly, the dimly lit room fills with the opening synth line of "99 Luftballons," causing the walls—adorned with a basketball hoop, a Back to the Future movie poster, and Spuds MacKenzie Bud Light ads—to lightly tremble. We launch into action: Kachingwe and I analyze a riddle that's taped inside a yellowing issue of Tiger Beat. The couple hold a cassette player to their ears, straining to hear the recording. The boys argue about whether the final score of the "Miracle on Ice" could be a clue, with an impressive recall of stats on the legendary hockey game during the 1980 Winter Olympics. And off in a corner sits Tinashe. Clad in a breezy white tank, black leggings, and low-top Vans, her legs are folded beneath her on the floor, her focus as sharp as her inky-black fingernails, which are clacking away at the buttons on a brick-size mobile phone. She's trying to figure out which combination of numbers will open an attached safe, and clearly working according to some clever strategy.
Click through the gallery to read the rest of this feature.
Top by Geoffrey Mac, pants by Baja East, choker with jewels by Eddie Borgo, gold choker by Alexis Bittar, Tinashe's own chain and rings.
NYLON's October issue hits newsstands September 27. Buy it now or subscribe and for a limited time get a #NYLONxPetalsandPeacocks "girl power" pin plus a collector's cover.
Or is she? "Oh, I don't know," she says with a flip of her hair, still damp from a dip in her manager's mom's pool this morning. "But some buttons, when you press them, beep three times. Others just beep once. See?" She dials 2 and the phone chirps back with one beep and a flash of a yellow light. When she presses 3, however, it responds with a beep-beep-beep and three flashes, as it does with the 9. "The 3 and the 9," she confirms, grinning proudly at her discovery and revealing the dimple on her left cheek that punctuates her lightly freckled face.
Just then, a snippet of the Back to the Future theme song plays—someone just unlocked one of the safes. The framed poster depicting a stunned Michael J. Fox stepping out of a flaming DeLorean swings open to reveal more clues and we gather to check it out. From the other side of the room a boy shouts that he's unlocked the phone. "I want to know what he pressed," Tinashe mutters, shooting a playful side-eye in his direction.
While escaping rooms might not be Tinashe's forte, she's developed a lengthy résumé over her 23 years. Born Tinashe Jorgenson Kachingwe in Lexington, Kentucky, to a mother of European descent and a Zimbabwean father of the Shona tribe, she spent much of her childhood channeling her boundless energy into modeling, acting, dance, and tae kwon do. When she was eight, her parents, both professors, moved the family to Los Angeles, and by 14, she had found her calling in music, having been selected by pop singer Vitamin C to join a girl group called The Stunners, which opened for Justin Bieber's My World Tour in 2010. Shortly after the tour, Tinashe left the group to start a solo career. She set up a makeshift studio in her bedroom and learned how to produce and engineer songs via YouTube tutorials. Before long, she'd cranked out three mixtapes and a string of videos. In 2012, she signed a deal with RCA and then put out another mixtape. But it was the inescapable, platinum-selling hit "2 On" from her critically acclaimed 2014 debut, Aquarius, that truly jump-started her career. Since then, she's sold out a headlining tour; hit the road with Katy Perry and Nicki Minaj; performed a tribute to Janet Jackson at the 2015 BET Awards (after being hand-selected by the iconic singer to do so); modeled alongside Cody Simpson, Bella Hadid, and Hailey Baldwin for a Ralph Lauren Denim & Supply campaign; and even created an eye shadow palette for a collaboration with M.A.C.
Bodysuit and boots by Emilio Pucci.
In a matter of weeks, Tinashe will be reaching yet another milestone. She'll release her highly anticipated sophomore effort, Joyride. But first, there's an elephant in the room—or restaurant, rather, as we've relocated to drown our sorrows in sangria after failing Escape the Room: the fact that she has been promoting the album for about a year (and even wrapped the North American leg of the Joyride tour before canceling her European dates to put finishing touches on the record), but as of this writing her label was still hammering out the release date and could only confirm that it will come out in October.
"Yes! Totally!" Tinashe exclaims mid-sip when I ask if she is ever tempted to leak the tracks. "But how is that going to help me? It's just going to come out and then it's gone, and then I don't have the support. No one's going to be booking me for TV performances, [the label is] certainly not going to help me with my next one," she says with a chuckle, possibly trying to downplay her exasperation over the delay. "The producers would be mad at me because they wouldn't have gotten paid. If I just put it on SoundCloud, I'm not getting paid, my label isn't getting paid." She's quick to clarify that she doesn't have any hard feelings against RCA, and that she understands that profitability is their top priority. "It's the business aspect," she says. "There's always going to be a difference in opinion because they're just looking at things from a different side. And I'm not mad at them for it."
Still, it's quite a disheartening situation for a young woman who already has the makings of a superstar, having collaborated with a who's who of artists from across genres, including Dev Hynes, Enrique Iglesias, Drake, Usher, Charli XCX, and Nigerian pop prince Davido. She's also written alt-R&B singer Kelela's "All the Way Down," as well as hit songs for Fifth Harmony, including the official anthem of the United States Olympic women's gymnastic team, "That's My Girl."
On top of that, she can perform full-out choreography that no doubt gives that couple in their 30s Rhythm Nation-era flashbacks. So why did it take so long for her label to "get behind" Joyride? Was pure talent no longer enough to make it in the music industry? Or worse, was Tinashe no longer enough?
Jacket by Christian Siriano, bathing suit by Redwolf PDX, earrings by Eddie Borgo, Tinashe's own rings (worn throughout).  
Working nonstop to meet others' expectations introduced the entertainer to a harsh reality of fame: insecurity. "I've never been insecure. I've never doubted myself," she says, poking at her filet mignon with a fork, "but I've had those thoughts seep in, and it's very scary because I would never want to be the type of person who was afraid to do whatever they wanted to do, or was just too caught up in their own head that they didn't put themselves out there. There are people I know who hate their life and this business. It's terrible because they'll want to quit. I would never want to get to that point. There's so much going for me, and it's something that I've always wanted."
The pitfalls don't stop there. While some progress has been made, the mainstream music media is still rife with misogyny. "It's disgusting sometimes," she says, pointing out that she barely even opened her mouth during an interview with New York radio station Hot 97 before having her tongue measured. "You can either a) be a good sport or b) walk out of the room. And, again, what exactly does that prove? I don't want to be subjected to objectification, but then I don't get the interview. And I do want an interview with Hot 97. I want them to play my songs. So some of it is just stuff that I've learned comes with it. I try to brush it off," she says, swirling her sangria with her straw. "But hopefully I can get to a point where I'm respected enough for my music that I'm able to change the way that male DJs think of female artists. We have it a lot harder in general. Not only do radio DJs and people who are interviewing you sexualize you and objectify you, but other artists do as well. Fans do. People dumb you down. Other male artists don't support female artists because it makes them look, what, thirsty? And other female artists don't support women artists because it's too competitive."
But Tinashe doesn't necessarily blame the DJs either: "A lot of it is for 'entertainment value,' which isn't their fault because they're 'giving the people what they want,'" she says, raising her fingers in exaggerated air quotes. "It's weird," she says with a chuckle that only lasts a second. "It's annoying."
Jacket and top by Versace, shorts by Revive, boots by Lodovico Zordanazzo, earring on left ear by Alexander Wang, earring on right ear by Eddie Borgo.
Elephant number two: Even NYLON is guilty of placing Tinashe under a microscope. Late last year, we published an opinion piece on our website that questioned her decision to collaborate with R. Kelly and her labelmate Chris Brown, two men who've faced allegations of abuse against women. She understands that too, especially since she didn't want "Player"—her song with Brown and the first promotional single for Joyride (although it's absent from the final tracklist)—to be available only in the version with his feature on it. "It wasn't my decision. That's what people don't understand," she says. "But you know, at the end of the day, I still really respect him as an artist. I think he's really talented. It was always a goal of mine to collaborate with him at some point."
Her most avid supporters (called "SweeTees") and new fans alike will delight in the artist's evolution on her sophomore album, which shows off her genre fluidity like never before, tapping into alt-R&B, hip-hop, and pop in equal measure. "As an artist, I don't fit into one box, so sonically it's important to represent that as well," she says.
The album's title is a metaphor for the turbulent "wild car ride" of one's 20s, she says. "When you're a young person, you don't really know what's going to happen next. You're just going to take it as it comes. You're going to have the time of your life while you can and see what happens." Maintaining a fickle attitude toward romantic relationships—a hallmark of her generation if one were to believe the countless swipe-left think pieces currently clogging the internet—is a running theme throughout the album. "Superlove," the standout bop with an accompanying Baywatch-inspired music video that's just as sunny, alludes to Uncle Luke and banana splits in its playfully naughty consideration of turning a potential lover into a baby daddy—a completely different sentiment than "Company," which adamantly maintains a desire for no-strings-attached relations, or the tender vulnerability of "Stay the Night," which puts Tinashe's vocal range in the spotlight as she pleads for one last quiet moment before bidding goodbye.
Even with all of the relationship talk on the album, there's an element of independence present throughout—like how "No Contest" blames the protagonist's unresponsiveness to a suitor on different time zones, a consequence of a jet-setting life, something Tinashe is quite familiar with. Case in point: She's now discussing her upcoming trip to perform in South Korea with the same casualness as a radio show gig in Atlantic City.
Top by Emilio Pucci, earrings by I Still Love You NYC. 
"At the end of the day, obviously, my music is number one to me," she says. "I'd never, ever put my career aside for a man. Ever. So, yeah, there is a level of, 'I do want you, but I definitely don't ever need you. Not, like, need-need you. Not, like, really, truly need you. Not, like, need you to survive. I will definitely survive. I'll thrive, in fact. But you're a great asset.'" She bursts into a laugh so infectious that even the woman at the table next to ours glances over, as if contemplating ditching the guy she's eating with to pull up a chair and add her two cents.
I can't help but wonder whether the mini rant is a veiled jab at the frequent headlines that attempt to forge romantic connections between her and other artists. She's shut down rumors tying her to Future and Nick Jonas, the latter of whom further confirms their professional relationship by gushing about her talent. "I was thrilled to have Tinashe on the remix of 'Jealous,'" Jonas says. "She brought a whole new energy to the song, and in the promo we did together I was blown away by her work ethic and her overall star power. It's amazing when you see someone who you know is going to be around for a long time. It's instant and undeniable. She is a powerhouse."
Most recently, she's been linked with another collaborator, Calvin Harris. She managed to make it through the entirety of our Escape the Room experience and dinner without being outed as a celebrity, but three days later, when she tries to take a helicopter ride with the Scottish producer, a paparazzo's wide lens is poised and ready. They do indeed look "cozy" in the images, as the Daily Mail reporter writes, but Tinashe has consistently brushed off any rumors that they're a serious item.
As if anyone needed more convincing of Tinashe's unyielding focus on her career, one look at her schedule would make even the most hardcore workaholic break a sweat. One of the projects she's most excited about is a modeling gig for Alexander Wang, which came about after she and the designer had quite the experience when he styled and accompanied her to the Time 100 Gala earlier this year. "I puked!" she says, noting that she'd taken 12 vitamins on an empty stomach earlier in the day. "I was in the car with him and we were just talking, and all of a sudden I was like, 'Holy shit, I'm gonna puke!' So I rolled down the window and threw up outside." She shakes her head, chuckling. "I really was fine, though."
Top and skirt by Kenzo, earrings by I Still Love You NYC.
The image is pretty hilarious: the pint-sized songwriter sitting beside one of the most influential fashion designers in the world while wearing his design, spewing chunks outside of a sleek black car, and then reassuring him with a chipper, "I'm fine!" before pulling up in front of a red carpet at New York City's Lincoln Center. Still, it's an oddly refreshing reminder that, even with her superwoman talents and the equally unimaginable resolve to succeed in a cutthroat industry (and the fact that she hasn't had a spare second to view certain classic coming-of-age films starring Molly Ringwald), Tinashe is still very much a 23-year-old woman, grasping at what straws remain of her youth before fully immersing herself into the throes of adulthood. After all, she still lives with her parents and two younger brothers in the same La Crescenta, California home she grew up in (although she does have a brand-new Ferrari parked out front), and she spends her rare free moments with her family, bringing them along to her international shows when they're not too busy with work and school. Most recently, the Kachingwes trekked to South Africa for Tinashe's performance in Durban, where they visited a Zulu village. Her youngest brother, Kudzai, uploaded a five-part vlog from the trip to YouTube, which captured everything from the siblings' terrified encounter with wild monkeys to Tinashe asking a medicine woman if this year will be a good one for her, to which the woman responds via a translator that she will be very happy. And Tinashe believes her, for the most part. "I've always been so confident in myself, but there's so much doubt now in my mind because of what I've gone through—so many setbacks, pushbacks, album delays," she says. "It's just kind of shaken my belief system. But I still believe, at the end of the day, I'm going to find some way to succeed and be happy." She stares into her now-empty glass and then back up at me. "So yes, absolutely. This year is going to be a great year."
Jacket by Emilio Pucci, top by Alexander Wang, skirty by Cheng, shoes by No. 21, necklace by Eddie Borgo.
Photo assistants: Conor Mcintyre and Eduardo Valderrama. Hair: David Cruz for Kevin Murphy. Makeup: Michael Anthony using Dior Rouge. Manicurist: Angel Williams at Opus Beauty using Dior Vernis.