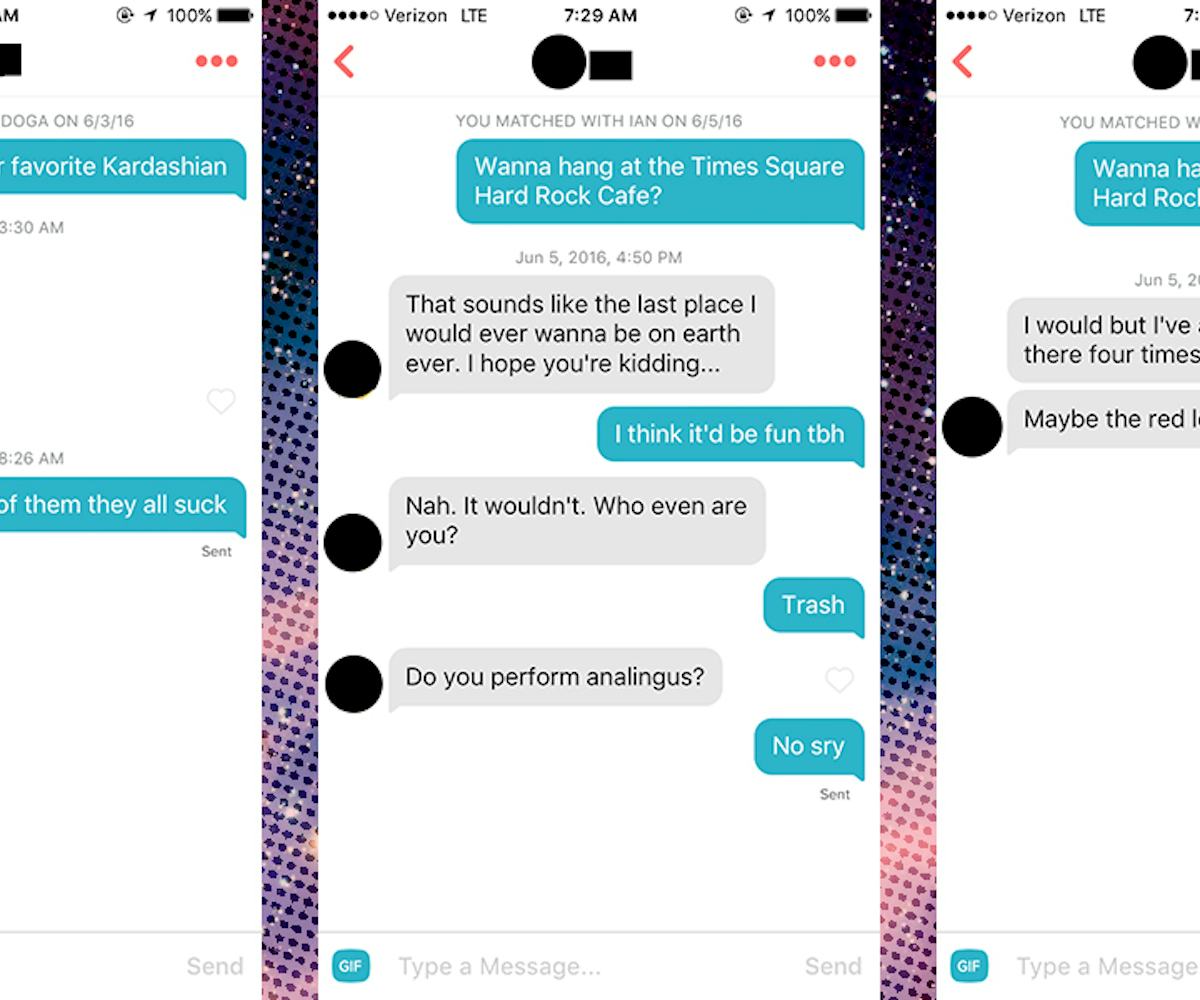 What Happens When You Tinder At Different Music Festivals?
The great swiping experiment
The task at hand was a riddle. The riddle, essentially, is as such: There are two brothers—identical twins—and one always lies and one always tells the truth. You meet one brother at a fork in the road: one road leads to salvation, the other to death by monster. What singular question must you ask—to the brother in which you do not know if he is the liar or the truth-teller—to determine which way to safety?
But all I could focus on was how many of Josh's* french fries I could eat before he noticed I wasn't actually thinking about the riddle at all. In a miraculous feat of mental strength, I managed to figure out the riddle (answer: Which way would your twin tell me to go?) and eat a majority of the fries. Josh was impressed, I was still hungry, and the night was young. So I suggested we get dessert. Music from the nearby Boston Calling festival carried through the dense air. We'd ditched the event a little while before to go somewhere a little quieter, a bar on the periphery of Boston City Hall Plaza, where the extravaganza was held. He asked me about the symphony, I commented on his flip flops.
This is not a love story. This is not a lust story. This is a tale of necessity and manipulation.
I had met Josh no more than two hours prior. We, like many people on a Saturday night, had connected via Tinder. 26 million matches are made per day, after all. I, unlike many people on Tinder, had a plan before I ever swiped right. A social experiment of sorts, I aimed to both take advantage of the hookup culture at music festivals and see how charitable my matches on the dating app could be. Through swiping, could I get a drink? A free meal? A place to stay for the night? How many other singles were swiping during the entertainment, too? Did all these new city visitors cause a spike in matches?
I set my sights on three distinct music festivals, ones each with varying personalities and lineups: South By Southwest, Boston Calling and Governors Ball. Held in Austin, Boston and New York city respectively, these festivals bring out different crowds: industry types to SXSW, locals to Boston Calling, Governors Ball casting a wider net of interest. While the featured musical talent featured many overlaps, standouts like Drake at SXSW, Sia at Boston Calling, and Kanye West at Governors Ball resulted in each having a unique artistic element.
Then, some ground rules:
1. Set distance radius at no larger than 10 miles.
2. Update biography to reflect which festival I'm currently attending.
3. Swipe right not because I want to, but because I have to.
4. Swipe right not because I are desperate, but because this person seems likely to not murder me.
5. Swipe right if this person looks like they are in or associated with a band.
6. Message every match—preferably something ridiculous.
7. Request food, drink, and on which couch to crash.
To aid in my quest, Tinder supplied me with a Tinder Plus account, which allowed me to begin swiping before I arrived at any of the festival destinations. Unveiled in March 2015, Tinder Plus users can change their location to places where they geographically are not. It also gives them the ability to undo their last swipe and access to unlimited right swipes and super likes. Using this to my full advantage, I began laying the groundwork before actually landing, something that I thought would be beneficial heading into SXSW. 
Staring back at me was profile after profile of bearded men holding dogs. A majority of my Austin matches took place during the festival itself, held March 11-20, and were dominated by music and tech-types and not dog-wielding lumberjacks. Overall, they took well to my requests for a bouquet of burritos and to get me into exclusive events. Often, they beat me to the punch in messaging first. Only once did someone take offense to my asking for dinner upon first matching. Can't win them all, can we?
Due to the high volume of showcases and tight scheduling, I was unable to meet up with any potential charitable suiters. SXSW is a see-and-be-seen event, so if you weren't at Drake's surprise set or at the Calvin Klein party at the South Congress Hotel, I had no time—or WiFi—to coordinate plans for an IRL taco feast. 
At SXSW, I received one marriage proposal and over 40 matches. According to festival numbers, over 30,000 participants attended official SXSW music showcases, almost 20,000 participated in the film conference, and over 37,000 people were in attendance during the interactive portion of the event. And that's only taking into account those with festival passes. Many, including myself, came sans badge to partake in the unofficial and free shows. Further, regardless of event affiliation, 59,376 rooms were booked in 64 hotels and 14,095 individual reservations were tallied. With all those extra bodies congregating in Austin's streets and hotel rooms came extra thumbs for right swiping. A staggering one million matches were made between March 11-20 in Austin, according to official data from Tinder. The company also gathered that app use was up 35 percent during SXSW as compared to a non-festival week. Considering an average of 26 million matches occur per day in 196 countries, Austin's connections during these nine days accounted for about .4 percent of the world's Tinder matches over the same time period.
Compared to SXSW's many venues, Boston Calling's grounds were conveniently situated in the city's City Hall area. Inconveniently, there was very little shade and all I wanted was a respite from the Memorial Day weekend sun. My requests this time around were, simply, for air conditioning and a photo shoot while consuming hot dogs. Before matching with Josh, those I conversed with largely shared a genuine disdain toward my attempts at comfort and style. One insisted that to be granted access to an air conditioned stay, our relationship, at that time still digital, must be consummated. Boston is a land of extremes: with every misogynistic message came a thoughtful one—an offer to sleep on a couch, or a promise of an entire cake.
After eating all of Josh's fries, we headed down the street to Modern Pastry Shop. I ordered a black and white cookie, Josh a slice of cheesecake, and I paid for them both. Selfishly, I couldn't help but think this wasn't how this thing was supposed to work, while simultaneously being struck by more than a pang of guilt for the free beer and fries I'd already consumed on Josh's dime.
All the while, Dave* had been calling me. He'd been waiting outside the festival to hand-deliver me a brownie and left an endearing voicemail: "Hi Allie, this is Dave," he began. "I'm sitting here in front of Samuel Adams' figure, I hear kind of loud music." This was my only missed connection.
With a smaller-scale festival—between 20,000 and 22,000 attend each year—came a smaller Tinder engagement. According to Tinder, use of the app increased by 18 percent over the duration of the festival, which occured during May 26-28. Overall matches increased by slightly more, at 22 percent. Despite a shorter festival period, I'd aquired about 30 matches. Based off of my conversations and observations, Boston Calling is heavily attended by locals and those in the surrounding area. More often than not, those I'd matched with lived in Boston and were not going to the festival.
If SXSW could be characterized by its intensity, and Boston Calling by its intimacy, Governors Ball 2016 shall be known for its Kanye riots. When the third and final day of Governors Ball, held June 3 on Randall's Island in New York City, had been cancelled due to severe weather predictions, rumors on where Kanye would pop up began to circulate. My goal was to wait out the storm at the Times Square Hard Rock Cafe, the place where dreams either come to life or to die. Of my 45 matches, no one seemed up for the challenge quite like Ryan*. Within a matter of a few message exchanges and 45 minutes, we were sitting at the bar sipping margaritas and discussing his famous actor cousin who happened to star in a movie alongside Zooey Deschanel. Despite having spent years living in New York, Ryan still liked coming to the Hard Rock Cafe and enjoys their nachos—it's an office tradition, he said. He also claimed he'd never seen Grease before, yet knew every word to the medley that played on the speakers overhead. We gazed into each other's eyes as we sang "Those s-u-u-mmer nights," and I thought it could be love.
Plenty of others potentially could've experienced the same tequila-fueled connection in New York City that weekend. Tinder reports that users were swiping 22 percent more on Friday and Saturday and 38 percent more on Sunday, when the festival was cancelled. In addition to the spike in swipes, matches also increased by 39 percent on Sunday. With this came the result of an increase in Super Likes on Sunday, which increased by 30 percent. Out of the three cities I'd experimented in, Tindering in New York garnered the most Super Likes.
However, these numbers are miniscule compared to the Tinder free-for-all that comes with festivals in less urban areas. Last year at Firefly Music Festival held in Dover, Delaware, during June 18-21, there was a whopping 472 percent surge in Tinder activity. During Coachella 2015, app traffic saw an uptick of 300 percent in Indio, California, during April 10-12.
Festivals with an intense and sudden influx of people to one confined area—like a field or a desert—result in a much higher rate of swiping compared to festivals that take place in cities where people actually live. There's always going to be a lot of Tindering in New York, but Dover, with a population of over 37,000 according to census data, probably not so much. 
The video for Carly Rae Jepsen's "Call Me Maybe" played on the TVs surrounding the bar at the Hard Rock Cafe and for the first time all evening, Ryan exhibited emotion. "I love this song," he said. Eyes transfixed on the screen, he mentioned he doesn't really listen to music all that much or watch movies that aren't Disney. He cried during "Inside Out."
After he'd settled up with the bartender, Ryan asked if I wanted a picture in front of the wall of guitars. Instead, I insisted he pose in front of them. "Sure," he said, shrugging.
This wasn't exactly what I had in mind for my Governors Ball weekend, but as we bid farewell in the Hard Rock gift shop, I couldn't help but think this was exactly how it should be.
And all it took was a swipe.
*=Names have been changed.