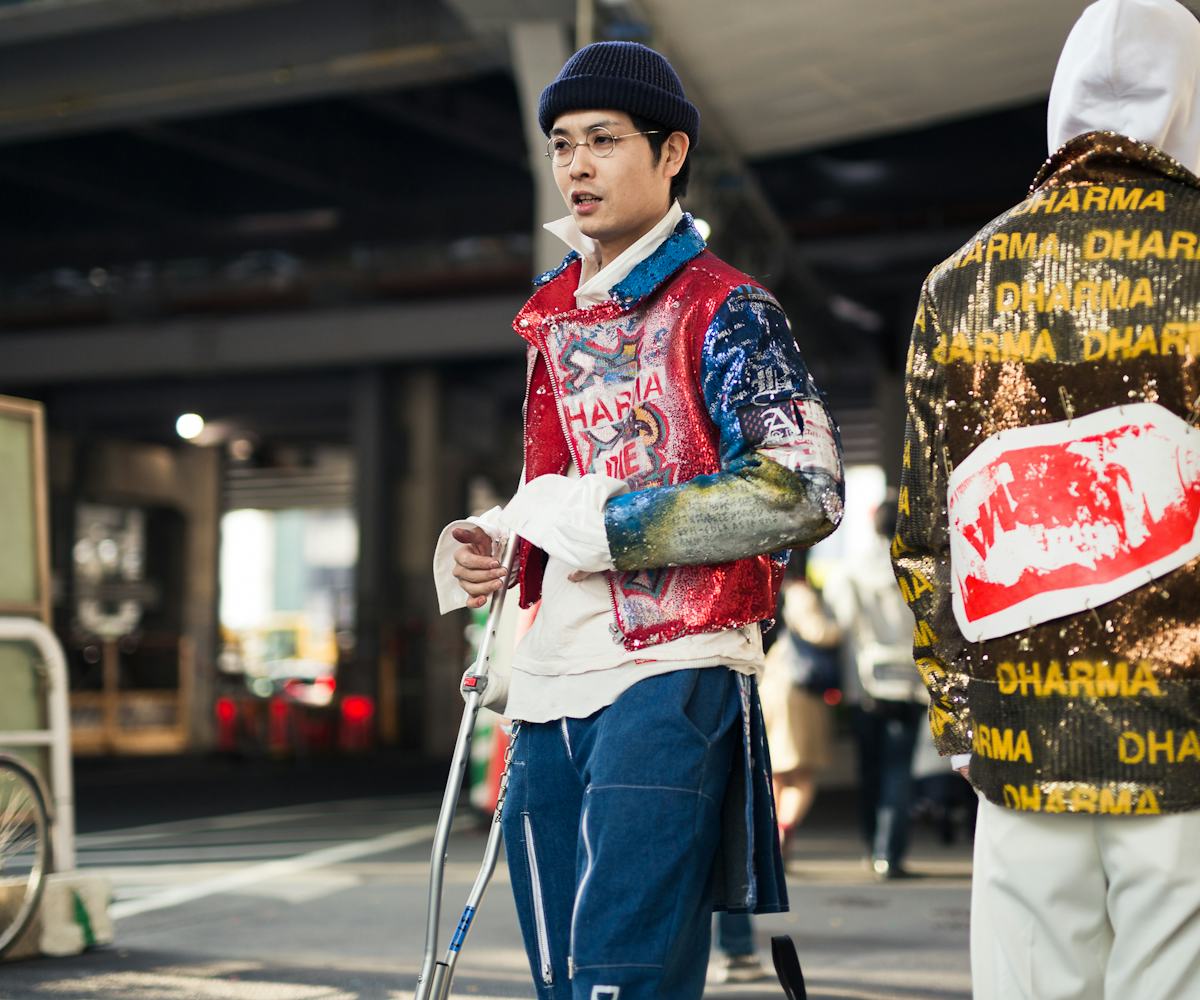 Photo by Matthew Sperzel
Tokyo Fashion Week Street Style Redefines Cool
Or, perhaps, we just never knew the true definition
You think you know good street style, but then Tokyo Fashion Week happens. Now you know what good street style is. Tokyo Fashion Week flooded the streets with outfits so original, you'd be hard-pressed to not find a look you want to cop or be left wondering why you don't push your personal style boundaries as hard. Tokyo residents make practically anything work. Trends? What're those? Oh yeah, the movements Tokyo starts and somehow finds ways to evolve without them ever growing stale, dull, and unfresh. The street style is effortless, despite the number of garments worn and accessorizing going on. It's cool without trying to be. What's the secret? If you know, do tell because pictures may say 1,000 words but those words don't add up to the secret. They just add up to being really, really ridiculously cool.
Jumpman, jumpman, jumpman, just copped this jumpsuit.
Anarchy.
Category is Sleeves.
Dope turtleneck-pullover combo.
Is that a BAPE?
A little pink, me thinks.
A lesson in layering, twisting, tying, and unconventionality.
Camo that actually makes you stand out.
Laced-up, what up?
You know that feeling when you think you have style but then someone (or three people) walk past you and suddenly you know you don't have style because they have it all?
Fear not the color you wear, but the fear you feel for wearing color. It pays off, and this is proof.
Bored meeting—as in, I'm bored in this meeting—looks to try.
A silhouette to cut edges with.
Canadian tuxedo? Never heard of it.
Polka dotted plaid ain't too bad.
Gotta catch 'em all.
Who dat? Who dat?
A look that says "business."
TFW you have a beach party at 11 but a Step Up: The Streets competition at 10.
That's "bleu" to you.
You know what's black, white, and red all over? This.
Filing this under Disney's Animal Kingdom Outfit Ideas.
Marathon looks, honestly.
If only prints like this actually made you as fast on your feet like the animal they mimic.
Flowy master fresh.
Spray (paint) it, don't say it.
Robed and ready.
Goth's not dead.
The Matrix does football.
Stripe on.