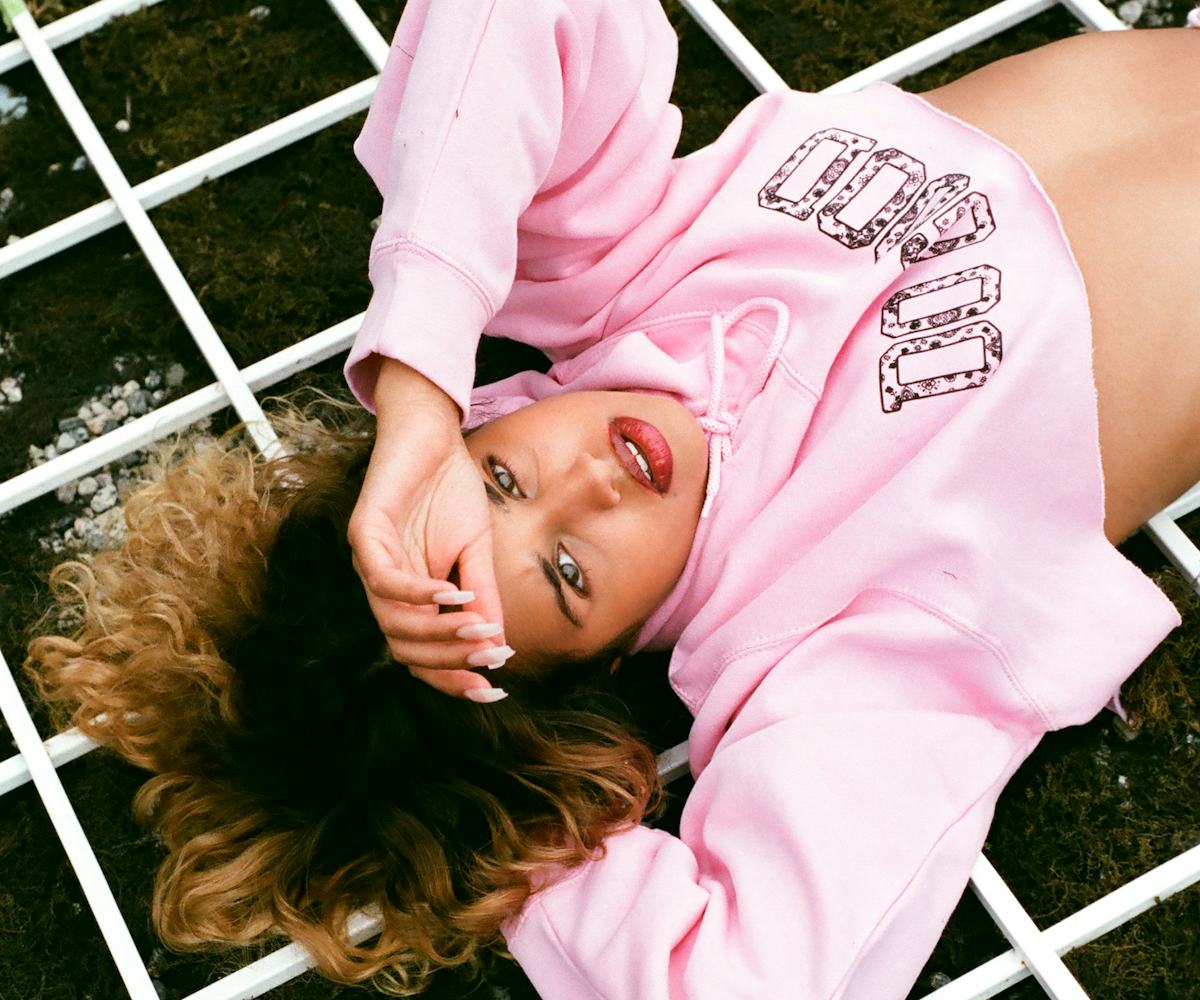 Photographed by Katrin Braga.
Multihyphenate Tommy Genesis Talks Modeling, Rapping, And Heritage
This self-proclaimed bad girl has it all
The following feature appears in the October 2016 issue of NYLON.
As a child, all Tommy Genesis needed was a box of crayons. "I was the kind of kid where, if you gave me crayons and paper, you could leave me for hours," she recalls. "My mom had to yell for me to go play outside." These days, she uses a different set of tools. A graduate of Vancouver's Emily Carr University of Art and Design, she is drawn to structural paintings using fabric and glue, but her canvas is even broader than that. "To dress up and get your makeup done and be somebody new for a day, to go into a different character, that part is fun for me," says Genesis of modeling, an endeavor that she took on when her photographer friends asked her to pose for them.
Although she won't pinpoint exactly where, Genesis grew up in northern Canada, where racial tension wasn't unheard of. While her sisters inherited the blue eyes and blonde hair of their mother's European ancestry, Genesis received her South Indian father's traits, and it—along with her tomboyish appearance—was cause for some bullying. Despite initially wishing that she looked more like her siblings, today she feels differently. "The fact that I look like my dad [means that] I'm able to represent a whole part of me that would have been otherwise hidden," she says.
And, indeed, she is being noticed. Most notably, she appeared in Calvin Klein's fall 2016 #mycalvins campaign, which also features Kate Moss, Margot Robbie, Zoë Kravitz, and Young Thug, among others—along with bits of Genesis's songs, yet more proof of the multihyphenate's creative prowess. She didn't have quite the natural inclination for music that she did for visual art, however: Her foray into rap was actually the result of being criticized for her singing skills (or lack thereof), with one of her sisters often yelling at her, "'Stop singing! You suck,'" as Genesis recalls. Her rhymes caught the attention of Atlanta rapper Father—and his cultlike fan base—as she was readying the release of her 2015 debut album, World Vision, followed by tracks such as "Art" and "They Cum They Go" from the record's upcoming sequel.
Click through the gallery to read the rest of the feature.
Her lyrics can be considered crude by some, but definitely not by Genesis. "I don't think I'm that explicit. I think I'm just a bad girl," she says with a laugh. "My identity is very sexual. Sometimes I try to repress it, but I just can't. I think that it's because a lot of the time, when I write, I just lean on sexual experiences, because to me it just ties a lot of my thoughts together naturally. It's not like I'm trying to shock anybody."
But as sexually open as her music may be, there's much that Genesis is very private about. "I like to speak in generalities," she explains. It's her way of protecting herself as well as her loved ones. "I can't put anyone on blast. I care too much about the real-life consequences of relationships, and I respect friendships."
What doesn't concern Genesis is gender, especially in light of the fact that female rappers are relatively rare. She does have a particular appreciation for her female fans, though. In her eyes, girls can connect to certain themes in her music because, as women, "we share collective insecurities because of the way society is structured," she says.
With whatever outlet she may choose, Genesis simply wants to create work that she can be happy with. "I would leave it all if I wasn't happy, without regret," she insists. "I just do things that make sense, but I'm aware that I change. If in a year it doesn't make sense, I don't know, maybe I'll start acting. I just do what I want to do."