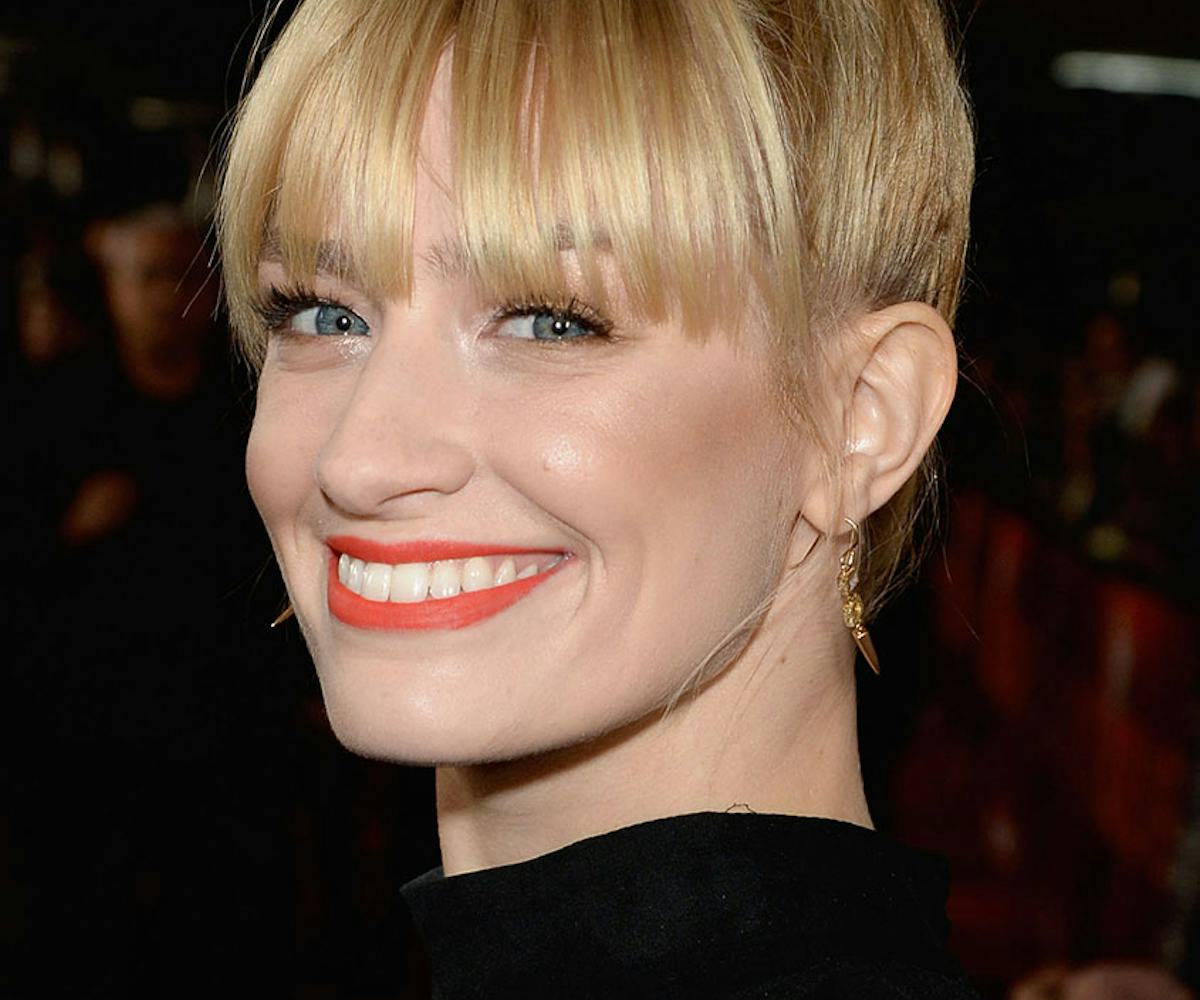 photo by getty images
beauty queen: beth behrs
red lips + top knot = holiday party no-brainer.
The top knot: friend or foe? For anyone who has spent an hour trying to get it looking juuust right, you might be thinking the latter. I don't blame you; turns out, there is an actual technique to getting a high bun that's involves more than just, "Twist it and secure it with an elastic."
That's the bad news. The good news is I got the top knot secret for celeb hair stylist Aviva Perea, who styled 2 Broke Girls' Beth Behrs at TrevorLIVE LA this week. Read on for her easy breakdown (and in case you were also drooling over her orange-red lips, makeup artist
Adam Breuchaud used MAC's Matte Danger, the beauty brand's new-ish, matter version of Lady Danger, on the actress).
ROUGH IT: Oribe Surfcomber Tousled Texture Mousse - $37, and Phytovolume Actif Volumizing Spray - $29
"I prepped Beth's hair with Oribe Surfcomber Mousse and Phytovolume Actif Volumizing Spray and rough dried using just my fingers."
PIECE IT: Rickycare Black Bungees - $7
"Then section by section from just behind her bangs started brushing hair up and securing with a clip. If you try to do it all at once you can end up with lumps and it's harder to manage. If you do it slowly you can be more precise. Once all of the hair was up where it needed to be I secured with a bungee hair elastic.
SET IT: Alterna Bamboo Smooth Anti-Humidity Hair Spray - $18, Rickycare Large Mascara Wands - $4
"You then basically have a super high pony, which I divided into two parts and wrapped the first around and secured with hair pins. Then I did the same with the second section, making sure to shape the knot as I pinned. Then I sprayed Alterna Bamboo Smooth Anti-Humidity Hair Spray on a clean mascara wand and gently cleaned up the hairline, getting all loose hairs into place."