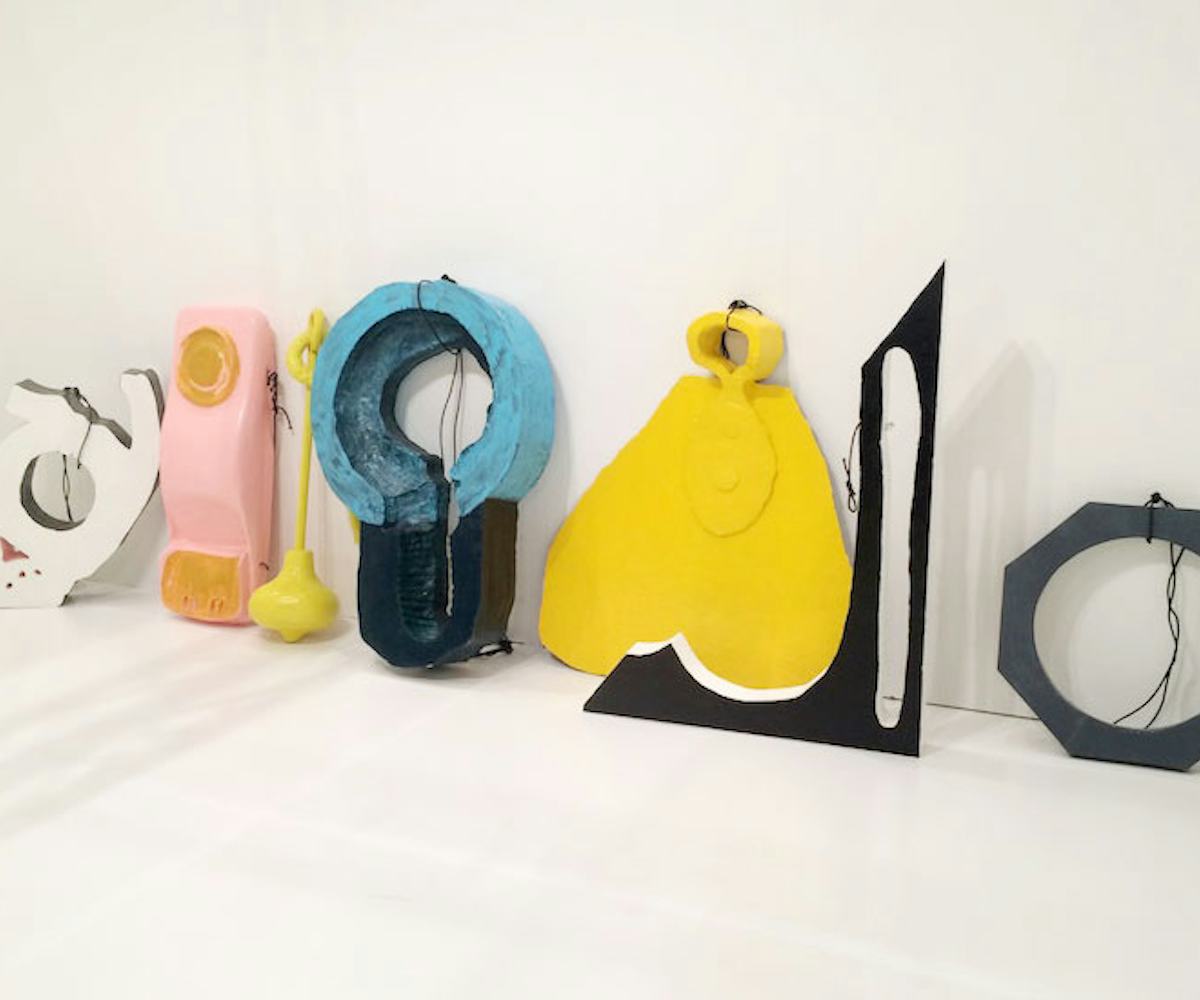 "Untitled," 2015 by Erika Vogt at Overduin & Co.
10 Artists That Thrilled Us At NADA: Miami Beach
Art Basel Miami Beach was in full swing last week, although many found the selection on show at the main fair more conservative than in previous years. Striking work did lurk in the Positions and Nova sections featuring younger artists and galleries, like Villa Design Group and their standout piece "Meat Locker," an illuminated steel labyrinth inspired by the murder of Gianni Versace at Berlin's Mathew Gallery. But the main action was at NADA (New Art Dealers Alliance), in its 12th year but considered a cooler alternative to the main convention center and still showing some of the freshest art on the scene. While the art world recovers from the week that was, you can check out some of its rising stars right here.
Louisa Gagliardi at Tomorrow Gallery Louisa Gagliardi's hazily vibrant paintings practically leapt from the walls of Tomorrow Gallery's booth. The Swiss artist has a background in design and print, producing illustrations for Kenzo and L'Officiel among others, and she also won the Swiss Design award in 2014. Her loaded canvas works gather images from social-media platforms, blowing up and cropping them into an almost-uncomfortable proximity, in a process that has been described as "post-Internet portraiture," while her post-comedown color palette also lends Gagliardi's paintings a buzzy, youthful vibe that felt very at home in Miami.
Puppies Puppies at Queer Thoughts and What PipelinePuppies Puppies showed several of his delightfully odd painted horseshoe-crab shells in booths with both New York gallery Queer Thoughts (alongside three other artists), and with Nolan Simon at Detroit's What Pipeline gallery. What Pipeline also featured Olivo's enormous globe inspired by Charles and Ray Eames' film, The Power of Ten. The globe was deflated on the morning of the last day for, as we like to imagine, a sweet spot for gallerist Daniel Sperry to catch some zzzs.
David Rappeneau at Queer ThoughtsQueer Thoughts showed a cluster of strong works by emerging artists, including two of David Rappeneau's intoxicating ballpoint-pen and pencil drawings of lithe, young things in stylish garb clasping drinks, credit cards, and cell phones in typical Millennial abandonment. According to his gallerists, the young French artist who gained huge popularity on Tumblr as Prince Diamond, is notoriously shy, which only adds to his mystique.
Alex Mackin Dolan at David LewisThe precision, attention to unexpected detail, and confident use of experimental materials in the work on display at NADA is what set the fair apart, and the work by Alex Mackin Dolan at the Derek Lewis booth was no exception. Mackin Dolan belongs to a crop of young artists based in New York making thoughtful work about contemporary trauma, and is also a co-director of Grand Century.
Jesse Greenberg at Derek Eller GalleryJesse Greenberg is another New Yorker managing to balance life as both an exciting, young artist and a hip gallerist. Like Queer Thoughts director Sam Lipp (who had some great work on show at Bodega in addition to his gallery booth), Greenberg was present in both capacities at NADA, with booth space for his gallery 247265 and one of his oozy "Body Scan" works at Derek Eller. This series combines urethane resin, colored pigments, and steel frames to evoke primal swamps, lava lamps, and sci-fi weirdness within a gloopy texture that is just begging to be prodded with sharp objects (don't worry, we managed to resist).
Erika Vogt at Overduin & CoErika Vogt's colorful, sculptural objects in polyurethane, acrylic, wood, and rope, slumped against the walls of the Overduin & Co booth like abandoned props or actors on standby. The Los Angeles-based artist often works collaboratively across theatre, film, sculpture, and sound, and has called her experience with experimental filmmakers deeply influential.
Oa4s at LodosThanks to the excess of works on display and meandering people, it can be easy to fall into a trance at any art fair, so it was refreshing to wander into a performance from the Mexico City-founded (and L.A.-based) collective Oa4s, beside their booth with lodos. The trio took turns to read aloud from their sprawling play, Left in the Dark, in solemn, earnest voices, which occasionally pierced the hubbub of the visitors drifting by to enchanting effect.
Oa4s at lodos, courtesy of the artists and lodos gallery
Dena Yago at Bodega and High ArtDena Yago is better known outside the art world as one-fifth of the trend-forecasting collective that coined "normcore," K-HOLE. Her work as a solo artist is gathering strength, thanks to a deft coupling of poetic language and imagery, often using found text and tightly cropped unconstructed images. Yago's piece at Bodega featured friends and accomplices Mike Eckhaus and Zoe Latta locking lips beneath a pair of pewter fish. New York's favorite design duo were also in attendance this year, notably cajoling patrons of the PS1 party into a conga line through the Delano pool on Friday night.
Uncouple Coparents, 2015 by Dena Yago at Bodega
Ulrich Wulff at Truth and ConsequencesUlrich Wullf's playful oil-on-canvas works have all the strange, playful vigor of a Richard Brautigan novel or a Dr. Seuss fable. Some are more abstract than others, but we loved this odd, startled figure, gazing to the rear and possibly wondering where to acquire some green eggs and ham.
Lin May Saeed at Jacky StrenzThis grubby relief of a lioness was carved by Lin May Saeed in styrofoam. The German-Iraqi artist tends to make textural works concerned with the relationship between people and animals. She works out of a studio that is situated in Tiergarten, a neighborhood in Berlin that aptly translates to "Animal Garden," or zoo.