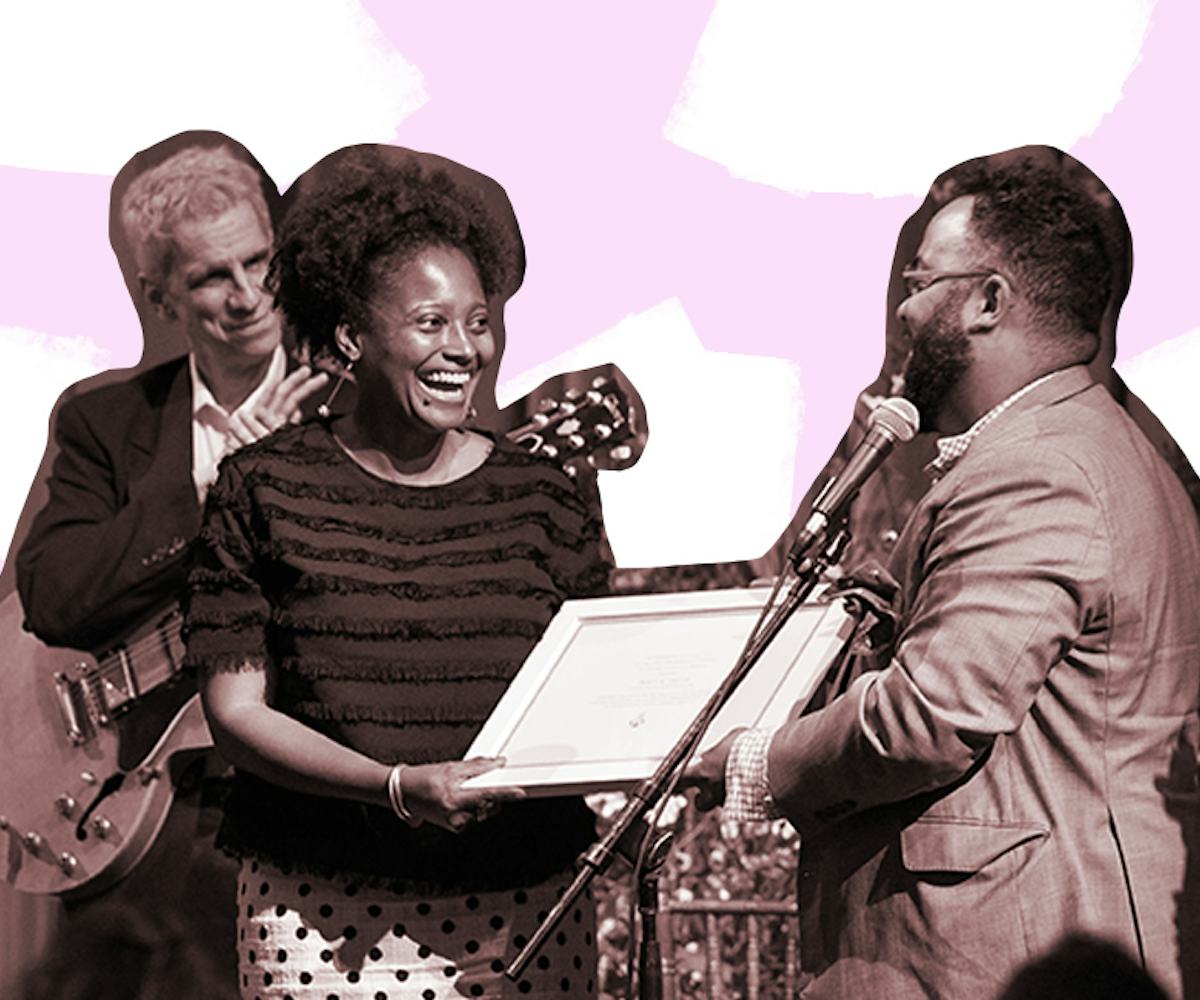 Tracy K. Smith On The Politics Of Poetry
Talking with U.S. Poet Laureate, Tracy K. Smith
Tracy K. Smith invited her brother-in-law, who held a hulking double bass, up to the stage. At their annual Spring Benefit at the New York Botanical Garden, the Poetry Society of America honored Smith, our current U.S. Poet Laureate and winner of many prizes (including the Pulitzer). To celebrate, Smith read from her new collection of poems, Wade in the Water, with some family assistance: a two-piece jazz band. "Every least leaf / Shivers in the sun," she read, bassline thrumming behind her, "while we sit, bothered, / Late, captive to this thing commanding / Wait for this man. Wait for him." I spoke with Smith after the dinner, about her current work as Poet Laureate, her latest book, poetry's role in the world today.
Your role as U.S. Poet Laureate is an apolitical one, yet you hold it at a time where everything feels intensely political. How do you negotiate it?
I think about it in terms of what possibilities language affords us: for thinking differently, more deeply and complexly; [for] admitting to more vulnerabilities than we are encouraged to in the fast-paced, highly adrenalized, combative stream that we live in. Issues are polarizing and you fall into a camp, [but] poetry doesn't allow that to happen. You're being pushed towards new ways of hearing and seeing. It's exciting for me to celebrate the different things that language allows us to hear and ask and wish. You can do that everywhere, you can do that with anyone.
Your latest book, Wade in the Water, also feels very timely. It's very much about America: making explicit reference to some of the most iconic and formative moments in American history from the Civil War to the literal Declaration of Independence. What were you thinking about when you were bringing these poems together? How do you think this book speaks to this particular American moment?
I was trying to listen toward history, to see what it might have of value to say to right now. We are really still in the middle of a knot that in some ways we thought had been unraveled a generation ago. I'm thinking mostly about race, but I think that sense of fear and apprehension that sits between people doesn't stop at race. I love that a lot of the book, while it's digging into the sense of the political, is also thinking through the vocabulary of love and compassion. Writing the poems made me feel kind of excited and hopeful.
Tell me about the incredible travel you've been doing as Poet Laureate. That's your official project?
We have a name for it now: it's called "Every America." I'm going to rural communities. I've done three trips that the library has organized, then I've been invited to a lot of small, rural communities over the last year.
These are audiences that don't often have a living, published writer in their midst. Even if these places aren't necessarily new to you, the experience of being in them on official poetry business must be. Has the experience changed your relationship to writing at all?
I've taken this as an opportunity to celebrate the work of other contemporary American poets, and it's reinvigorated my relationship with a lot of the poems that I've been sharing. Going into different communities and talking about poems that I've lived with for some time, and asking what they cause listeners to think of, what associations come to mind—it's changed the poems for me. I see how they are useful in other vocabularies, in other life circumstances, in other geographies. That's really exciting.
I just did an event in Wyoming that wasn't part of the official project but it was a really beautiful visit to a small community. I did a workshop and the next day one of the participants said, "Okay, I've never had a lot of confidence with reading poetry, but now I get it." You just kind of send it through your filter and see what you respond to, see what it activates and speaks to. I love that idea, that my filter is different from your filter. There are things that are going to resonate with me that might resonate with you but in a completely different way.
Do you think this experience—getting to know how people all across the country respond to poetry—will change how you yourself write?
I'm sure this experience will bring other questions to me. I don't think about the end result. Eventually, if I'm doing a good job, maybe it will have a public life. I know I'd like to write about this experience. I have a feeling it might be in the form of prose: essays about my experiences visiting people's homes, driving through the beautiful landscapes. I don't know what that will look like. But I've never thought about audience. [I write] the way I think.
How has the Poetry Society of America impacted your work or life?
Oh gosh, when I was a student here—and even just a citizen of New York—going to the events sponsored by the PSA, I realized, "Oh there's an ocean of contemporary poetry, and it's possible to remain immersed within it." The PSA makes that easy to do.
Poetry-in-Motion is inspiring, instructive. It's this huge public service. Even without realizing it, it's repairing so much of what, in our day-to-day lives and the environment we live in, is kind of eroding. Poetry allows you to stop, to think, to struggle a little bit with another voice, with another perspective, to say "There's something here worth listening for." It allows you to say, "God, there's something in the periphery that could be more central to me if I allow it to be." We need that. Even just being here at the Botanic Gardens, among beautiful, exuberant life. We're supposed to be here. Poetry is another version of that—the real.