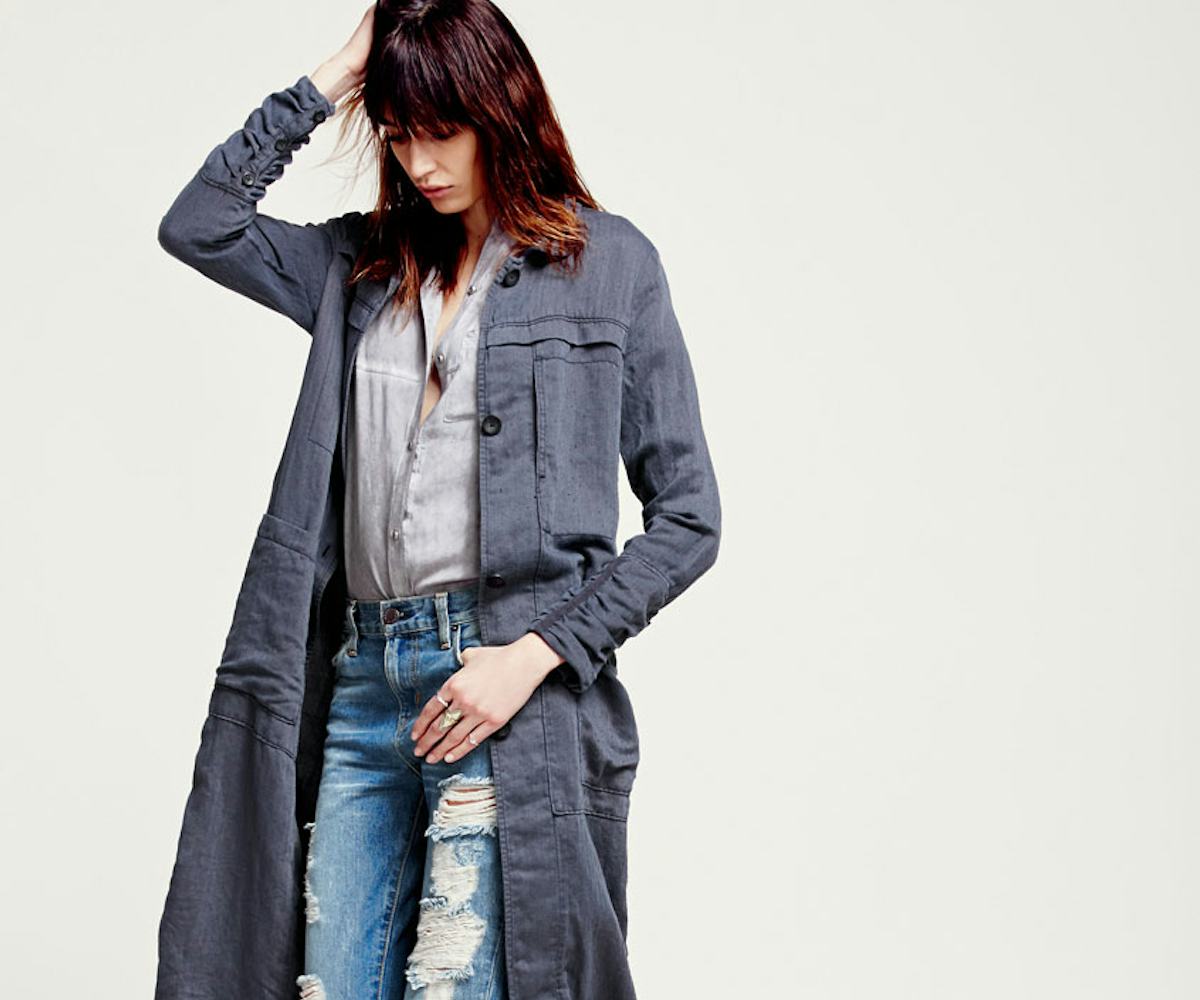 Photo via Free People
what to wear before it's actually warm out
what even is this weather right now?
We'll admit it: We're pretty confused by this weather. It seems like everyone else is, too, judging by how we often see someone wrapped in a winter coat followed by someone in flip flops.
With the weather in a weird limbo of not-too-cold and not-too-hot, you may be stuck standing in front of your closet trying to figure out what the hell you should wear. Luckily, we've rounded up our choice of transitional weather picks to get you through this awkward season.
Reliable BasicsThe best way to be prepared for unpredictable weather patterns is to wear layers. That way, you can add or remove pieces of clothing as the temperature fluctuates. The best way to layer is to make use of reliable, no-nonsense basics to throw over or under your flashier pieces of clothing.
Everlane, the Ryan long sleeve, $30.00, available at Everlane.
Madewell, Anthem tank, $39.50, available at Madewell.
Lightweight SweatersA lightweight sweater will keep you warm without the heaviness of a winter knit. Try bold colors or a popular trend like fringe, especially because winter coats are finally no longer the main focal point of your outfit.
Pixie Market, fringe on sweatshirt, $88.00, available at Pixie Market.
Nasty Gal, Critical Digital waffle knit sweater, $40.60, available at Nasty Gal.
Destroyed DenimIf you're a jeans girl through and through, but the weighty denim gets too warm as temperatures rise, try a pair of distressed boyfriend jeans. The loose fit and tattered denim will feel less constricting, and more fitting for warmer temperatures.
One Teaspoon, Wolf Blue Awesome Baggies, $139.00, available at Shopbop.
Forever 21, acid wash distressed jeans, $27.90, available at Forever 21.
Midi-Length SkirtsIf you're yearning to finally wear a skirt without freezing, we understand. While it may still be too cold to rock a mini skirt, you can wear a longer one, which allows you to hide a pair of cropped leggings underneath on chillier days.
Forever 21, palm print a-line skirt, $19.90, forever21.com.
Cheap Monday, checked wrap midi skirt, $65.00, available at Asos.
JoggersJoggers are comfortable and they work for a variety of temperatures, depending on how you dress them. On their own, they're a comfy and breezy pant, but if it's a chillier day, you can sneak a pair of thin tights underneath. Did we mention that they're comfy?
Topshop, soft piped joggers, $75.00, available at Topshop.
H&M, pants, $17.95, available at H&M.
Duster JacketA duster jacket will give you extra warmth and the length keeps you covered from brisk winds. Wear it over everything.
Free People, textured duster, $79.90, available at Free People.
BDG, rugged indigo duster coat, $149.00, available at Urban Outfitters.
Bucket HatDuring this transitional season, swap out your winter beanie for a chic bucket hat. It'll keep your head covered for the colder moments of the day but won't leave you feeling as overheated as your thick, knit hats.
OBEY, Rosecrans bucket hat, $42.00, available at Urban Outfitters.
Monki, bella denim bucket hat, $27.00, available at Asos.
Springtime KicksOur winter boots have seen us through a tough winter, but it's time to put them away in favor of something more weather appropriate. It may still be too chilly to bare your toes, but you can wear a lighter pair of slip-ons. Bonus points if it's colorful enough to let everyone know you're ready for spring.
H&M, shoes, $34.95, available at H&M.
Zara, mesh plimsoll, $49.90, available at Zara.