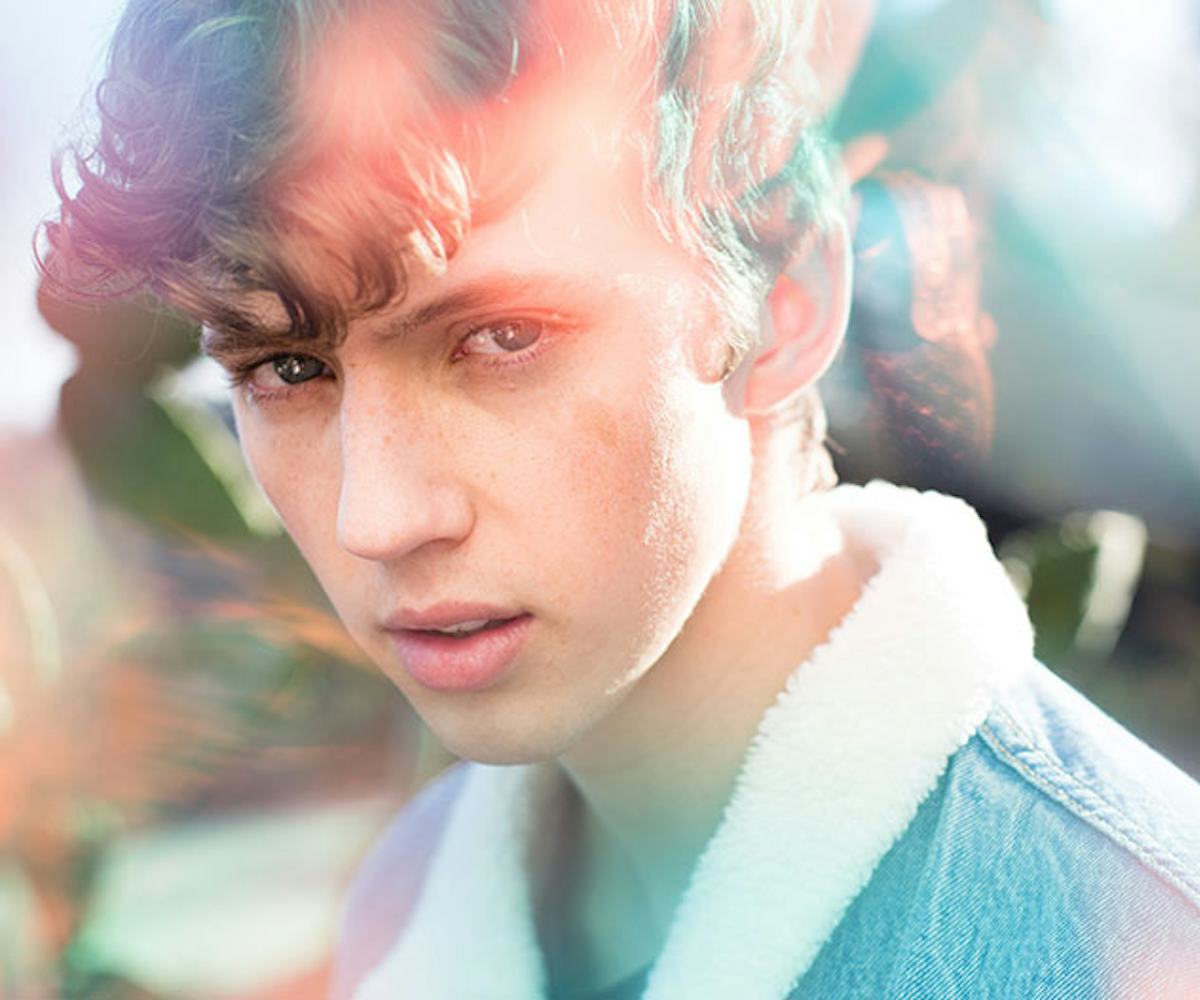 Photographed by Myles Pettengill
troye sivan's wild days are just beginning
introducing the youtube star that could
YouTube is a powerful tool when used correctly. It can bring the coveted 15 minutes of fame to an individual; it can open doors and increase visibility for minority groups; it can remind folks that it does, indeed, get better; and in rare cases like Troye Sivan's, it can launch careers.
Currently, the fame and career conditions have come to somewhat of a head, thanks to a few snarky comments made during (and following) the Teen Choice Awards. What do we make of a young person with a massive following and little to no experience in the buttoned-up media world who decides to do something they're passionate about? Complacency is easy. Admiration is harder, but it's inevitable when watching a young adult take the lemons life has given them and make some pretty stellar lemonade.
"When I was 12 or 13, I was sick at home and I had just found YouTube," Sivan tells us. "YouTube had been around for maybe a year or so and out of boredom, I decided to post a video of me singing." According to the 20-year-old, the video only got around 1,000 views—a small fraction of the millions of views his videos earn today. With a piqued interest, Sivan says he "got a little bit addicted to that conversation and connection you can have with people you've never met before." Sharing became a part of his life, and soon, he started racking up a following. Sivan became an online character to some and to others a source of inspiration. His two coming-out videos have been viewed over seven-million times. "I still get hundreds of emails and messages every single day about that video." It was his first coming-out video, though, that made him realize he could use YouTube to do more than connect with his followers. He could put out music.
Photographed by Myles Pettengill; Styled by Faith Kesington; Grooming by Sparkle Tafao for Mac Cosmetics.
Even though he "can't remember wanting to do anything else except music," for a brief moment, Sivan tells us he thought making music wasn't in the cards for him. "I thought it was always going to be a hobby that I was super, super passionate about." That is, until a record deal fell into his lap and singles like "Happy Little Pill" and "The Fault In Our Stars" started turning heads. Suddenly, the Australian boy from YouTube was something more than that: He was a music artist in the making.
A.P.C., Dark Navy Bomber Jacket, $247.20, available at hypebeast.com; Sivan's own T-shirt.
"To me, being a recording artist is kind of like doing all my dream jobs in one: making videos, making artwork, writing songs, and performing. It kind of checks all the boxes for me, and there's not one part of it that I would want to miss out on." With crisp, minimal images and pop-R&B sensibilities, Sivan's first EP on Universal Music Australia, TRXYE, was a runaway—albeit underground—hit of 2014. Lyrics of drug-addled nights and bored suburban days captured today's youthful angst in polished productions. It was a glittering debut—one that set Sivan apart from his Internet peers. Now, with the release of his new project, the Wild EP, freshly announced, let's see what he can really do.
Levi's denim jacket, $98, available at nordstrom.com; Sivan's own T-shirt.
Through the six songs on the EP, Sivan's songwriting skills are out in full force. "Wild" is a school-yard bop rooted in a forbidden love. "Bite" is haunting, post-dubstep track about desire. There's an element of coyness to the entire project that makes Wild (and Sivan, himself) alluring. Never mind he obscures his face in most of the album art. This is a project Sivan's given his full self to. Tracks like "Fools," a dizzying, melancholy synth dream of an unrequited lovesong, show he's matured in his youth. He's growing, but not grown. Longing is a theme that threads the entire EP together. His track with BROODS—something he tells us his record label organized but a dream of his regardless—drives the point home ("I'm so obsessed with their music and them as people"). Together they wrote "Ease," one of Sivan's favorite songs. "It sounds exactly how I hoped a Troye and BROODS song would sound like."
Member's Only, The Classic Iconic Jacket, $66, available at membersonlyoriginal.com; A.P.C., Fairfax T-shirt, $110, available at apc.fr.
Sivan teamed up with a slew of producers for Wild, but he had his fingers in everything. "I think it's just from where I come from, which is online, where there are no production teams," he says after being asked why he is, unlike many recording artists, so involved. "[Wild is] a very complete vision," he tells us. "I'm really happy with how it turned out."
A.P.C., Logo Sweatshirt in Light Heathered Grey, $180, available at apc.fr.
Wild is exactly what a sophomore project should be. It advances Sivan's skills and shows growth. It marks the beginning of Sivan, the true recording artist. It's exciting and filled with possibility. What that means, though, is more pressure to keep it up—a threat Sivan is aware of thanks to his YouTube beginnings. "It's bound to happen," he says of a future misstep. "I'm bound to mess up at some point. I hope people see I'm willing to educate myself and hopefully not make the same mistake twice. I think as long as you're doing that, that's the best you can do." On the flip-side, Sivan is aware of what his visibility as an LGBT artist means. "From the perspective of someone who has the opportunity to reach a lot of people, my first coming-out video changed everything for me and made me realize how important it is, I think, to follow my dreams while still being an open, honest LGBT person." Ultimately, it's about finding yourself in the music—regardless of sexuality or identity. If his fans can do that, he says, then it's all paid off.
But can Sivan shake the stigma surrounding YouTube stars? It's a worry he shared with us, but a worry he's confident won't come to fruition. He said it's all a matter of how you approach it. To reiterate, YouTube is a tool and, in Sivan's case, a vehicle and means to do something more. It's fascinating how public perception so often tries to hold back an individual with multiple passions from exploring other creative outlets. (Kanye West and his fashion lines are a prime example of this.) Who's to say Sivan cannot be known for something else? Wild is a stellar follow-up to a stellar debut. In TRXYE's "The Fault In Our Stars," Sivan asks his subject to stay grand for a little longer. Perhaps that was, subconsciously, a promise for his next project because Sivan's grandest days are just beginning.
Preorders for his Wild EP, out September 4, are available here.
Sivan's own T-shirt.