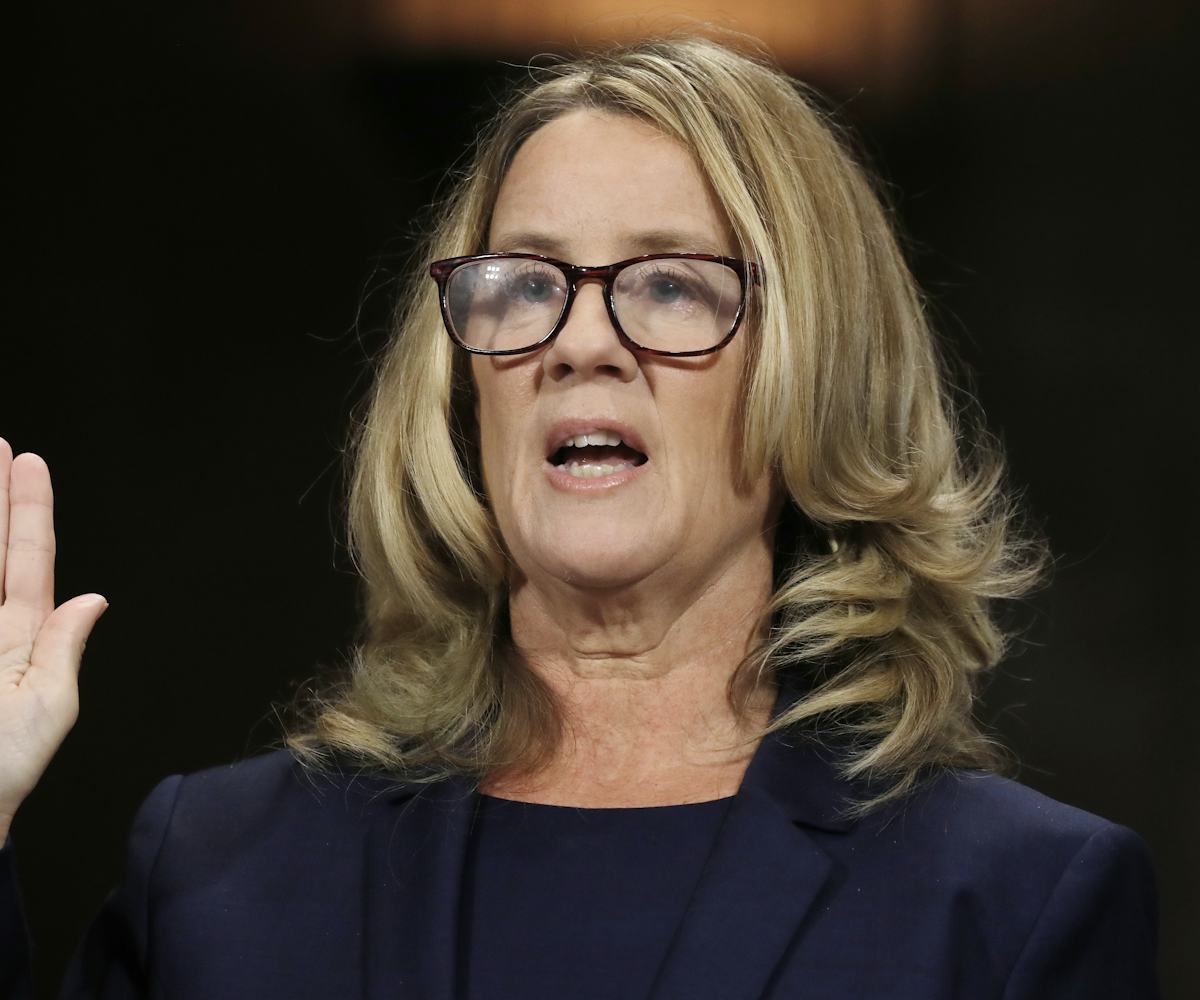 Photo by Jim Bourg-Pool/Getty Images
Trump Mocked Dr. Christine Blasey Ford's Assault Testimony
And the crowd cheered for him
At a rally in Mississippi on Tuesday, Trump mocked Dr. Christine Blasey Ford's testimony in a blatant attempt to discredit her allegation against Supreme Court nominee Brett Kavanaugh. And the crowd cheered him on.
In a clip from MSNBC, Trump can be seen making fun of the gaps in Dr. Ford's memory, which were no doubt caused by the way she processed the trauma of the assault. He continuously brings up the fact that she only had one beer, as if the only reason she could have forgotten specifics from the night would be if she had been drunk. This is victim blaming at its most despicable.
Trump acted out the parts of both Dr. Ford and her questioner. "'Nope. It was one beer.' Oh good. How did you get home? 'I don't remember.' How did you get there? 'I don't remember.' Where is the place? 'I don't remember.' How many years ago was it? 'I don't know. I don't know. I don't know.'" The crowd erupted in cheers at this point, so Trump went on: "What neighborhood was it in? 'I don't know.' Where's the house? 'I don't know. Upstairs. Downstairs. I don't know. But I had one beer, that's the only thing I remember.'" The irony inherent to Trump and his acolytes laughing at Ford, when her testimony included the fact that Kavanaugh and his friend's laughter as she was assaulted has stayed with her for 30 years, is probably lost on Trump. 
He goes on to express his sorrow for Kavanaugh and the toll that the hearings have taken on his life. Of course, he would take the side of the accused, considering he's been accused so many times himself. "A man's life is in tatters, a man's life is shattered," he says of Kavanaugh. Never mind the fact that another witness was announced yesterday who says that she witnessed Kavanaugh spike drinks at parties.
Allegations continue to be brought against Kavanaugh, which is not a sign to pity him, but rather to try to find out what actually happened—but the Trump administration has continuously shown that it doesn't want to do that, and would rather stand behind accused sexual assailants. 
Register to vote here.
If you are upset or triggered by the news cycle right now, RAINN is a great resource to use.