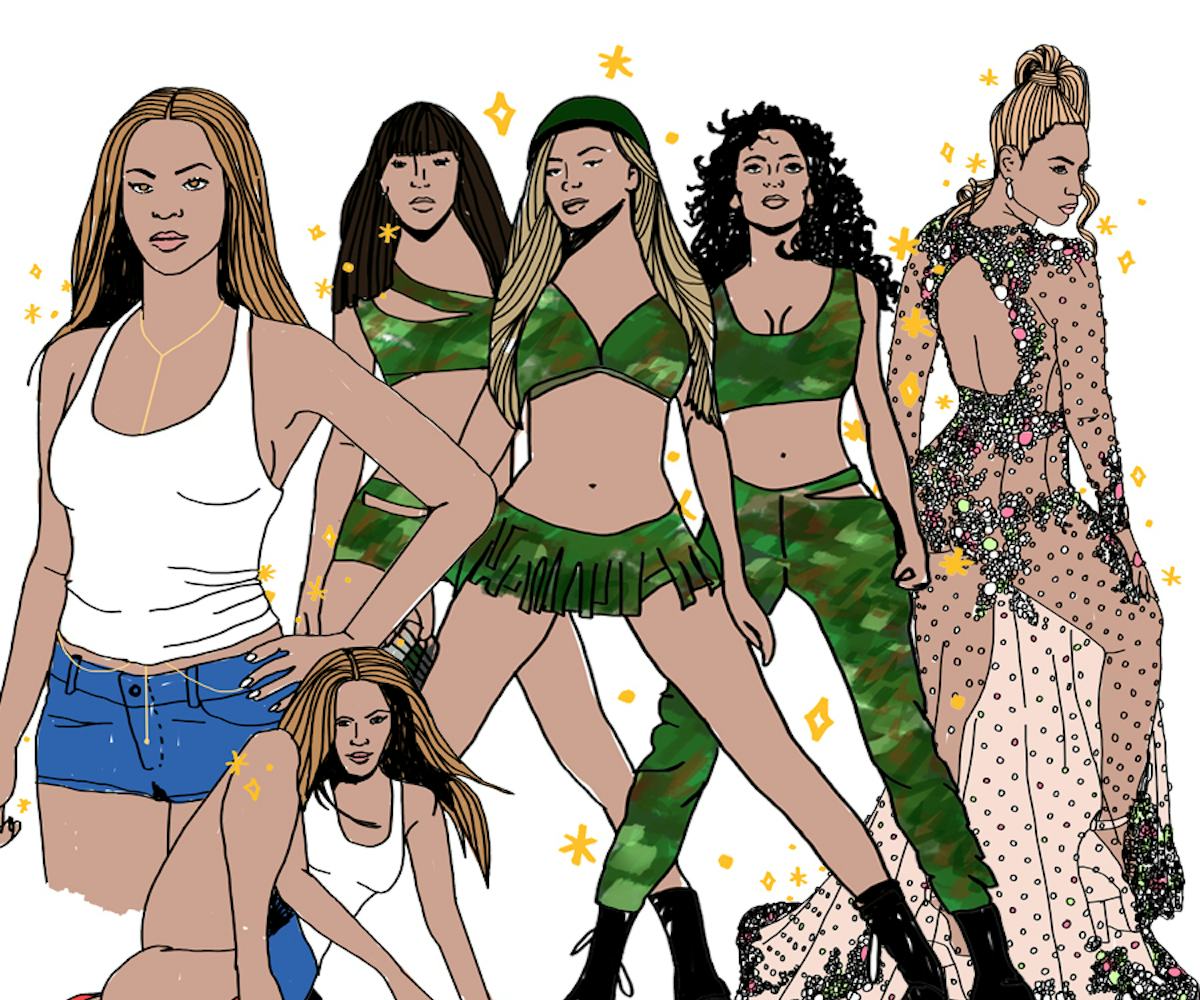 Illustrated by Kelly Shami.
Here's An Illustrated Guide To Beyoncé's Best Looks
Behind the seams with stylist Ty Hunter
The following feature appears in the March 2016 issue of NYLON.
Ty Hunter can't remember a time when he didn't have an eye for fashion—after all, his childhood friends used to pay the oft "best dressed" kid to consult them during back-to-school shopping trips. Fate would have it, then, that in late 1999/early 2000 he'd ditch his job in the medical field and connect with Tina Beyincé-Lawson, beautician and costume designer for her daughter Beyoncé Knowles's girl group, Destiny's Child. As Beyoncé became, well, Beyoncé, Hunter stuck by her side, collaborating with stylist Raquel Smith on the singer's most iconic looks (all while pursuing his own endeavors, like his customized emoji pack and the Ty-Lite, a protective phone case with built-in selfie lighting). Here, the stylist and selfie king dishes on some of Queen Bey's most memorable ensembles that he helped style. 
Click through the gallery to see the looks!
"Survivor" music video, 2001
"'Survivor' is about fighting and overcoming. However you want to interpret the song, everybody survives something. So we just wanted to take army fatigues and make them fashionable. And after that, every designer was doing it."
"Crazy In Love" music video, 2003
"I was so excited to do this because nobody had really seen B. dressed down—pretty much the whole [Destiny's Child era], she was glammed up. It was a look that young girls could copy."
MTV VMAs, 2011
"This was a moment because [later that night] B. revealed that she was pregnant. Raquel and I felt like we had [the look], but then this dress was in one showroom by itself in a corner and I was like, 'This is perfect.' If she didn't hold her stomach, you couldn't tell she was pregnant."
Met Gala: "Charles James: Beyond Fashion," 2014
"[Givenchy's] Riccardo Tisci was inspired by Diana Ross for this look. He wanted it to be sexy, but still carry the 'Bonnie & Clyde' theme."
Met Gala: "China: Through the Looking Glass," 2015
"Our I Dream of Jeannie moment! This was one of the most complicated dresses because it was so heavy, but she walked like she had a feather on. And the ponytail we literally did last minute. Even though it was simple, it's still a badass ponytail."