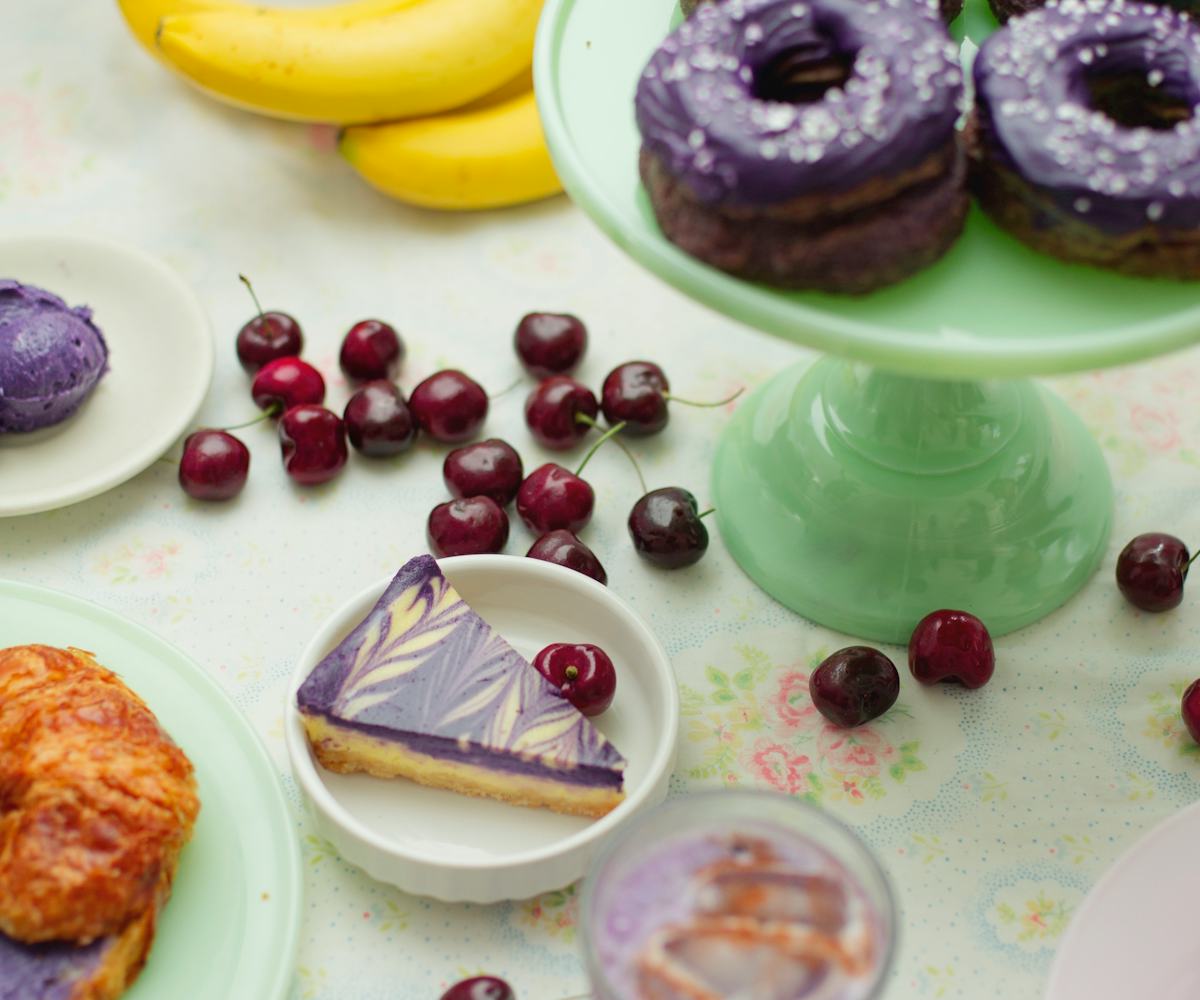 Photographed by Sonia Ostrovsky
Ube Is Stuff Of Purple Foodie Dreams
Wait 'til you see the doughnuts
"It's almost like a white chocolate flavor," says Björn DelaCruz of Manila Social Club in Brooklyn, New York. "A combination of pistachio and vanilla," adds Nicole Ponseca of Manhattan's Maharlika and Jeepney. "I feel like it has mild coconut notes," offers Ginger Dimapasok of Café 86 in San Bernardino County, California. And while its flavor may be somewhat indefinably delicious, ube has a look.
With its naturally royal-purple hue, this yam traditionally used in Filipino cooking—a cuisine that's currently riding a wave of mega-popularity—is social media's new favorite food. It's popping up in cocktails and waffles at Maharlika and Jeepney, in everything from truffles to bread pudding at Café 86, and in the beloved doughnuts at Manila Social Club. (Their world-famous Golden Donut? Yep, ube-infused.)
Don't believe the hype? "[In January we hosted] a doughnut party and our friends DJ'd. The line was 200 people down the block, waiting in four-degree weather. And you have to remember," DelaCruz recalls with a laugh, "there was no alcohol at this party." 
This lovely lavender ingredient can be found in some form at most Asian markets. Here are a few recipes to get your ube on at home.
Mini Ube Monster Cheesecakes
Ingredients for the crust:
50 Oreo cookies
10 tbsp. melted butter
Procedure:
1. Finely crush Oreo cookies. You can use a food processor, or do this in a sealed Ziploc bag with a rolling pin. 
2. Add melted butter to cookies and mix well.
Ingredients for the filling:
24 oz. cream cheese, softened
3 whole eggs
7 oz. white sugar
8 oz. sour cream
¾ cup ube jam
Procedure:
1. Preheat oven to 350 degrees Fahrenheit, then combine all ingredients in a food processor and blend until smooth.
2. Line a 24-cup muffin pan with paper liners, spoon 2 tablespoons of the Oreo crust into the liners, and pack down firmly and evenly.
3. Scoop cheesecake filling over the crust until the cup is three-fourths full.
4. Bake cheesecakes in a water bath for 25-30 minutes or until set.
5. Refrigerate for at least 6 hours before serving.
—Ginger Dimapasok, Café 86
Ube Gnocchi
Ingredients:
5 medium potatoes
2 eggs
1-1 ½ cups flour
64 oz. dehydrated ube
Procedure:
1. Place ube in a sheet pan and dry out in the oven at low heat.
2. Bake potatoes until soft.
3. Press potatoes through a ricer.
4. Combine ube and potato.
5. Add eggs. Mixture should be firm but fluffy and not sticky. If mixture is too wet, add flour 1 tablespoon at a time. 
6. In salted boiling water, add gnocchi and cook for 5 minutes.
7. Pan fry in olive oil until golden brown.
—Nicole Ponseca, Maharlika and Jeepney
Ube Compound Butter
Ingredients:
1 lb. unsalted butter
2 cups ube paste
¼ cup white granulated sugar
Procedure:
1. In a stand mixer with a paddle attachment, add room-temperature butter to sugar. 
2. Slowly bring the mixer to medium speed until sugar is incorporated (about 3 minutes). Now, change speed to high for about 2 minutes. 
3. Once butter and sugar are properly creamed, slow the mixer and add the ube paste slowly. Mix on medium until fully incorporated.
4. Transfer to a glass container with a lid or tightly wrap the butter in plastic wrap and refrigerate.
—Björn DelaCruz, Manila Social Club
Clockwise from top right: Ube Bae donuts from Manila Social Club, Richard Gomez ube cocktail from Jeepney, ube compound butter from Manila Social Club, ube marble cheesecake from Maharlika, ube ice cream from Manila Social Club. Special thanks to comingsoonnewyork.com for the green glassware.