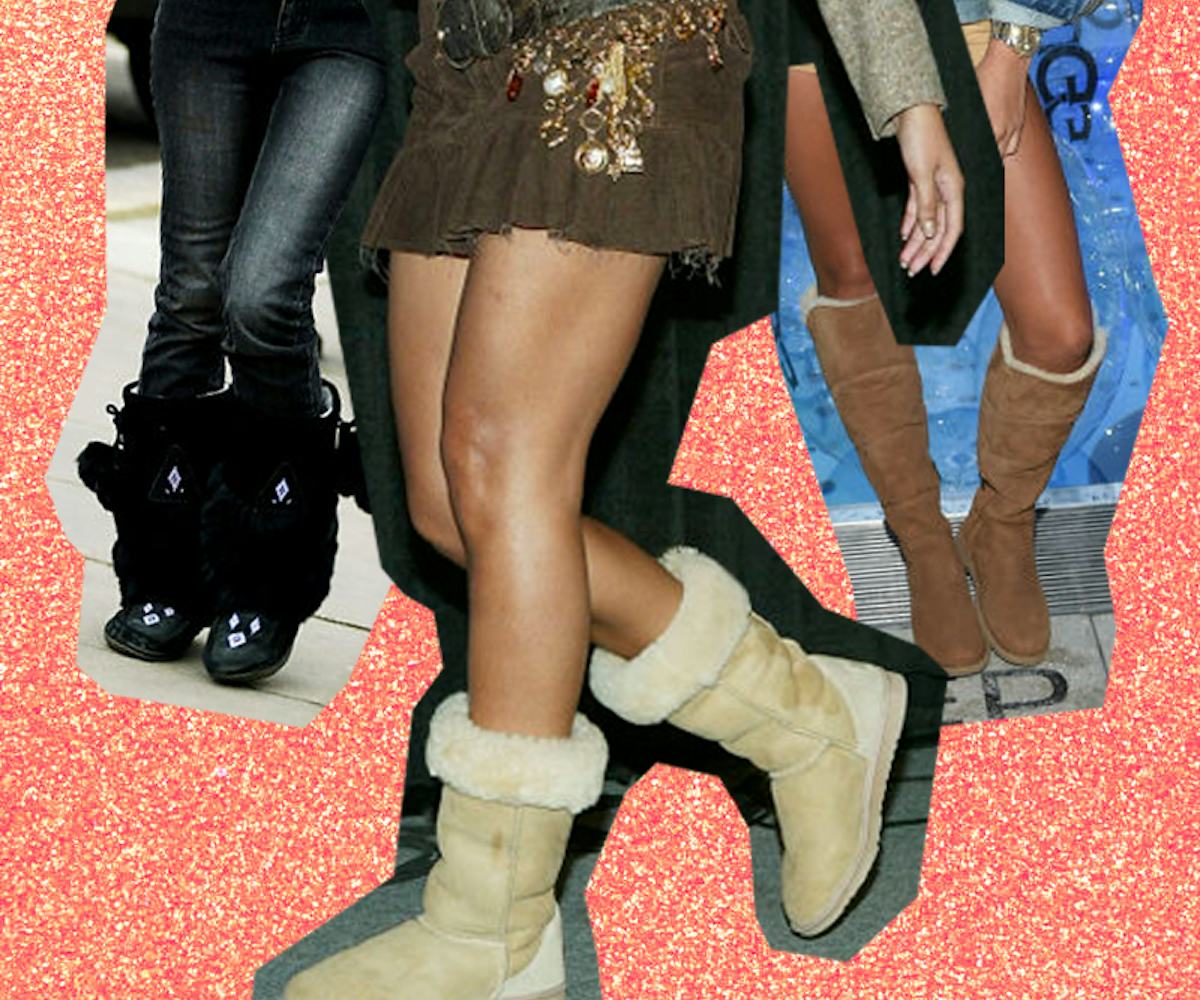 Photo courtesy of UGG
How UGG Plans On Bringing "Sexy And Cool" Back
"I don't think the UGG boot has ever been out of fashion"
In the beginning, UGG was a fashion brand associated with individuals that embraced an active lifestyle. Founded by Australian transplant Brian Smith back in 1978, the Southern California-based label became a staple for surfers and their alternative lifestyle. (Contrary to what many have led themselves to believe, UGGs were not originally intended for the snow, although they soon proved popular on the slopes among the snowboard set.)
The turning point for UGG came around 2000 when celebrities began wearing the infamous sheepskin-lined boots after Oprah included them on her list of Favorite Things. Soon, paparazzi photos showed the stars sporting UGGs in more casual settings like airports, grocery stores, and Pinkberry. Who could forget the image of Pamela Anderson wearing a crop top and white cut-off shorts with a pair of UGG boots? As a result, the UGG Classic quickly and completely saturated the market.
"The way in which Californians live their lives, in particular, has become resonant and admired globally," says Andrea O'Donnell, UGG parent company Decker's president of fashion lifestyle brands. "It's managed to balance two very different things—one is style and fashion, and the other is this connection to lifestyle and performance, health, and well-being. I think those two things are incredibly important now than they ever were before."
But popularity can sometimes be a curse. Once everyone and their mother (and their little sister and their aunt and their middle school teacher and so on) started wearing UGGs, the shoe began to feel common. Or, you know, "basic." This negative connotation that people who wore UGGs also stuck mostly with a uniform consisting of a North Face jacket, leggings, and a pumpkin spice latte kind of hurt the brand. Ugg didn't disappear entirely, but it did need an image makeover.
In an effort to fix this problem, the brand has since introduced what they consider to be sexier styles of shoes that are more appealing to women, like sandals for the spring and summer. In addition to the premium footwear, UGG has also brought in accessories and tech to the market. Now that athleisure is taking over, though, it couldn't be a better time for the already activewear-associated brand to make a comeback amongst the generation that has been touched by it most: millennials.
"I think UGG basically has to be the brand that started this trend because if you talk about a shoe that is both athletic and leisure... we were the originators of it," O'Donnell says. "I do think that people want to look stylish, whether they are going out or whether they are just at home on a weekend, and I think UGG can certainly own that position."
One huge advantage that the brand has managed to maintain for nearly 40 years is the fact that it appeals to a variety of demographics. UGG can be worn by children, teens, and adults of any gender—anyone can wear UGGs (almost) anywhere, and that makes the brand special. Most importantly, almost everyone that has invested in a pair of UGGs can recall the experience of their first time with the boots. 
"When you put that boot on, you have a very emotional experience that you don't get when you connect with other things that you put on," says O'Donnell. "Now, people have moved away from just wanting a logo on something they wear into feeling that they've got a personal connection with a brand that actually means something to them."
Obviously, celebrity endorsements have been a major key to success for UGG in the past, and the brand is hoping that this will continue into the future. In terms of selecting brand ambassadors, UGG looks for someone with great style who prefers an outdoor lifestyle and feels a social responsibility. This year, UGG tapped Hailey Baldwin and Rosie Huntington-Whiteley to represent the UGG Classic collection. The company believes that both of these It Girls share the brand's values while also fully embodying what it means to be "sexy, stylish, understated, and cool." 
The ultimate goal is to convince consumers that they can aspire to be like these figures, while also wearing UGGs. The brand wants to instill that no matter if you choose to stay in or go out, their products can be incorporated into your everyday attire.
"I keep saying, 'bring the sexy back' because we have become more known for function than we have for style and sex, and I think the origination of the brand was all about it being sexy and cool. Surfers are inherently sexy and cool—they always have been, and they will never be anything other than that," says O'Donnell. "So for me, that's the kind of focus. I don't think the UGG boot has ever been out of fashion."
The cozy era is among us, time to make room in your closet.