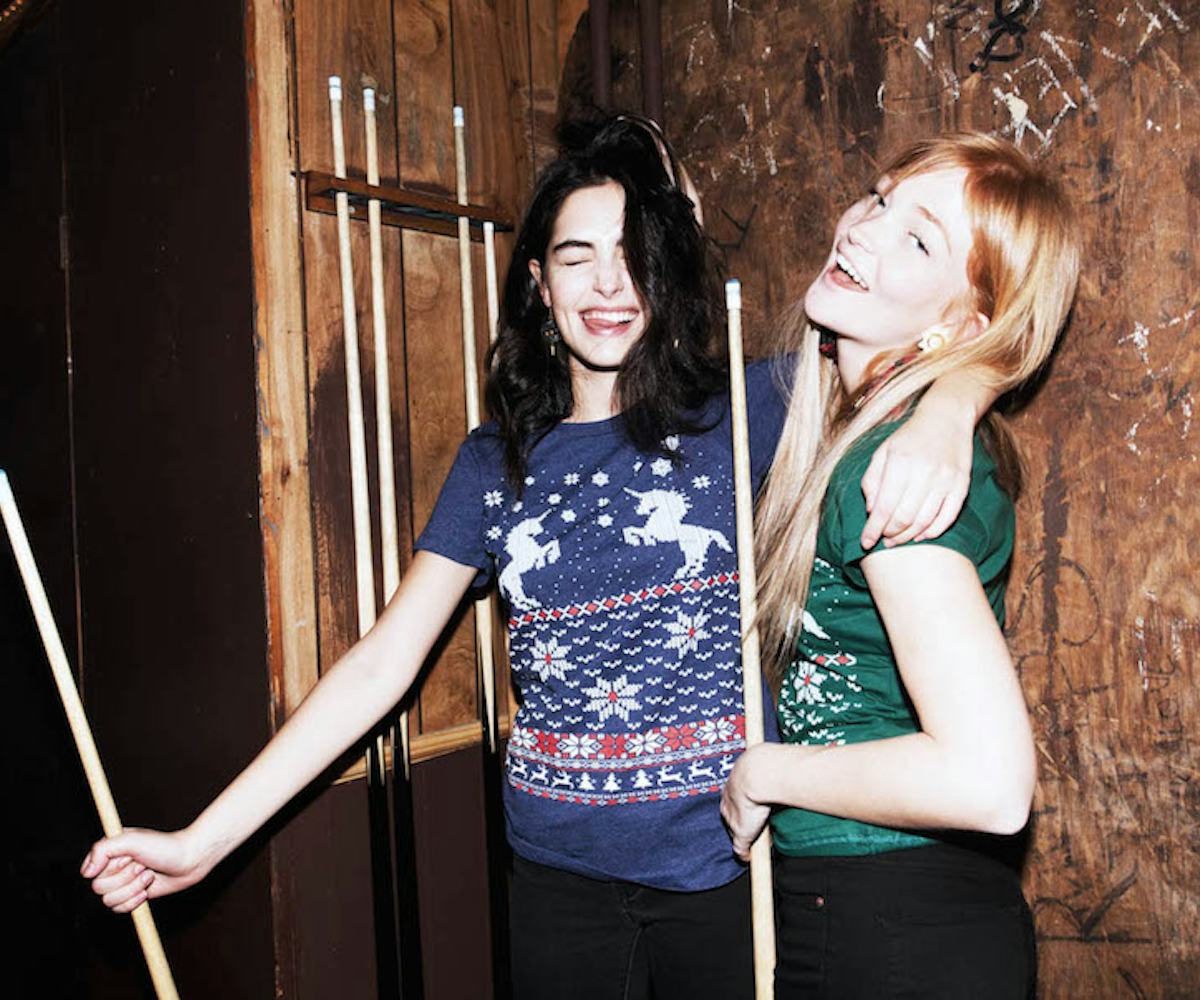 photos by suzanne darcy
the coolest ugly sweaters ever
perfect for your fave williamsburg dive bar.
What happens when you combine quality ugly holiday gear, a rad dive bar, and models on pool tables? The most killer NYLONshop party EVER. Thats right—we decked our girls Rachel Sykes, Ivana Aleksich, Louise Luna, Maggie Houlihan, and Annabelle Eustache out in the best holiday wear to hit the shop this season and took over Turkey's Nest Tavern in Williamsburg for the photoshoot of our dreams. And yes, there was pizza involved. 
If you're at a loss for how to look consistently glam for every single holiday party coming up, take a page from our book and ditch the bedazzled hype for a party-proof ensemble. Jazz up your fave ugly holiday sweater with some blinged out jewels and get ready to hit the dance floor...or pool table. If you don't believe that this alternative is the way to go, browse the gallery and see just how these looks helped us turn up for the holidays—and be sure to get it all on NYLONshop. Party on people!
(Spoiler alert: Stay tuned for Black Friday deals to drop late Thursday night!)
skip n' whistle: ugly christmas sweater (unicorns)—$34.50. badacious: bandit earrings—$62. (available here.)
lucy paris: taylor mix sequin shell crop top—$48. (available here.)
skip n' whistle: ugly christmas sweater (cats)—$34.50. fo' shizzle santa sweatshirt—$34.50. george & laurel: the winston—$190. (available here.)
lucy paris: foil cable crop knit sweater (gold)—$56. (available here.)
lucy paris: taylor mix sequin shell crop top (red)—$48. (available here.)
lucy paris: taylor mix sequin shell crop top (red)—$48. skip n' whistle: ugly christmas sweater (cats)—$34.50. george & laurel: the winston—$190. (available here.)
skip n' whistle: christmas unicorn tee—$24.50. (available here.)