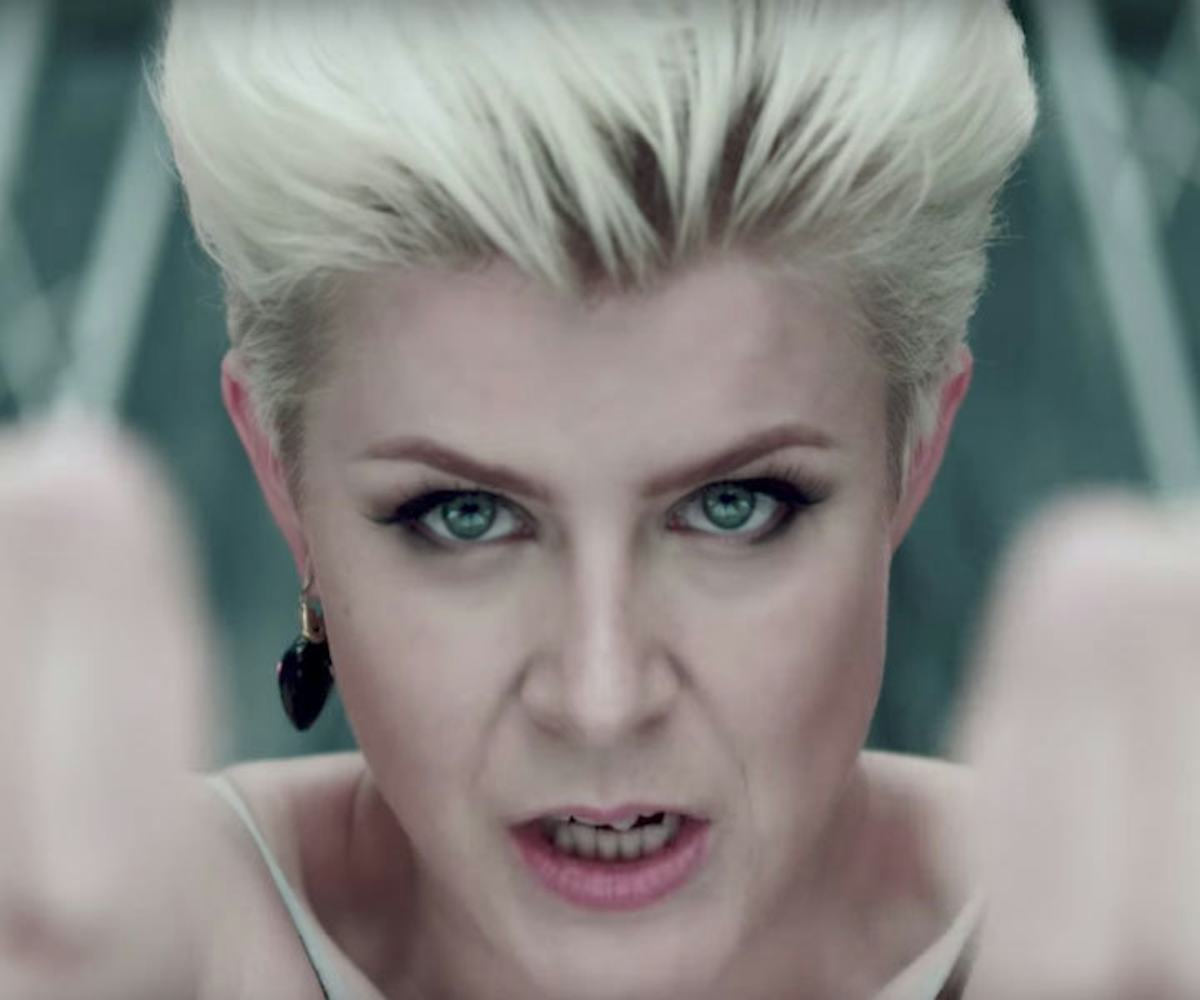 The 15 Ultimate Breakup Songs That Aren't Ballads
These are best enjoyed with the volume all the way up
This past summer, we compiled a list of the 10 Best Breakup Songs to Get You Through Your Summertime Sadness. We still stand by these songs to comfort you on those dark, lonely nights. Ending a relationship is hard, and sometimes you need a good cry and some Lana Del Rey to go along with it. But, there's another type of breakup song out there—one that you can dance to. Those are the ones we want to focus on this go-around because, if we're going by the five stages of grief, acceptance is right after depression, and that's where these upbeat anthems come in.
Ahead, check out our 15 favorites that will help lift your spirits and help you move on. Breakups are sad, but your playlist doesn't have to be. 
"Dancing On My Own" by Robyn: This has become a cult-classic breakup song thanks in part to Girls. While Robyn's lyrics are heartbreaking, the hook will make you want to dance... on your own or with friends. Whichever you prefer. 
"Sorry" by Beyoncé: Forget "Single Ladies," with this anthem, Queen Bey is doling out some of her best advice when it comes to parting ways: "Middle fingers up, put them hands high/ Wave it in his face, tell him, boy bye." Sorry not sorry.  
"Go Your Own Way" by Fleetwood Mac: It's hard to imagine the goddess Stevie Nicks ever going through a tough breakup. And while this is certainly an upbeat breakup song about moving on, the struggle comes through in every lyric: "If I could/ Maybe I'd give you my world/ How can I/ When you won't take it from me."
"Float On" by Modest Mouse: Breakups often come with a side of hopelessness or the intense feeling that the world is ending. "Float On" reminds us that things really will get better in time. 
"I Can Change" by LCD Soundsystem: This dance floor hymn somehow makes you feel okay about being really, really sad. James Murphy sings, "I can change, I can change, I can change/ If it helps you fall in love," perfectly capturing that post-breakup hope that maybe things aren't over just yet.
"Believe" by Cher: Cher parts ways from her pop-rock past to bring us this clubby, dance song. It's totally empowering and tackles the theme of becoming self-sufficient when it's over. 
"It's Not Right But It's Okay" by Whitney Houston: Allow Whitney to remind you of your worth with a catchy beat and empowering lyrics. 
"Mr. Brightside" by The Killers: Brandon Flowers wrote this iconic song after he caught his girlfriend cheating. Fourteen years later, we're stilling singing it at the top of our lungs at parties.  
"Tainted Love" by Soft Cell: "Tainted Love" is an eighties dance hit that encapsulates the feeling of being in a toxic relationship. You want to leave but also stay. Better just dance it out.   
"Changing of the Seasons" by Two Door Cinema Club: The Irish indie-rock band suggests that feelings can change as quickly as the seasons. Debatable. But they've got one thing right: "'Cause every day since you left me/ I've thought less and less of you."
"I'm Out" by Ciara featuring Nicki Minaj: As Ciara and Nicki Minaj remind us, a night out with your friends and a couple of #thirsttrap Instagram posts can help in the getting-over-them process.
"Maps" by Yeah Yeah Yeahs: Karen O wrote this song about a relationship on the verge of collapse, and it became the song that basically put the Yeah Yeah Yeahs on the, um, map. It's about high stakes, big love, and missing that other person when they're away. (The song's title is also an acronym for My Angus, Please Stay.)
"Love Lost" by The Temper Trap: The slow build in "Love Lost" pulls you in and takes you through the stages of grief in a breakup. And it has a happy ending: "Our love was lost/ But now it's found."
"Dog Days Are Over" by Florence + The Machine: There's something so exhilarating about this song that calls for celebration. It's like that feeling of finally getting over someone and triumphantly moving forward. You did it. You made it. The dog days are over!!!
"New Rules" by Dua Lipa: And if you're ever thinking about going back to your ex and, likely, putting yourself at risk of undergoing the stages of grief again, recall the three simple rules from Dua Lipa. Because, if you're under him or her, you ain't gettin' over them.