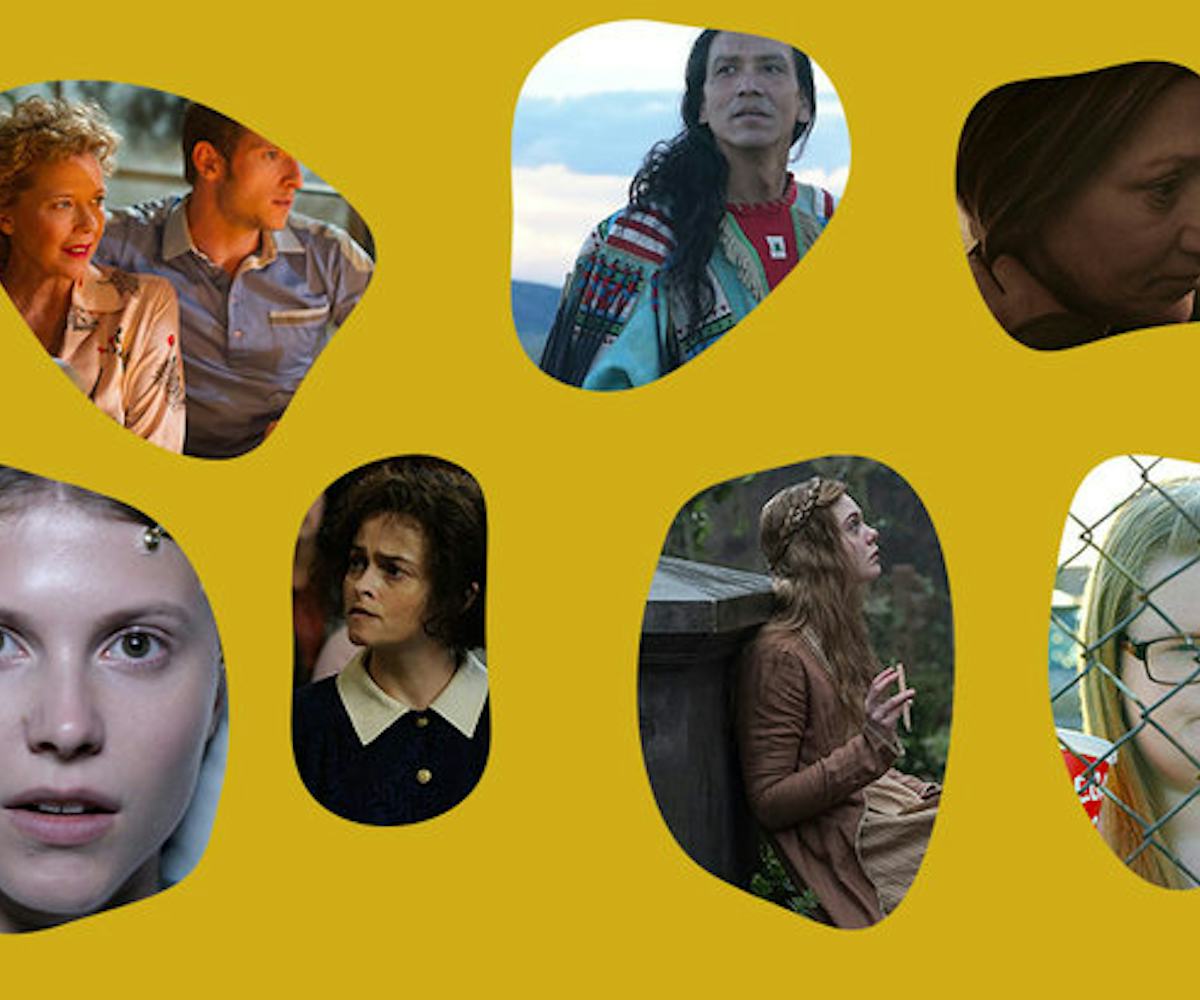 Photos courtesy of TIFF
11 Must-See Under-The-Radar Movies At The Toronto Film Festival
Since the Toronto International Film Festival is considered the unofficial start of awards season, the 10-day movie extravaganza is filled with some of the most anticipated titles of the fall, featuring some of the biggest names in Hollywood. This year, films like Darren Aronofsky's mother!, George Clooney's Suburbicon, and Alexander Payne's Downsizing, are just a few of the major projects debuting that are expected to be in the running for some of the biggest prizes later this year. And most of those titles aren't even premiering at TIFF—they've already made their debuts at other festivals like Telluride and Venice (which are both currently underway), and even at last January's Sundance Film Festival.
But there are other movies debuting at TIFF that haven't been seen yet, and that, thanks to the stories they're telling and the talent involved, have the potential to be breakout hits and, in some cases, generate a wave of buzz strong enough to carry them all the way to the Oscars. Here are 11 of those movies. 
ThelmaNorwegian director Joachim Trier has crafted what sounds like a cross between Blue Is the Warmest Color and Carrie. The movie, which is Norway's submission for the Foreign Language Oscar, follows a young woman who leaves her rural home for Oslo, where she falls in love with a female classmate, while at the same time discovering that she has telekinetic powers somehow tied to the supernatural. The movie features what should be breakout performances for its two young leads—Eili Harboe and Okay Kaya—and sets Trier, who made the masterful Oslo, August 31st, and Louder than Bombs, up as one of the most acclaimed directors in the fertile Scandinavian movie universe. Watch the captivating trailer for Thelma here.
Film Stars Don't Die in LiverpoolWe're here for pretty much anything Annette Bening stars in, including this biopic about the mid-century movie star Gloria Grahame, who was very famous for a very short period of time and starred alongside titans like Humphrey Bogart, Robert Mitchum, Lana Turner, and Kirk Douglas. But instead of taking the more traditional route of showing Grahame's rise to fame, the movie focuses on the later years of Grahame's life, after her star has faded, focusing on her eccentric relationship with the young actor Peter Turner, played by Jamie Bell. 
Mary ShelleyFrankenstein has seen a number of screen incarnations, but never has the camera been trained so fully on the novel's author. This long overdue biopic stars Elle Fanning as the brilliant young woman who improbably wrote one of the most lasting horror novels in history. Told through the prism of her turbulent love affair with the poet Percy Bysshe Shelley (Douglas Booth), the relationship that ultimately inspired Frankenstein, Mary Shelley also marks the English language debut of Saudi Arabia's first female filmmaker, Haifaa Al Mansour. The girl power vibes here are strong.
DisobedienceChilean director Sebastián Lelio, who also has the buzzy A Fantastic Woman (more on that below) at the fest, directs this drama based on British author Naomi Alderman's novel of the same name. It stars Rachel Weisz and Rachel McAdams—two actresses we'll watch in just about anything—as women from opposite sides of the same faith who fall in love. Weisz's Ronit returns home to London and her Orthodox Jewish community—which she has shunned—after the death of her rabbi father, where she gets reacquainted with her cousin's wife, played by McAdams, who also happens to be Ronit's ex-lover. Awkward.
The Current WarBefore there was Steve Jobs, there was Thomas Edison. This pseudo biopic of the great inventor depicts the battle between him and his rival George Westinghouse for the future of electricity, and who will be the savior to deliver it to the world. It's an intriguing story in its own right, but when you have Benedict Cumberbatch as Edison and Michael Shannon as Westinghouse, this becomes an epic acting showdown that is guaranteed to light up the screen.
ChappaquiddickFor most people under the age of 30, the word "Chappaquiddick" sounds like a game Harry Potter and his classmates might have played in their spare time, but it's actually the name of one of the most sordid scandals in American politics. It was birthed in the time after the tragic assassinations of both President John F. Kennedy and Senator Robert F. Kennedy when their youngest brother, Ted Kennedy, represented one of the last hopes for his family dynasty to once again reach the highest levels of American politics. But one night after a party, Kennedy drove his car off a bridge. Kennedy survived; his passenger and campaign aide Mary Jo Kopechne, tragically, did not. What led to Kopechne's death and how Kennedy conducted himself in the aftermath of the crash has long been disputed, but it destroyed Kennedy's chances of ever becoming president. The accident itself, as well as the cover-up that followed, is dramatized here by director John Curran, with Jason Clarke as Kennedy and Kate Mara as Kopechne.
Woman Walks AheadWhile Jessica Chastain's poker thriller Molly's Game might be the flashier project, Woman Walks Ahead tells the more important story. Chastain plays the 19th-century painter Catherine Weldon (though, in real life, her name was Caroline Weldon), who became a champion for Native Americans after she traveled to the Standing Rock Reservation in South Dakota to paint the legendary Sitting Bull. After befriending the Sioux leader, she eventually became his interpreter, secretary, and advocate. Susanna White directs.
55 StepsThe rights of the mentally ill get a much-needed spotlight in this true story about the San Francisco lawyer Colette Hughes (Hilary Swank) and her mentor Mort Cohen (Jeffrey Tambor), who take on the case of Eleanor Riese (Helena Bonham Carter), a paranoid schizophrenic who demands more control in how she's is being medicated by the psychiatric establishment tasked with treating her. Swank, Tambor, and Bonham Carter are truly three of our greatest living actors, and seeing them unite to tell a story as gripping as this one, promises to be a memorable experience.
Don't Talk to IreneAfter the success of Patti Cake$, the comparisons between this indie comedy and the Sundance hit are inevitable. Don't Talk to Irene follows an overweight high school student (Michelle McLeod) who dreams of becoming a cheerleader, but after facing resistance and doubts from nearly everyone in her life, she decides to start her own misfit dance troupe. The only person who does encourage Irene is her hero Geena Davis, who speaks to her through a poster of Davis' baseball movie A League of Their Own. And yes, Davis is in the cast, playing herself.
Outside InWhenever Lynn Shelton makes a movie, it's worth paying attention. Lately, her IMDb page has been stacked with directing credits on some of your favorite TV shows (Love, GLOW, Master of None), but the fiercely independent filmmaker has been creating her own complicated and nuanced character studies since 2006's We Go Way Back. Her latest is this story, about an ex-con (Jay Duplass) who gets out of prison after 20 years and falls in love with the high school teacher who helped secure his early release (Edie Falco). If all of that sounds a little unconventional—Jay Duplass as an ex-con?—well, that's Lynn Shelton.
A Fantastic WomanThis movie from Lelio was flying under the TIFF radar a week ago, but thanks to sparkling receptions at the Berlin and Telluride Film Festivals (New York Times critic A.O. Scott called it his favorite movie of the latter festival), A Fantastic Woman has suddenly become a hot ticket. That's thanks in large part to the lead performance from Daniela Vega, a trans actor who The Hollywood Reporter called "a stunning revelation." Vega plays a nightclub singer who must cope with the tragic death of her lover, and the suspicion and contempt she receives from both the authorities and her lover's family. Vulture, who just premiered the trailer, believes that Vega could become the first trans actor nominated for an Oscar. Fingers crossed.