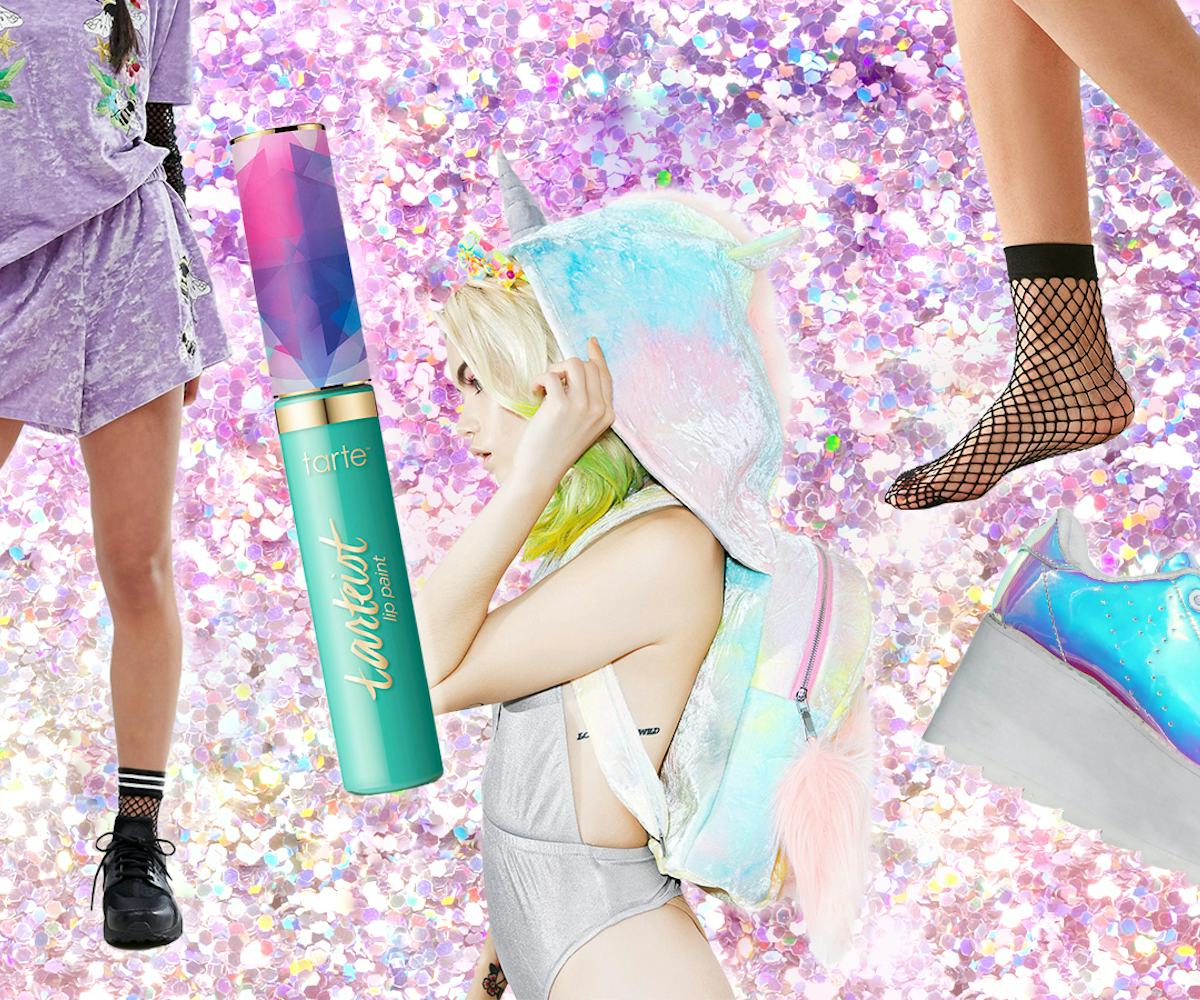 How To Channel Your Inner Unicorn This Festival Season
Festivals are your chance to experiment with your style. Think of the grounds between the stages and food vendors as your playground, a fantasy land where you can transform yourself into a new character or let the one that's been itching to make an appearance run free. Traditionally, festival style hovers around the bohemian, Woodstock-y area of the spectrum; sometimes downtown punk makes it into the mix. Not this year, though. No way. This is the year festival style goes full-on technicolor and throws glitter on everything. Yep, we're talking letting your inner unicorn out because flower crowns wilt, but unicorn horns are forever.
Here are eight ways to live that fantasy. See you twirling at a festival soon.
Rave babies, this is your unicorn upgrade.
Mamadoux, Fringed Ravesuit- High Cut, $210, available at NYLON Shop.
Because reality bites, you can't actually transform yourself into a unicorn but this here backpack can help you try.
Sugarbaby, Parttime Unicorn Hooded Backpack, $40, available at Dolls Kill.
— This slide is sponsored by tarte —
Paint yourself bold with tarte's limited-edition festival lip paint collection. Thanks to comfortflex technology, they last forever and don't leave your lips feeling dry—or, worse, cracked. Plus, they're made with concentrated minerals which means you're working only with the good stuff. And with a color as delicious as mint, you're set to turn heads and land a few post-fest best festival beauty slideshow galleries.
tarte, limited-edition tarteist™ quick dry matte lip paint in 'fairytale (mint),' $20, available at tarte.
Purple power and some buzzing friends.
Jaded London, Petite Velvet Shorts With Bee Embroidery, $61, available at ASOS.
Every unicorn needs a little punky edge.
Out From Under, Wide Fishnet Crew Sock, $12, available at Urban Outfitters.
The higher the platform, the closer to the cosmos.
YRU, LaLa in 'Atlantis,' $120, available at YRU.
Protect your peepers with pastel goodness.
Komono, Coco Rose Quartz, $69.95, available at Komono.
It may be a little counterintuitive to wear headphones at a festival, but these headphones are so cool, you can wear them just as an accessory. Save the solo tuneage for after.
Frends, Taylor Rose Gold Headphones in 'Mosaic Oil-slick Black Enamel & White Leather,' $199.95, available at Frends.