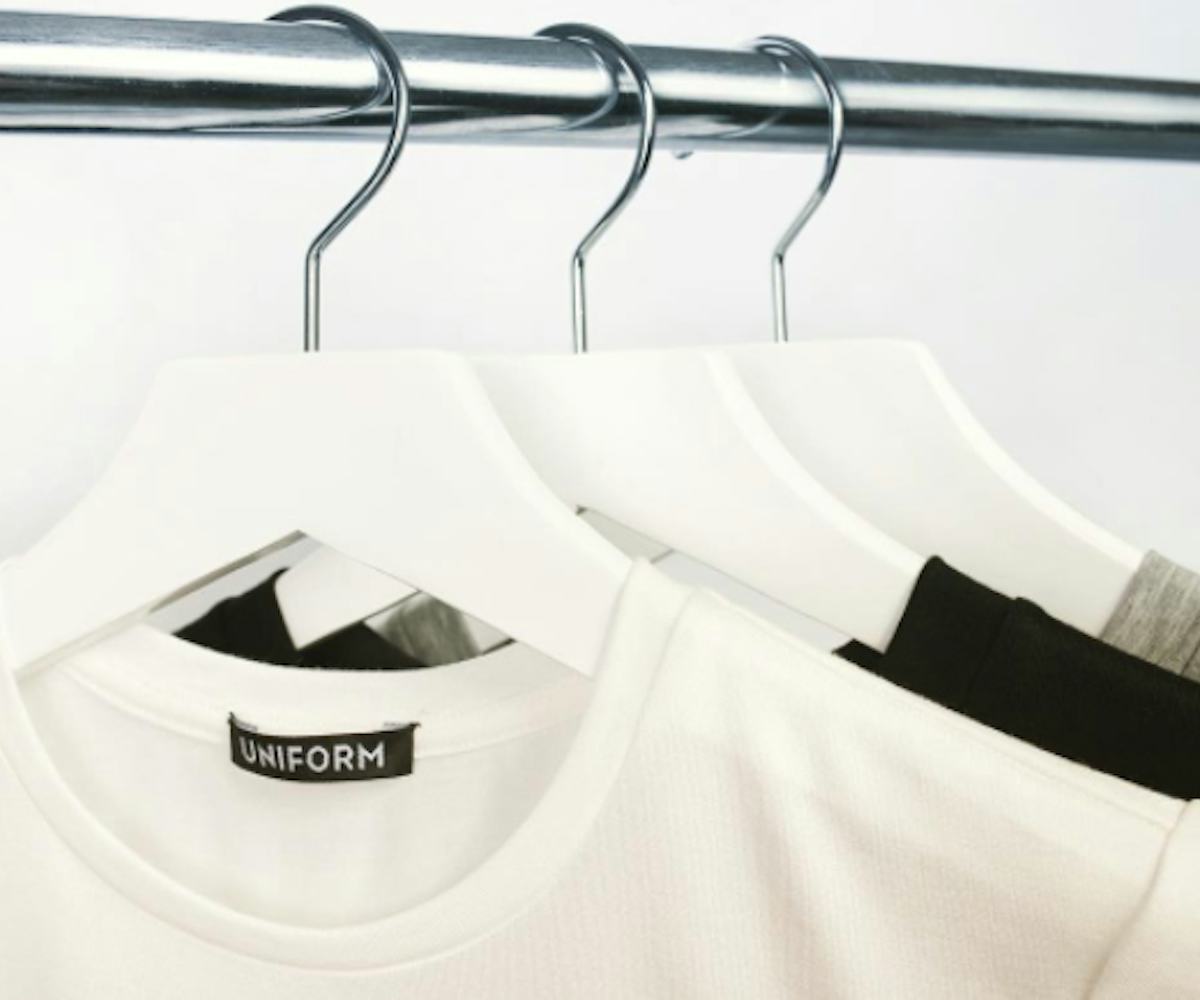 Photo via @shopuniform Instagram
Get To Know Uniform, A Clothing Line That Does Real Good In The World
And has A$AP Ferg as a collaborator
It was a quintessential case of no good deed going unpunished. Chid Liberty, after pivoting out of Silicon Valley, had spent years working to build a fair trade garment factory in Liberia, the country where he was born, striving to provide jobs and training to local women as well as high-quality garments to major American brands. His company, Liberty & Justice, had established the foothold that its founder envisioned and was making significant positive change when disaster struck.
"We had some really large agreements with major U.S. brands and were building up a pretty nice supply chain for those brands, becoming a really great production partner for them, but we were completely knocked out by the Ebola outbreak," Liberty says.
Fortunately, none of the women working for Liberty died, but after nine months waiting for the outbreak to pass, their previous clientele was hesitant to resume business in Liberia. Left with $100,000 worth of fabric from a massive order of men's dress pants and no client to make them for, Liberty and his team took a blank slate approach to their next move.
"For a long time, we couldn't really decide and find solutions to use that fabric. It became clear, after a while, that the best use of that fabric was for school uniforms," Liberty says. "They were this major thing that so many people needed in the country, but couldn't afford. So my mission became: The factory is here, and the fabric is here, but how can we give the clothing away for free?"
From there, Uniform, a sleek, eminently affordable brand of women's and men's basics was born. The line's clean, efficient minimalism, reasonable price point, and gray-leaning palette make the clothing an easy addition to the millennial wardrobe, but its commitment to providing African students with uniforms is the keystone of the entire project. With each purchase, a uniform is donated to a child in need, and studies have indicated that having one coincides with reduced truancy and higher test scores.
Uniform launched through Kickstarter in June 2015 and instantly found widespread support. 
"We hit our Kickstarter goal in the first five hours which is pretty crazy. Two things really resonated with people. First, the idea of getting kids school uniforms, which is really powerful and statistically proven to get kids better attendance, better grades, and reduce teen pregnancy," Liberty says. "But on the flip side, I think people were really into the idea of this factory that was half-owned by the workers and providing jobs and other social services to women, and the fact that it was going to be shut down due to this crazy random thing in the form of the Ebola outbreak."
From there, Uniform partnered with Bloomingdale's to distribute, while also building up a healthy business online. Production expanded, and Liberty sought to spread the impact of his original Liberty & Justice factory to other African nations. They currently produce in Nakuru, Nairobi, and Maungu, Kenya; as well as in Casablanca, Morocco; Addis Ababa, Ethiopia; and Jinja, Uganda. At least 54 percent of each factory staff is made up of women, with the Maungu and L&J facilities being more than 90 percent. Women occupy a variety of roles from physically making the garments to higher-up managerial positions.
"There's no lack of NGOs competing for aid dollars in Liberia, but one thing that's missing is really an entrepreneurial ecosystem. I wanted to provide jobs for people that were serving a customer that weren't the aid community or philanthropists," Liberty says.
With their expansion into other countries, Liberty said that the goal now is to build a network of responsible factories under their Made in Africa banner that adheres to strict environmental and human rights requirements.
"We're trying to build an association of hundreds of factories across the continent that are committed to ethical production," Liberty says. "Uniform is probably a pretty small component of these factories' overall production, but our impact has been on tens of thousands of workers. We built Made in Africa through Uniform, which was sort of the opposite of how we anticipated, but we got the same result." 
As a brand, Uniform is pushing itself to make an even greater positive impact while continuing to hone its style as a sophisticated collection of streetwear-inspired everyday staples. They recently brought A$AP Ferg into the fold as a creative director and partnered with his Trap Lord line to produce a series of shirts benefitting Red Nose Day, as well as a number of other items like a camo bucket hat and camper vest that are available through Bloomingdale's. Not only are the pieces well-designed and true to Uniform's identity, they're a chance to indulge both your Hypebeast and humanist sides. While pricier than the standard Uniform line, these pieces still won't break the bank like many similar limited collaborations.
"So many people want to create ethical fashion and pass on the extra cost to the consumer, and I just don't think that really makes a ton of sense quite frankly. I think, if we want people to adopt a behavior, we should be making it easier for them not harder," says Liberty. "We wanted to make a brand that makes it easier for people to shop ethically and at the end of the day, price, distribution, customer service, all have to feed into that. And that was kind of our strategy and our long game. Even with our prices now, we understand we are still expensive for a lot of people in America, but our endgame is to get to a place where Uniform is really a clothing company for the people."
While focused on growth and expansion, the entrepreneurial Liberty is also keenly aware that one of Uniform's best assets is that it is a small, streamlined company capable of tackling new projects or adjusting course as needed without too much overhead or lead time.
"We can't continue to rely on big brands to [enact change], and we can't just keep saying, 'Oh, the consumer has to make a choice,'" Liberty says. "I don't think it can be consumers or large brands, they're just too big and can't move in a short amount of time. Who I think can be the X factor here are small brands who have this built into their DNA and then become big brands." 
Liberty has managed to achieve an impressive trifecta by producing clothing that is expertly crafted, affordable, and making a positive global difference. It's not too hard to picture Uniform continuing to expand its output while ensuring that you never have to worry about the ethical origins of your new favorite T-shirt.