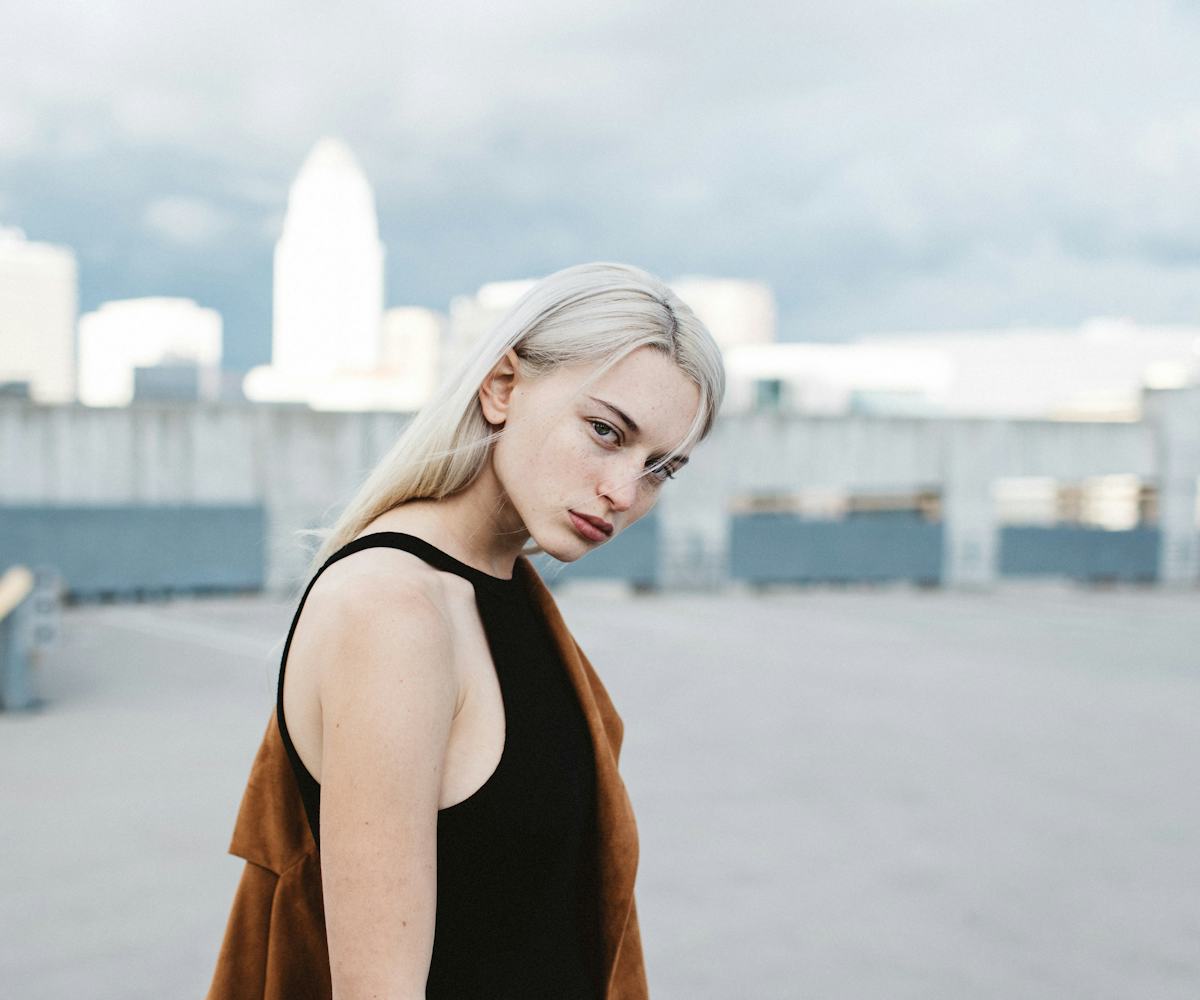 photo by Christopher Kerksieck
Meet Valentina, Your New Musical Obsession
Watch her debut video premiere here.
While most high school seniors are gearing up for graduation and shopping for dorm accessories, musician Valentina is embarking on an entirely different journey. After spending most of her teenage years as a photographer and model, she has been working on a series of original songs and gearing up to formally release them on an EP. With a strong lyrical emphasis and her signature rich, dark vocals, it seems almost inevitable that she'll rise to the top of the indie charts and garner comparisons to the likes of Lorde and Ryn Weaver. 
After teasing song covers and original songs on her Instagram for her 26K followers, she's premiering her first music video, which she self-directed, here today. "'Easy For U' was inspired by a relationship of two people who matured together and then had to part and live two different lives," she says. "Both people decided it was easier for the other to live but it was hard for both. Both had said, 'It's easy for you,' but both were wrong." Learn more about Valentina in the interview, below.
When did you first become interested in creating music?
I have always known I was going to be a singer, but I started writing music about a year and a half ago.
Who are some of your greatest musical influences?
Amy Winehouse, Fiona Apple, Ella Fitzgerald, Taylor Swift, and Lorde.
You also work as a model and photographer. Does that overlap in your music in any way?
Working as a photographer at such a young age [15] definitely helped me develop my social skills, aka meeting strangers and dealing with very awkward moments. Being a model, to me, simply means marketing my music, so it helps my career. I was also lucky enough to understand the business side of things before many people are even introduced to it. I don't have too much time for photography now, and music is my passion, so I only do what helps it.
How would you describe your music?
I don't usually like to fit my music into a genre, but if I must, it could be called indie-pop. I grew up listening to jazz and I love R&B, so there is also soul behind every song.
You have a pretty big social media following. What's your approach to social media?
I like to show people what I create. Be it any kind of collaboration, something from work, or a song cover, I like to show my followers the art and beauty of what I see and hear every day.
How do you use it to accelerate your personal projects?
I use social media to express my excitement for projects and to make other people excited about it too. There is nothing better than getting good feedback about a project that you put your heart into.
If there were one phrase that sums up your approach to life, what would it be?
Live for the simple things.
What was the inspiration behind your "Easy For U" video?
In the video, I attempt to portray a powerless individual being swayed and controlled by the lover, contrasted with her need to be with him.
Who worked on the video with you?
I directed it and had a very small, very talented, crew alongside me. Yun Kim was the videographer. Everything he does is beautiful, and he has great ideas and work ethic. Edward Harris was his assistant and is such a joy to work with. Jacob Bixenman was the model and understood the aesthetics perfectly. The video was complete with him and all that he added to it. My dad was the PA, aka the coffee guy, food guy, and driver. He was so supportive and has the best artistic instincts, and more importantly brought us very good BBQ during the shoot, so he gets a gold star.
What can you tell us about your upcoming EP?
The songs are all original. I plan to do as many videos for them as I can so my audience will be able to understand the story that much more.