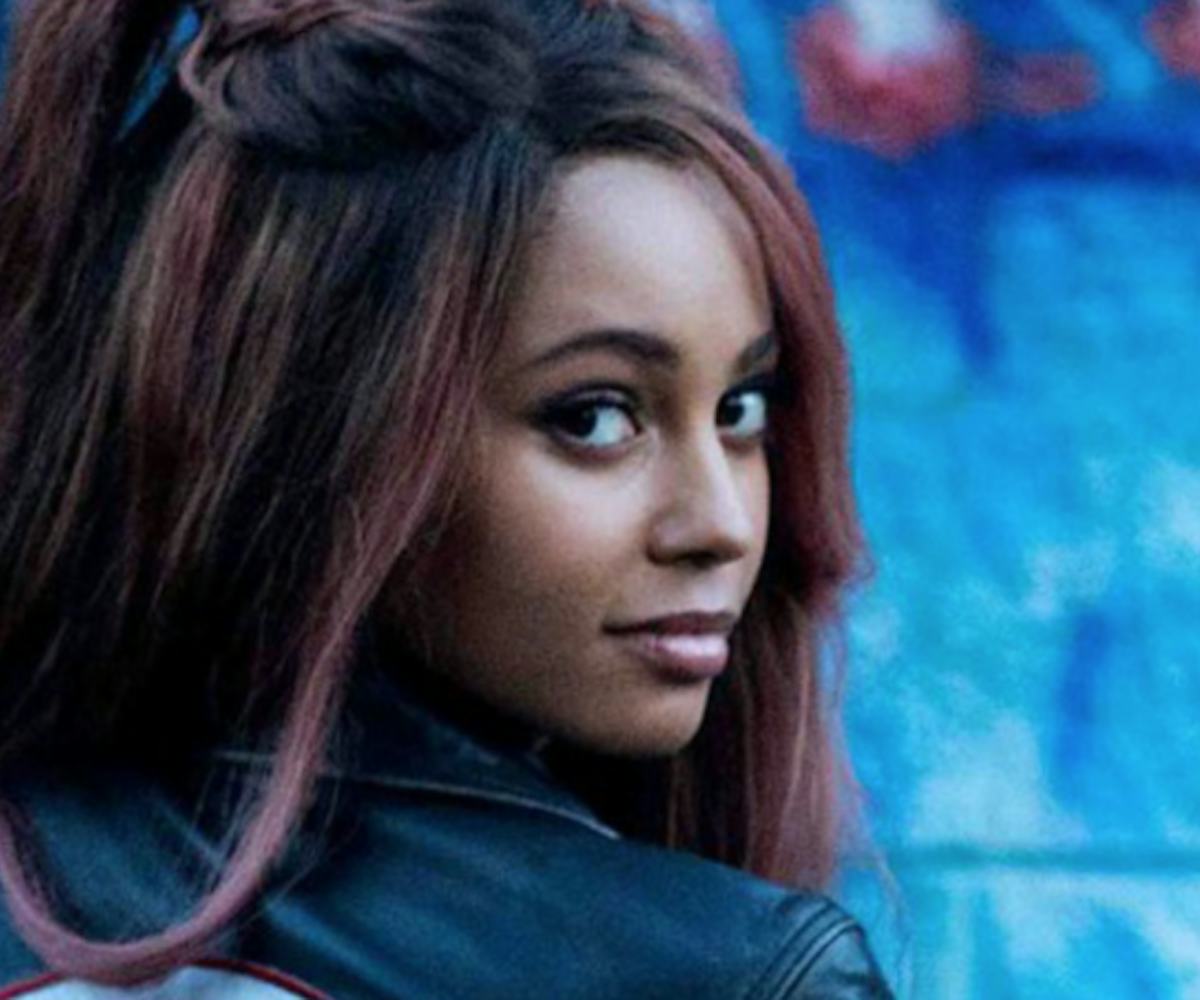 Photo Via The CW.
'Riverdale' Star Vanessa Morgan On The Crazy Choni Ship
And that whole Bughead thing
A little over a year ago, actor Vanessa Morgan was in quite the predicament. On the precipice of the biggest moment of her career, she found herself at the receiving end of death threats and online abuse for something she didn't even do in real life. Granted, just because it wasn't real, doesn't mean it wasn't serious: Her Riverdale character, Southside Serpent Toni Topaz, threatened to tear apart Riverdale fandom's favorite couple, Bughead—and if there's one thing die-hard fans of the show get really serious about, it's their shipping. 
However, little did the stans know that Toni would soon realize Jughead wasn't the one for her, and find love with none other than Cheryl Blossom—subsequently forming one-half of the show's hottest new couple, Choni. It was the perfect pairing of two snarky yet secretly tender teens, complete with acontroversial gay conversion therapy plotline, and a brazen rescue mission ending in a passionate kiss. But enough about that, what's up next for Choni?
Unfortunately, Morgan has to keep pretty mum about everything in the pipeline—after all, Riverdale fans are notorious for their ability to sniff out a scoop or a spoiler. What she can confirm, though, is that we'll be seeing a lot more of Toni in Season 3—she's not only become Cheryl's official girlfriend, but she's also a regular cast member now, so get ready for some serious shipping and tons of fan theories—as we know, the one thing you can always count on in the town of Riverdale is an over-the-top amount of drama. 
Ahead of the premiere of the show's highly anticipated third season, we caught up with Morgan to see what's changed in Riverdale, how she handled all the hate, and, of course, what may be in store for Choni. Read our Q&A with her, below.   
Congrats on being upgraded to a series regular. How does it feel?
It's very good, of course, it feels like I've gotten the stamp of approval. I'm officially part of the family! 
Since joining last season, is there anything that surprised you about being a part of such an iconic cult show?
Just the fandom. People really seem to love the show, which is amazing, and the fandom just blows my mind. Like, [they] came with being on the show, and I'm super-grateful that people are loving my character, because it's humbling.
The fans definitely did a big 180 about your character though. I remember when Toni was first announced, you kept getting death threats.
Yeah, I mean it kind of sucked at first… I was getting death threats even before [I got on the show], because of the love triangle with Jughead [and Betty]. But after I became his friend and we had our kissing scene, people were saying the worst things to me. So for people to [go from] hating my character to absolutely loving my character, it's great! It means I'm doing my job as an actor. I came in to stir up the pot a little bit, which I did, but ultimately show that Toni has a good heart and is a good character. She's a strong, independent woman who had a very rough upbringing.
But was it frustrating for you to deal with all the hate?
It did get to me a little bit. I had to stay off Twitter for a little bit, and I had to not read the comments or look at my at mentions because I was getting a lot of nasty comments. At the end of the day, it does get to you, and it does make me sad. But I realized that I'm doing my job, and it only means that I'm acting well because people in this situation aren't supposed to like that I kissed Jughead.
It was also very frustrating because I knew people would come around to my character. I'm not going to end up with him, I know the script. As she said, "I'm more into girls, don't worry." I'm not after him in that way. I think it was one of those things... Sexuality is a spectrum, and Toni did maybe have a little thing for him in that moment, but when they kissed, [it was probably like], "Ah, we're better off as friends." It was like a moment of weakness type thing. Obviously, she really has her eyes for Cheryl. 
I guess the thing that got to me though was how everyone was so eager to blame you though. Even though it's like... on Jughead.
I know! People always love hating the girls. But you know, Jughead was clearly upset that I said that I was in a PG-13 grope session. But it wasn't just me, you know. I wasn't the one that ignored Betty's call and stuff like that.
What do you think it is about the show that has struck such a nerve? Like, I don't think I've ever seen people react to a show like to this.
It's pretty mind-blowing. I think it's because a lot of people grew up fans of the Archie comics, and to see that come to life with real-life characters... I think that's what a lot of people were excited about. And the cinematography is quite beautiful... But I don't think anybody expected it to be as big as it has become, but it's all very flattering.
It's an actor's dream to be cast in a show that gives you such a platform. I hope to use that platform to the best of my abilities and be a good role model to the younger generation. But I hope [I can] get more in-depth with my character, so I can really like [dive] into the role.
Is there something about Toni that you think will surprise people in Season 3?
I definitely think you're going to see a softer side of Toni, which might surprise people. Still, we've only filmed seven episodes, so I don't even know what the writers have for my character.
Contentious question now. Do you think Choni would ever overtake Bughead at some point as the Riverdale couple to ship?
It's pretty crazy, because we've barely had any Choni scenes together, and it's so crazy how much people want us together. Like, how much people want us to have scenes together and how many people ship Choni is actually crazy [for the amount of screen time we've had]. So I really hope we get more [screen time this] season. 
Well, you've got the full-blown relationship for Season 3.
Yeah. We're in a full-blown relationship now. We have the titles! We're girlfriend and girlfriend.
Is there anything else that you can tell us about the relationship? Do you think they'll introduce another love triangle into the Choni subplot?
I mean, they better not. So far there's no trouble. But then again, you know Riverdale. I'm sure there's going to be something. But I also don't think Toni would let anybody steal Cheryl from her. I definitely think she'd have a hard time letting go. But I mean, we'll see what the writers have in store... 
Riverdale season three premieres October 10 on the CW.