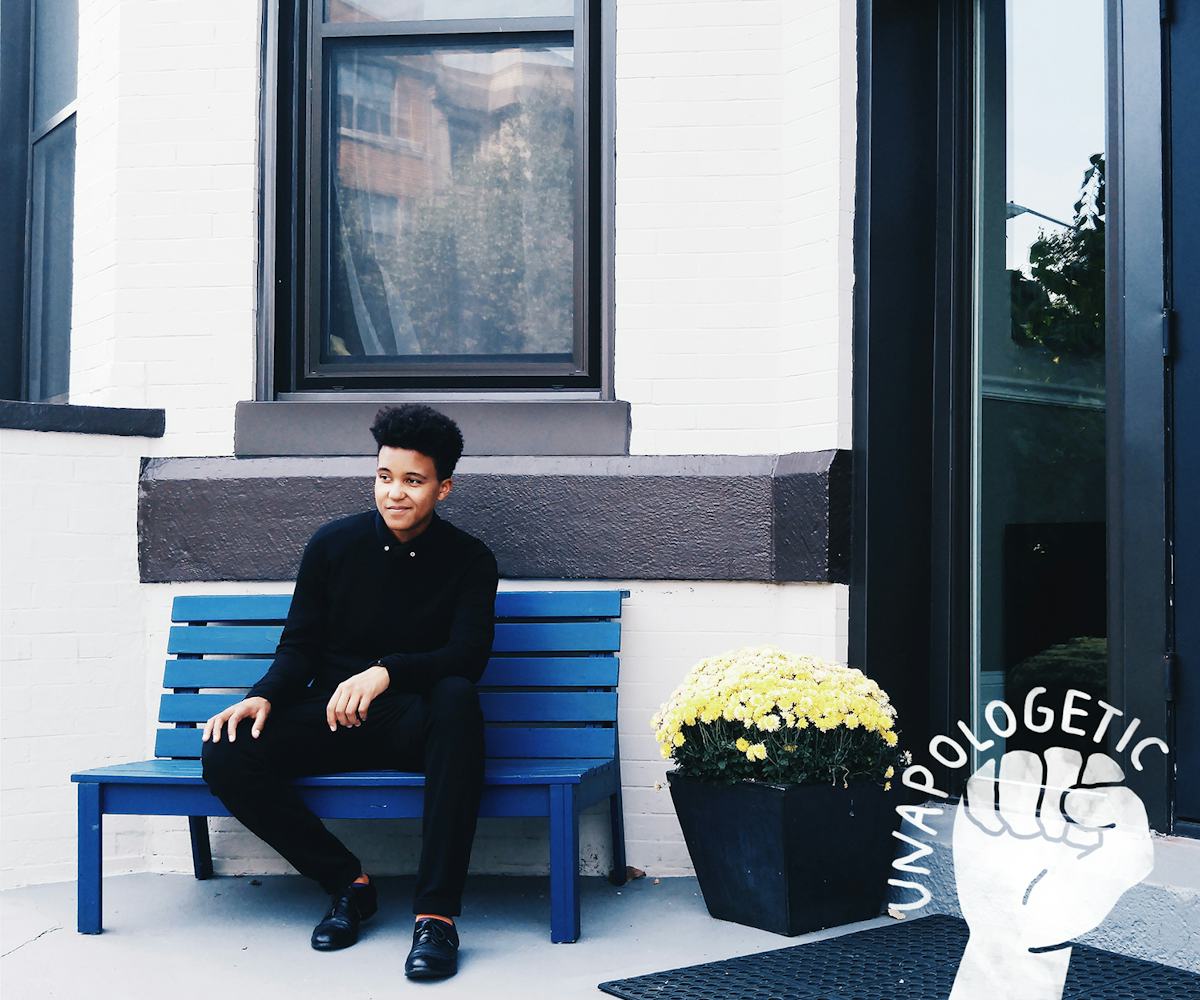 Photo by Ornelle Chimi
Vanessa Newman Is Making Queer Blackness Visible In The Start-Up Space
Beau & Arrow at your service
In celebration of Black History Month, NYLON is running a spotlight series called UNAPOLOGETIC. Every day, w
e'll celebrate different aspects of black culture through
profiles, interviews, roundtables, reviews, videos, and op-eds
. #Blacklivesmatter and we hold that truth to be self-evident.
Vanessa Newman always knew she was destined for something different. Hailing from Silver Spring, Maryland, the 22-year-old creative has long been an iconoclast. Though she was raised Catholic, Newman came out as bisexual at the age of 13 and credits social media platforms like Tumblr and television shows with helping her feel comfortable growing into her identity as queer and masculine.
"Before I watched Degrassi and South of Nowhere, the only way I could imagine being with a woman is I would make up boyfriends in my head, and I would have to play out this boyfriend fantasy with this fake boy that I made up in my head to even think about kissing a girl," Newman says. "Then when I saw it on TV, and on the internet, I was like 'WAIT!' Visibility is so crazy. It's so crazy how your reality can be shaped by what you see and what you don't."
Newman briefly attended American University, but dropped out because she was too "extracurricular-focused." She discovered having the freedom to "be really black and really queer" empowering and found work at a media start-up with two other black, queer women. After a visit to New York, she felt inspired to search for jobs that better suited her interests; this is when she came across an application for a program that paired young people with executives in the start-up space for an alternative approach to learning.
After Newman was accepted into the program, she was invited to attend an LGBTQ summit at the White House, where she and the other guests participated in a 30-second pitch competition. Newman immediately recalled The Real L Word and her accompanying fixation on the image of queer families. The concept of having a family without a man in the equation really stuck with her—the notion of "I do want to get pregnant and I want a wife, and I can do both and I can be masculine-identified." Newman's selling point was to figure out what "masculine women carrying babies" looked like, and, with that in mind, Butchbaby & Co. was born. For the next two years, Newman was hard at work designing maternity clothing for masculine, transgender, and queer parents, an experience which taught her a lot of things about the entrepreneurial world.
"I got to create a sample line, which was exciting, but I think people don't talk about the importance of self-care enough as an entrepreneur. I think I really lost myself. It was the first time I developed anxiety ever in my life," she says. "There was a lack of funding, so it ended up collapsing in itself, and I was just getting really burnt out. I didn't know how to take care of myself. We live in a way now where it's hustle, hustle, hustle, hustle all the time, and I really bought into that."
It's easy to feel defeated after an experience like that, but Newman looks at it as a learning opportunity. Now, in between the time that she spends studying marketing and managing at the New School, Newman is also offering her expertise through her date curation studio Beau & Arrow. Learn more about this entrepreneur's ongoing journey in the interview, below.
Did you have anybody helping or supporting you when you launched Butchbaby & Co.? 
I had a team, but even then, when you're still a CEO, you have to act like you have your shit together. I had a partner throughout the entire time, so they really held me. But for me, it was very much still my process. When I have anxiety, I don't tell anybody, even if I do have people that support me. It took me forever to start talking to someone and unpacking everything that was going on. I had supportive people, but I wasn't utilizing them.
Can you tell me about Beau & Arrow and where the idea for this service came from?
If you want to do something different [on a date] that you've never done before, I will provide you with ideas—like outings and gifts. In this era of dating, millennials are kind of broke [and] we're not going all out with the romance. Things are a lot more instant, but people still want to show they care and there are definitely ways to be romantic but cheap. And I think it's important for people of color. Black love is important.
You've been out for a while now; how was your experience going through that at a young age?
I feel very fortunate that I was able to come out at such a young age. I came out as bisexual when I was 13 at the end of eighth grade, even though I definitely was queer before that. I can distinctly remember having crushes and not knowing that they were crushes. I found this poem I wrote about this girl when I was in third grade. I came out, and my friends were super cool, super down. When I got to high school, I played basketball and the stereotype plays out—half the team is gay and really cool. A lot of the girls that I played basketball with had a good grip on their sexuality to an extent—not fully—but it was very clear that they knew they liked women. I went to an artsy school, so you were allowed to be out. I think playing basketball definitely shaped my masculine identity, like just having those role models and looking at people thinking,
I want to dress like that, I want to be like that
. I do think coming out early gave me a spike, especially as a masculine-identified queer person. As you're learning masculinity, you learn a lot of toxic things that you have to unpack. So I'm grateful that I learned them early because it gave me room to unpack them.
Maryland is a bubble. The area I grew up in, Montgomery County, is one of those lucky spots. I've been in a space where all my identities have been allowed—especially my queerness—to exist. I've never had a problem walking into a job interview in a tie. I've never had a teacher treat me differently because of the way that I dress. I feel like that comes with a lot of privilege. I've always been allowed. Even my parents—my mom's come around now, and my dad still has a ways to go, but they've never told me I can't be myself. They may be like, "We don't prefer this," but they've never kicked me out, or they've never forced me to wear something I didn't want to wear.
Speaking of visibility makes me think about the way in which LGBTQ relationships and individuals have often been portrayed on television as male-dominated and white-dominated.
We still have so far to go. I'm at a place where I'm like, "Where are problems that women who date women have?" Let's have a show where two women get pregnant, or maybe they want to be poly
. 
Just basic shit, like, one likes the other one's friend. I would like to see more examples in media where there are queer people who aren't in poverty. All queer people aren't in poverty. We don't have tragic lives. We could have happy endings and have a nine-to-five or do whatever and have regular people fights and healthy ways to make up. I'm looking forward to that future and how we're perceived outside. There's not a lot of that, yet, but we're getting there.
What is one piece of advice that you would give to a younger version of yourself?
Put yourself first. I definitely did not do that as a kid. I was always into chasing girls forever and not really thinking about how this benefits me or the relationships that I actually care about and I have. I think I've shortchanged myself with a lot of relationships and damaged a lot of relationships in not having my priorities right in school and friendships. I think I would say put yourself first—girls will come later, you don't need them right now. Or whatever, if it's isn't girls, whatever else takes from you being the best you, just put it to the side.