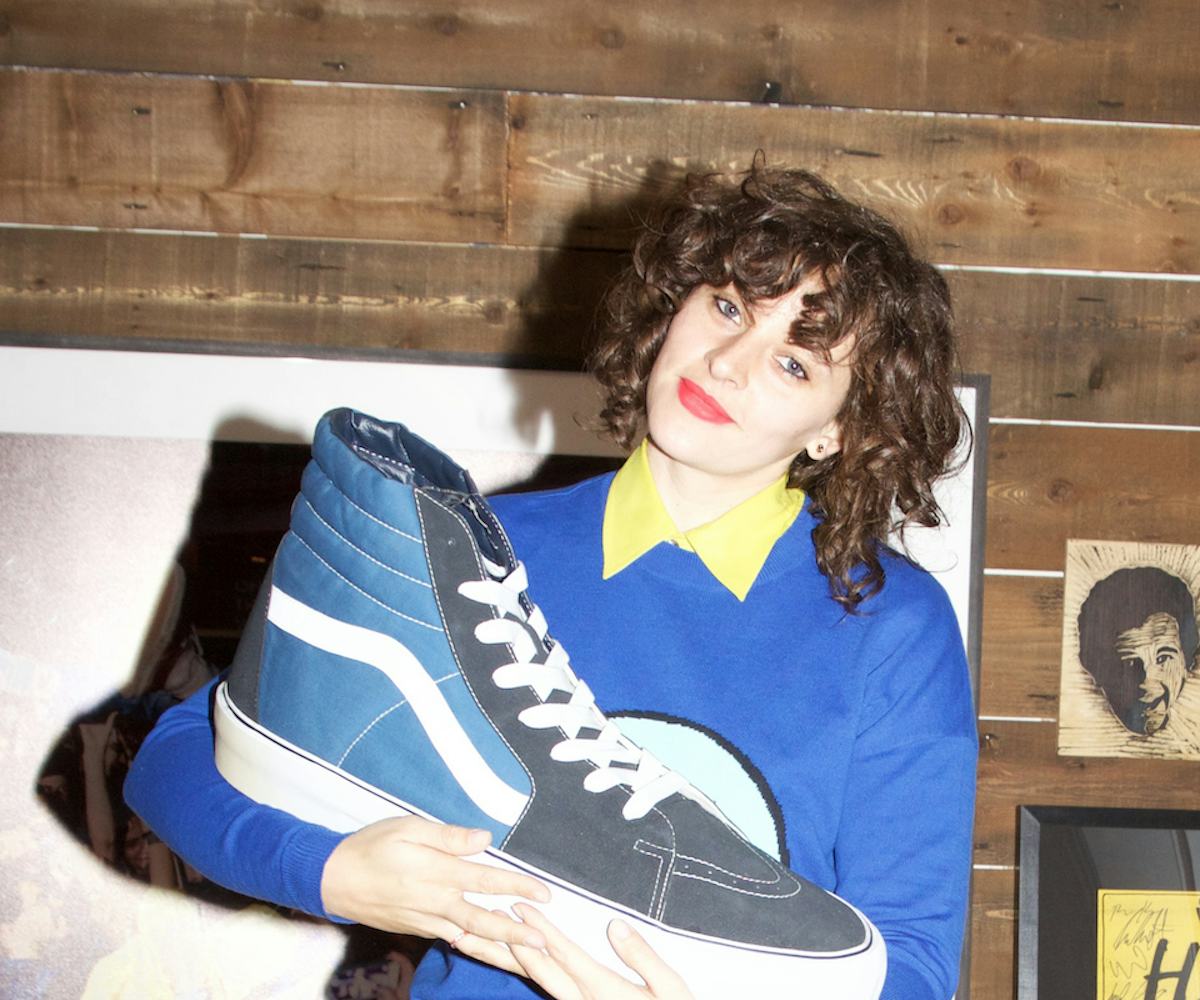 Photographed by Scott León
For Kicks: Celebrating 50 Years Of Vans
And Talking To Our Favorite Brand Loyalists
Vans is a way of life. The iconic brand might remind you of growing up, or going to an epic concert, or your first time stepping on a skateboard. And if you're anything like us, it dominates your footwear wardrobe. This month, we celebrate the 50th anniversary of the beloved label that opened its inaugural store in 1966 under the name Van Doren Rubber Company, after the founder Paul Van Doren. Paul's son Steve has been with the brand since he was 10, and now oversees the company's events around the world. (Fun fact: he's responsible for sending over Spicoli's Slip-Ons to be used in Fast Times at Ridgemont High, so he's basically a legend.) Today, Vans is synonymous with so many things we hold near and dear: Warped Tour, the checkerboard print, the trusty Waffle sole. So, in honor of the occasion, we rounded up some of our favorite Vans loyalists and picked their brains on why they love the brand as much as we do (plus we put together the most perfect custom NYLON pair).
Vans has taken its Sk8-Hi silhouette and created 50 colorways for men and women, and we got the awesome opportunity to step in and make our own custom NYLON pair! We took our favorite color, NYLON pink, and splashed it on the sole and all over in a checkerboard print. We then doubled down on the checker pattern with the laces and embroidered our logo on the back to make the shoes feel extra special.
First pair: "I remember my dad made a pair of shoes out of a Hawaiian shirt that I had. I've always gravitated toward Hawaiian print. It was probably that pair."
Favorite Vans moment in pop culture: "Julia Roberts was filming My Best Friend's Wedding in Chicago while we were there for a trade show. So, I sent out some guys and said, 'OK, go get a couple pairs of shoes, a long-stem rose, and a box of candy.' I put the whole thing together with my business card and wrote, 'Dear Ms. Roberts, I don't know if you've ever heard of this company called Vans, but if you ever need any shoes, please call me.' I left the box with the manager of the hotel to deliver and came back to find a note that said, 'Not only do I know Vans, but I love Vans! And if I can be so bold, of course I want some shoes!' Later we returned from dinner when they were filming and she gave me a big hug! So in Notting Hill she wore our first platforms two or three times."
Where Vans is headed: "My goal is just to keep it as real as possible, to keep action sports and music in our culture and not let it get away from that. As for House of Vans, in five years I'd like to see 10 of those around the world, because we've had the one in New York and never charged a penny to come and see some great music, an art show, or skateboarding. And the Vans Warped Tour! We're on year 22! So I see that still going...it's the gnarliest thing in the world."
Angie Dita, Vans Head of Women's Footwear Design
Team Vans tenure: About four years
Favorite Vans pop culture moment: "The collaboration we did with Takashi Murakami. I was really stoked because we were able to meet him and learn about his process, and how he wears the classic Slip-Ons. He was at the top of my top list of artists that I wanted to work with."
Fondest Vans memory: "When we went to the Venice Biennale to get inspired for the spring '17 collection."
Vans stash size: Around 200 pairs deep
Sneaker storage strategy: "I have a closet now to store all my shoes, but then for the month I'll have my top five outside in the living room. Before, our place was too small and my boyfriend was like, 'Yo…you have a lot.'"
Leila Hurst, Surfer + Vans Surf Team Rider
Vans initiation: "I started wearing Vans really young. I was probably, like, 10. By 14 I was wearing them religiously."
Favorite way to style Vans: "Since I'm from Hawaii, with high-waisted jean shorts."
Favorite Vans pop culture moment: "Justin Bieber's been wearing them all the time lately and I'm in love with him. I just made a surf video to his music."
Vans stash size: "Probably 60 pairs. And they're just freakin' thrown everywhere. I recently went back to Hawaii for two months and I literally had to bring three suitcases because of my Vans. It was, like, a huge issue."
Favorite pair: The Sk8-Hi Slim in perforated leather
Lizzie Armanto, Skateboarder + Vans Skate Team Rider
Vans initiation: "My first pair of Vans I recall is from when I was in ninth grade. I remember I went to the store in Santa Monica and got these black suede Eras with a red trim."
Favorite Vans pop culture moment: "The release of Propeller [Vans' first-ever feature-length skateboarding film] and its impact in general. A lot of people were waiting a long time for Vans to put out an official skate video. In my world, it was a big thing."
Fun way to style Vans: "I think the platform Vans are cute to wear out."
Vans stash size: "Under 50—I'll skate in them and then they go. Every two or three weeks I'm getting a new pair for skating."
 Vans is iconic because: "They got into something and they stuck with it. They've always been true to their roots."
Wendy Lam, Vans Collector and Blogger Behind Nitrolicious
Vans initiation: Circa 2009
Favorite pair: "I think I would have to say the Supreme x Comme des Garçons x Vans Era from 2013. And what makes it even more special is that small sizes were not sold to the public—my pair was gifted to me from Angeloat Supreme."
Vans stash size: "My guesstimate would be 50 to 100 pairs. I also collect toddler Vans for my kids fashion and lifestyle blog, Minilicious. No kids [myself] yet, but it doesn't hurt to save the dope collabs for the future mini(s)!"
Fondest Vans memory: "Going to Disneyland for the launch of their Disney collaboration in 2015!"
 The Vans lifestyle is: "Timeless, young,  and fresh."
Amirah Kassem, Vans Collector and Flower Shop Owner
Vans initiation: "I grew up in Mexico but was always in love with California culture, and Vans is a huge part of that. I think I got my first pair on a trip to California."
Vans stash size: "I've gone through a lot of them since I was a little girl, but currently I have about 36 pairs and counting!"
Favorite pair: "If I absolutely have to choose I would say my Disney Vault Mickey Sk8-Hi."
Vans is iconic because: "It's for everyone! I like inclusive brands. Vans is for babies or grandpas, skaters or Disney lovers—there's really no limit to what they can create. I also like the idea of living off the wall!" 
Fondest Vans memory: "The first time I met Steve Van Doren I was visiting the Vans office and couldn't keep my hands off of anything. I put on the giant display Vans and was trying to take a picture just when Steve was walking by, so I introduced myself wearing those silly shoes!"