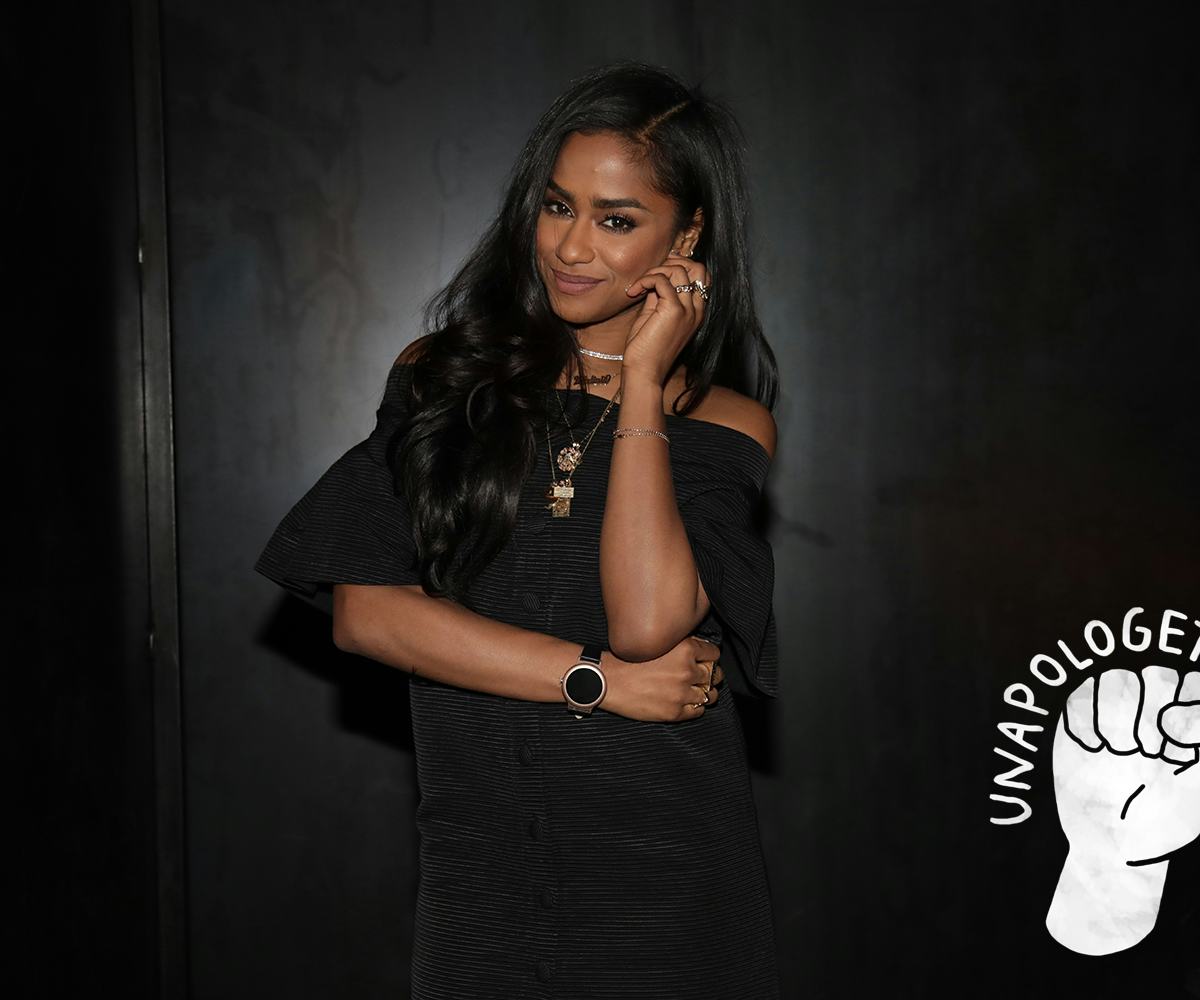 Photo courtesy of LG
Vashtie On Finding The Right Connection To Every Creative Field
"I think it's having this immigrant guilt that my parents instilled in me"
In celebration of Black History Month, NYLON is running a spotlight series called UNAPOLOGETIC. Every day, we'll celebrate different aspects of black culture through profiles, interviews, roundtables, reviews, videos, and op-eds. #Blacklivesmatter and we hold that truth to be self-evident.
Vashtie is one of those creative hybrids that only needs to be known by her first name. Though the New York native received her B.A. from the School of Visual Arts with a degree in film, she would go on to add the titles of artist, designer, DJ, and creative consultant to her resume.
In between gigs across industries at Box Fresh Pictures, Billionaire Boys Club, and Island Def Jam throughout the 2000s, Vashtie's reputation as a trendsetting style icon was forged. By 2008, she launched her clothing brand VIOLETTE. 
Since then, she's been extremely hands-on with her personal brand and running her blog. (You can also cop some of her march here.) This year, Vashtie is adding spokesperson to her list of accomplishments with the new campaign for LG's Watch Style and Watch Sport.
We recently caught up with Vashtie to learn more about how she navigated her multilayered career path over the years. Get all the details about her impressive background in the interview, below. 
You've been able to do you so much and in so many different lanes, and it's really inspiring. How have you been able to not pigeonhole yourself?
I feel like in the beginning, I didn't know what I was doing, but it's really the people that I met along the way. I owe a lot of it to the team that I have; it's really been the community that's helped me to be able to do what I do. Even in the beginning when I was doing it myself, it was like having my friends as a base to give me their opinion and help, and volunteer their time when I needed it so, it really is not me—it's everyone around me that's helping.
What keeps you inspired to continue following your passions and doing what you want to do?
I think it's having this immigrant guilt that my parents instilled in me. Like, "You're a lazy American kid, get up and do something." I constantly will be like, "I'm not doing anything, I gotta go do something." I realized recently that when I'm not creating, I get seasonally depressed, or just depressed, and it's like, I feel like I'm not doing what I can be doing, and in more ways than one. So then I think that for me it's knowing that when I create I'm at my happiest. Even if I'm creating a to-do list with my team, for me it's about creation and I know that now, in order to stay happy, it's basically my Prozac. 
How has wellness impacted your life?
It's literally changed my entire approach, it's changed the way I speak, the way I think... just being aware of how you feel. I never knew how I felt. You just don't, 'cause we're trained to think, What are you thinking? What's on your mind? You don't walk into a room and people go "What are you feeling? How are you feeling today?" Now I'm more aware of that, so I always ask [my team] "How are you feeling?" and they know now that I'm not asking for them to just say, "Good."
You want to be aware. A lot of times, we misdirect our emotions, our gut, and how we're feeling into drinking or eating or gambling or sexual escapades. I'm not saying I'm the expert at it; I'm still learning how to get there. 
You're well-versed in essentially all the creative fields from fashion to music and film. Why did you want to swerve into the tech sphere?
I don't know really how they found me, but they had a background on me and my interest in tech. I was very interested [in the campaign], and it just made sense. I'm always constantly selling wearables to friends, so it just worked out that I would be able to speak on the topic. 
Could you tell me more about your favorite piece in the collection?
So they have a new sports watch; their original watch, it was definitely more tech, heavier, a little less on the go. The piece that I've been wearing and testing out is the Sport. It's amazing. I've worn wearables for the past couple years—smart watches specifically—[and] I'm constantly aware of it, which I thought was a good thing. Now having this one, I'm like, "I don't know it's there," which is nice because, at this moment in my life, I'm being [more] mindful and not on my phone touching it, wondering what's going on. You get a really quick, subtle vibration. It's nice to be able to have that balance; it's really important for me, and it's been a wonderful aspect especially in the world of tech. 
In a way, it sort of frees you up from your smartphone. I don't know if everyone, but when you have your phone, you're just checking for no reason. I'll literally go into Instagram, and I'm like, "What am I doing? I just saw this." And I'm going back and going back, but having a smart watch is funny because it is enough that this device has information, right? It's not like you can really deep dive into apps, so you're not locked into it. It's just enough in your peripheral that you can be having a conversation, having dinner, spending time with your family, and not have to be like, "Oh what's going on?" It will tell you when something's going on, so I really love that aspect. 
It's important for women of color to be seen in the tech space, so your involvement is awesome.
Thank you. Yeah, I think it's important. As much as I love tech, I used to get made fun of for being a tech nerd and a sneaker nerd—just being involved in both of those worlds. I remember my older sister being like, "This will never pan out for you. Like, you're wasting your money on gadgets and things." It's nice to be able to be a spokesperson or a person of expertise for them because I feel like we just need to know the basics. I just need to know "How does this work in my day-to-day?" being a creative, being someone on the go, being someone who lives in New York. I feel very honored that they asked me to do that.
What else do you have going on?
I'm going to Paris for Fashion Week. I just wrapped up New York Fashion Week, which you know was a whirlwind. Over the past couple years, I've done a lot of collaborations—I've done a lot of work for other brands—so this is the year that I'm really trying to refocus on my brand VIOLETTE [and] my website Vashtie.com. It feels like I'm going back to the beginning, which is nice in a way because it's like seeing that a lot of times my approach is the same, but seeing now that it's different. 
Before when I started my blog and my clothing line, I was so adamant about doing it myself and stubborn in that way. Now I'm just like, "I can't do everything myself." Now that I'm older, I'm open to like, "Okay, cool, let's hire an editor and let's do this and now." I think that, for me, it's really just refocusing my efforts into the reason why I'm even here [and] why people might have started to understand who I was through my platform of my clothing line and my blog.