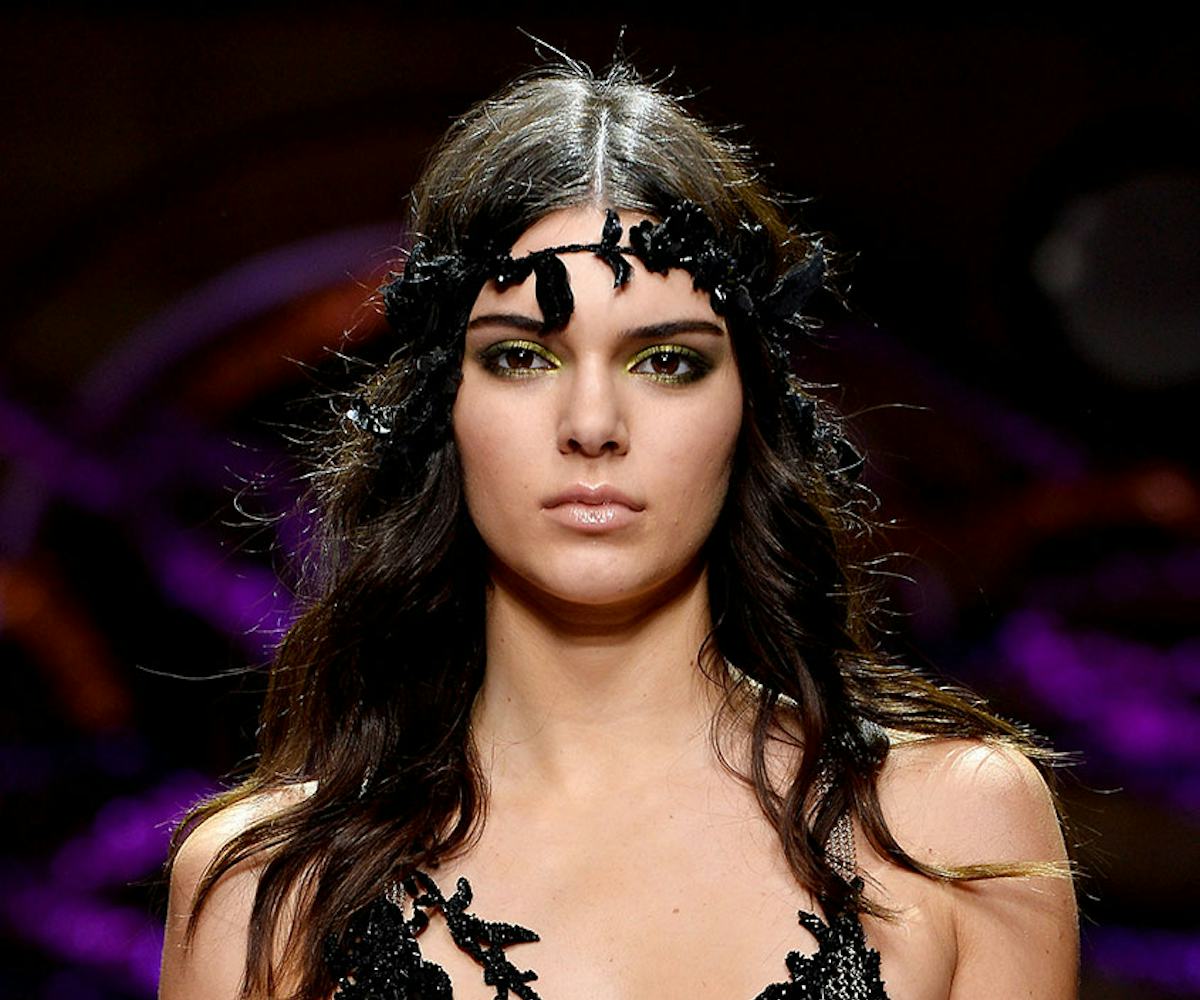 Photos by Pascal Le Segretain/Getty Images
did versace just make flower crowns acceptable again?
festival goes high fashion
Like all large-scale trends, the flower crown hit its peak long ago and has since been in decline. It was novel and exciting in the beginning, until Coachella (and every other musical festival) attendees murdered the trend. As flower crowns appeared literally everywhere, they became more of an eyesore. But just as we thought the flower crown's fashion life was waning, Versace has given it a new breath of life.
At the Atelier Versace Haute Couture show in Paris, models wore flowing, Bohemian-inspired pieces that were reminiscent of festival styles, reinterpreted for high fashion. Spotted on the runway were bell sleeves, floral prints, and colors, and of course, the ubiquitous flower crown. Instead of crisp petals, though, these were made of crystals, which gave them a daintier, more wiry look than the oversized, faux-flower headbands we're used to seeing at music festivals. Leave it to Donatella Versace to make them look so incredibly haute.
Though we still saw the corsets and revealing silhouettes that Versace is so well-known for, this collection seemed decidedly softer and more delicate, overall. Many of the dresses looked fit for a queen—some of them with serious Khaleesi-vibes. And if flower crowns are truly coming back, we definitely want Versace reimagining the look.
Atelier Versace Fall/Winter 2015 Couture Show
Atelier Versace Fall/Winter 2015 Couture Show
Atelier Versace Fall/Winter 2015 Couture Show
Atelier Versace Fall/Winter 2015 Couture Show
Atelier Versace Fall/Winter 2015 Couture Show
Atelier Versace Fall/Winter 2015 Couture Show
Atelier Versace Fall/Winter 2015 Couture Show
Atelier Versace Fall/Winter 2015 Couture Show
Atelier Versace Fall/Winter 2015 Couture Show
Atelier Versace Fall/Winter 2015 Couture Show