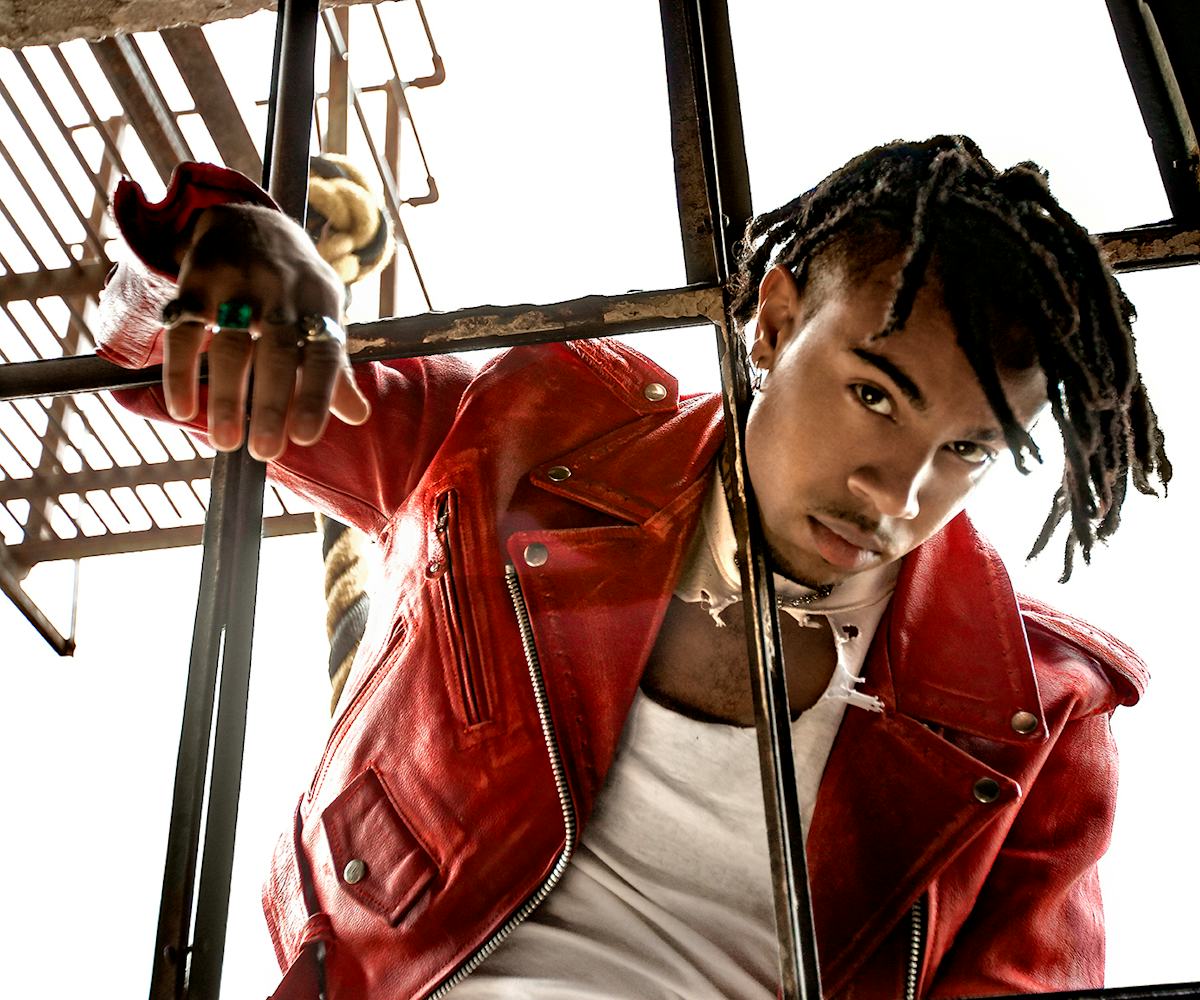 Photo courtesy of UGG
Vic Mensa On His Partnership With UGG And Putting Chicago Back On The Map
If you had asked me to predict an out-there music and fashion collaboration for 2016, I would have never guessed that it would be between Vic Mensa, UGG, and Footaction. Recruiting someone like Mensa is definitely a step in the right direction for the brand's mission to bring back "sexy and cool," but it's a surprising move for Mensa. I had to wonder what was going through his head when he made this decision, and, luckily, I was recently able to ask him just that.
In one of the photos from UGG's new fall men's campaign, Mensa is seated in a barber's chair getting his hair done in the middle of what appears to be an abandoned wasteland. Ironically, when I am taken backstage to meet him before the launch party for the collab kick-off he's hosting, Mensa is in the middle of having his face shaved in the bathroom.
This year, Mensa used his platform to raise awareness about various issues in the U.S. like infringement upon LGBTQ rights, police brutality, and the Black Lives Matter movement. (All of this can be heard on his There's Alot Going On EP.) The 23-year-old even became an ambassador for Respect the Vote, for which he encouraged the youth to take control of their futures by getting involved in the present. Mensa is the perfect modern example of an artist who can't be defined by any one medium. Though, when you meet him in person, you quickly realize that, despite his rap roots, Mensa's actually most in sync with the punk rock lifestyle.
Political activism and hip-hop go hand in hand, but neither have ever really seemed like a hot topic for UGG. Meanwhile, Mensa is an open book when it comes to using his voice to speak for the marginalized. However, the rapper insists that he and the brand share a similar ideological place, versatility, and global reach.  
"It existed, but I just felt like we could transform it to really fit me and kind of speak to a different aesthetic," he says. 
In a way, associating UGG with a rapper opens the door for tearing down the black masculinity stereotype. Even though the original UGG classic boot was created by a man for athletic purposes, the shoe adopted a new life of its own when celebrities like Pamela Anderson and Paris Hilton started wearing it. The boot for "real" men has always been courtesy of Timberland, no exceptions. If Timbs are hard AF, then UGG is tender to the bone. So when young black boys see grown black men like Mensa wearing a pair of UGGs with custom-made CBGB-inspired pants and a leather jacket, the result can only be positive. The fact that this campaign is set in an urban landscape also brings a new perspective to the laid-back lifestyle attached to the brand.
As someone who grew up within skater culture, Mensa respected the relationship between UGG and surfers early on. He admits that he used to rock the classic boot back in the day, but this new line provides him with the ability to navigate a new narrative that has not previously been explored. Mensa saw the partnership as an opportunity to "really do something fresh, that's different from anyone else in my space, from what they're doing now."
"I was in the studio with Pharrell for a couple of days, and I had been rocking the UGG boots in the studio," he says. "I told him about the new campaign, and he was like, 'Yo, I fucking love UGGs,' and gave me his blessing. I'm always just looking to go left when people go right."
In terms of putting the campaign together, Mensa was extremely hands on with everything from styling to scouting locations. He took the UGG team straight to the streets that he knows well on the South Side of Chicago: Damen Silos, CRC Studios, a train platform, and a lake near Hyde Park.
"That area of Chicago and the lake holds and held so much significance to me," he says. "That was kind of like my oasis, that was my place to get away from everything that was going on; to clear my head, I would just go by the lake. It really took me back to my childhood. It was a lot of fun."
Mensa claims that the whole process was stress-free on his end, citing examples of how UGG gave him the power to have total creative freedom. He mentions how he included his cousin in a few shots, keeping it all in the SAVEMONEY family. Of all the looks in the campaign, Mensa seems the proudest of the one where he was allowed to wear a confederate flag.
"That's so anti-establishment, to just repurpose a confederate flag as a black man and just be like, 'No, I own this,'" he says. "I felt like that was just really strong as a statement."
Mensa has always been proud to represent his roots from the South Side of Chicago, and he'll tell you this repeatedly without breaking eye contact. 
"I felt excited to be able to take the UGG team to these places in Chicago, but also to be able to take the world to these places in Chicago and really just show them a piece of me and a piece of my city," he says. "I'm a real Chicagoan; I'm not from the suburbs. A lot of people claim Chicago, but they can't point these spots out to you. I'm an OG Chicago."
Not only did Mensa want to bring a new energy to the image of an UGG boot, but he was also interested in using this campaign to present Chicago in a different light through its creative and scenic parts. 
"I think that it's important right now, in this moment in time, when there's a lot of discrimination and a lot of generalization happening to present the way that we see the world," he says. "So, if all that people are saying about Chicago are negative things, then I'm gonna show you some dope shit from Chicago. You know? I'll just paint a more rounded out picture."
Mensa's next steps include working on his debut album and continuing to leave his mark on the world. From what we've seen so far, it seems like he's on the right path, and wearing the right pair of boots for the road.