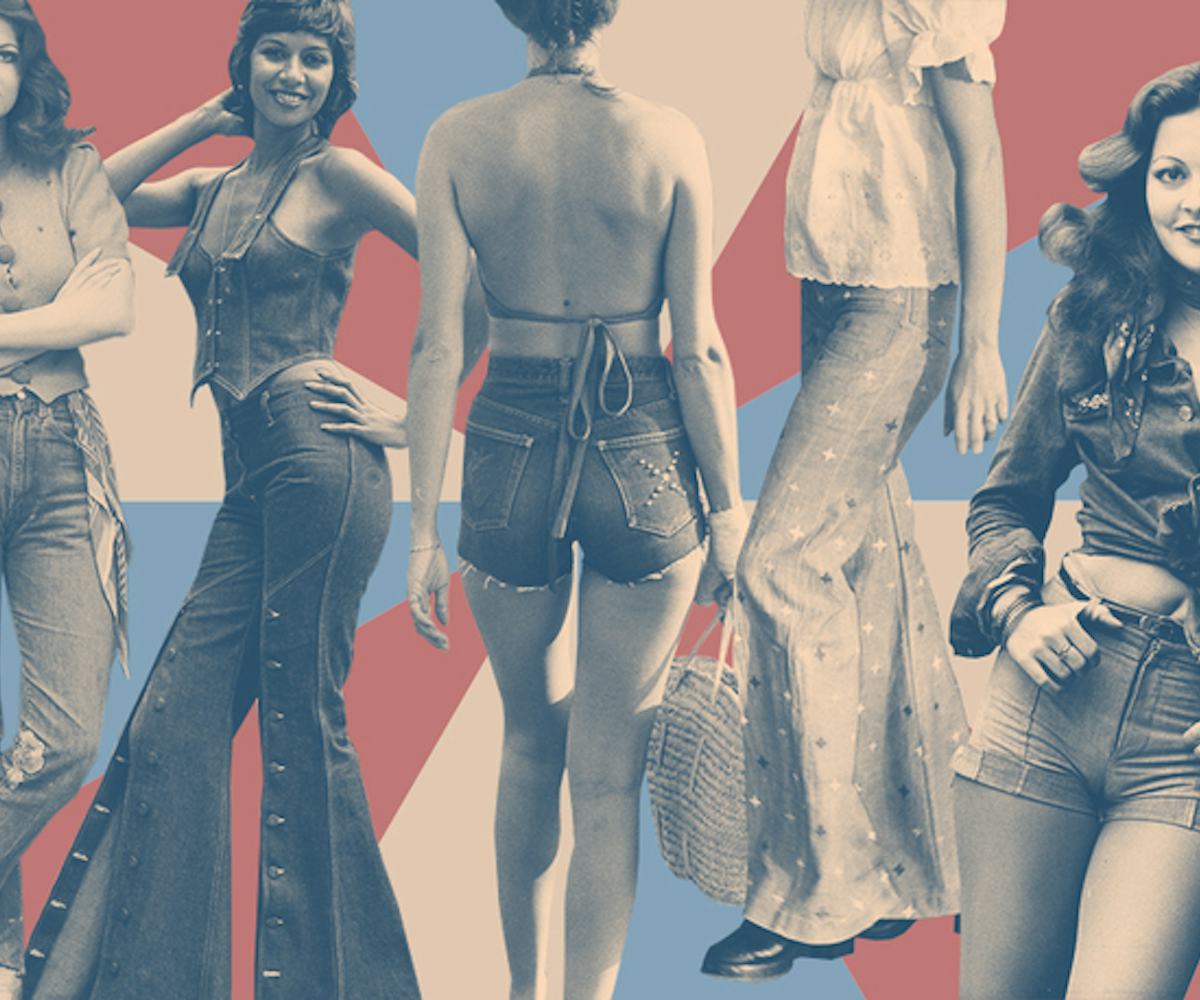 Photos via Getty Images
Everything You Need To Know About Shopping For Vintage Denim
While there are many different facets to the world of vintage clothing, denim is definitely one of our favorites. What could be more exciting than finding that perfectly preserved pair of '80s jeans?
With the arrival of the brand-new, three-times-a-year vintage fair VINTAGE@Intermezzo in New York this Sunday, we figured it was about time we sharpen our denim-hunting skills. And who better to talk to than one of the fair's expert vendors?
We chatted with vintage specialist Maresa Ponitch, owner of Dusty Rose—one of Brooklyn, New York's most sought after vintage warehouses—to find out all we need to know when it comes to shopping older denim wares. From how to find that perfect fit to caring for your new pair, she offered us her tips and expertise.
Read on to get yourself one step closer to finding the mom jeans of your dreams, and be sure to check out the fair starting Sunday, August 6, through Tuesday, August 8, at the Javits Center.
Don't expect consistency in sizesThe most important thing to know when you begin your vintage denim hunt is that, just like how today's sizing system is inconsistent across the boards, the same goes for vintage. "Not only is every size 27 completely different, but even standard styles, like Levi's 501s, can vary in fit from year to year," says Ponitch. She says to expect to spend some time in the fitting room with a stack of variously sized jeans before finding the one.
Should you happen to find two perfect pairs in that heaping pile? "Buy them both!" she insists. "Unless you're model proportions, it's so hard to find a pair you love, so don't leave your dream jeans behind expecting to find them again. Denim is HOT right now, and there are no guarantees you'll find what you want again immediately."
Instead, know your measurementsAs previously stated, sizes don't really mean anything anymore. What matters, as Ponitch explains, are measurements, especially if shopping online. "Compare the measurements listed to a pair of jeans you love. Make sure you do waist, hips, rise, inseam, cuff, and, if you're a little more curvy, it never hurts to ask for the flat measurement across the thigh."
Know your brandsJust like today, not all brands are created equal in terms of fit. However, Ponitch's extensive denim knowledge allows her to narrow down which of the most popular vintage denim brands are suited for what body type. "If you're narrower in the tush and hips, men's Levi's and Wranglers are great for you. If you're curvy, go for a women's fit, like Guess, Jordache, Calvin Klein, Sergio Valente, Benetton, Chic, and Gittano. These are high-waisted—which makes your butt look great—and also have some space in the thigh so that you don't look like a sausage."
Know how to care for itCaring for your vintage denim can be tricky, and many vintage aficionados have opposing views on the matter. Ponitch encourages people to choose the method they prefer, and ignore anyone who says they're doing it wrong.
Still, she shared some of her tips for those of us who don't yet have a view on washing denim: "Many die-hards will tell you never to wash your jeans and put them in the freezer to get rid of smells. In my experience, this just doesn't work. Vintage denim is higher quality than most modern [pieces], so it can withstand a bit of washing. For folks who are actually happy to assist in the fading process and also love the feeling of squeezing themselves into a freshly washed pair, I say go for the standard cold wash and tumble dry on low." However, you shouldn't toss your jeans in the washer as often as your underwear: "Every six months is fine," she says.
All washing aside, vintage denim can often come into your hands already a little worse for the wear. What should you look out for that might eventually call for repair? "White fuzzy patches in the crotch area, means this fabric will give out soon. If the jeans aren't tight on you in those areas, you'll be fine for a while. If they are tight and those areas are rubbing, be prepared for a trip to the denim doctor soon," she says.
Repairs are possible on all budgets. There are pricey denim repair shops that will reweave the denim so that you can barely tell a hole was ever there, or you can get creative. "You can do some cool patching and sashiko stitching yourself." Who doesn't love a little DIY?
Know where to shopPonitch swears by the internet when it comes to snagging the perfect pair of vintage jeans. "If you're confident about taking the measurements of a pair of jeans you already love for comparison, the best place to shop for vintage denim is online," she says.
However, not all sites are created equal. "Etsy is great because you can search for the exact brand, size, and style you're looking for—and unlike eBay, its rules dictate that vintage must be 20 years old." She explains that, of course, some users will break the rules (whether they mean to or not), but Etsy gives you the best shot at snagging true vintage.
When it comes to IRL shopping, Ponitch suggests going to vintage stores or fairs over thrift stores, explaining that most thrift stores today generally carry pretty low-quality denim. "Vintage stores often work with large suppliers, like Dusty Rose, so they have access to stuff you don't see at the thrift stores. While Dusty Rose has limited public hours, most of these warehouses never let the public in. You'll get a much better selection at a shop that focuses specifically on vintage, as opposed to a thrift store that just puts out whatever is donated."
Most of all, love the fitWhether you're into brands and rare labels or not, Ponitch explains that the most important thing when shopping for vintage denim is that you love the fit and how you look in them. "If you didn't go into the experience caring about them, there's no need to start now."
Know what's rareIf you want to become a full-on vintage denim nerd, then you should get to know your rare labels. Ponitch lists the most popular tags to keep on your radar: "The easiest tags to look out for are big 'E's in Levi's, where the 'E' on the red logo is capitalized rather than lowercase. Also, orange tab Levi's were around in the '60s and '70s, and are sometimes on styles that don't exist anymore."
In addition to tags, you can also look for selvedge denim. "You'll be able to see this on the inside seam if you roll up the cuff. Most jeans have raw edges that are serged together, but selvedge is a finished edge that doesn't unravel. It's the same dark color as the top side of the denim, so it makes for a cool band at the seam when you cuff your jeans," she says.
We love a good vintage hunt, and knowing the rarities to look out for, make it all the more fun.