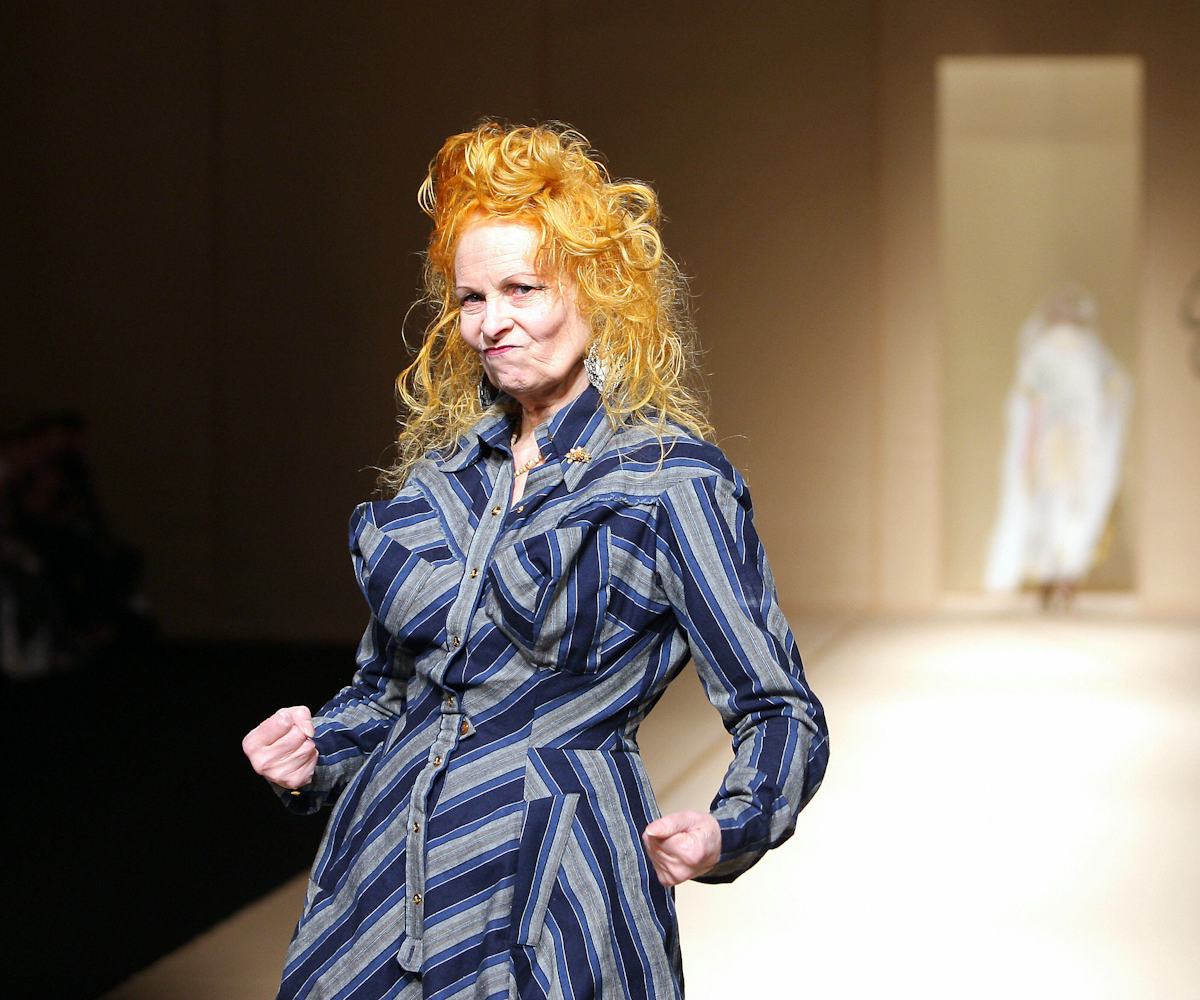 All About The Vivienne Westwood Documentary That Vivienne Westwood Hates
We talked with director Lorna Tucker about 'Westwood: Punk, Icon, Activist.'
Director Lorna Tucker never imagined fashion designer Vivienne Westwood would dismiss the documentary Tucker made in homage to the designer, but that's exactly what happened. Before Westwood: Punk, Icon, Activist had even premiered at Sundance Film Festival in January, Westwood's team sent out a statement denouncing it. "Lorna Tucker asked to film Vivienne's activism and followed her around for a couple of years, but there's not even five minutes activism in the film, instead there's lots of old fashion footage which is free and available online," the statement reads. "It's a shame because the film is mediocre, and Vivienne and Andreas [Kronthaler, her husband and design partner] are not."
Before their relationship turned sour, Tucker had befriended Westwood in 2008, after being recruited to shoot a video of Josh Homme, the lead singer of Queens of the Stone Age, who had collaborated with Westwood on a rap song (for charity). Tucker was entranced the moment she met Westwood, recalling, "I didn't know much about her history, and especially nothing about her struggles. All I knew was that she was a famous fashion designer and an older lady. And when I went down there to film, my mind was blown by this incredible woman the same age as my grandma, coming through the door into a music studio with six-inch high-heel platforms on and this ombré hair; she just looked incredible." The two started spending a lot of time together, with Westwood telling Tucker about the different charities with which she was working, and Tucker decided she wanted to make a documentary about Westwood—but it's hard to tell just how enthused the designer was with the idea.
In fact, just mere seconds into the film, it's clear that Westwood wasn't, exactly, thrilled with the idea of sharing her life story: "I think you just let me just talk and get it over with," she declares, exasperated. At another point, still aggravated: "I'm just completely bored with talking about this, but you need it, so I'll tell you," she says, before diving into her childhood.
Tucker says that Westwood was always resistant—"At first she was like, 'No way! Why? Why should I do that? You know I only do my activism. I don't care about the past,'"—but maintains that her persistence eventually convinced the designer to collaborate. "I explained to her, 'Look, people are only are going to be inspired by your activism and what you're doing now if they are inspired by you and what drives you to do this," Tucker says. "So, for me, I just wanted to make it some about her past and take you on a journey. Also, you know, I wanted to show her as an older woman. We grow older, we're supposed to mature, we're supposed to act a certain way, we're supposed to behave a certain way, and she busted all of those assumptions… she's a real working-class woman." 
And despite what the Westwood team claims, there is evidence of the designer's activism woven throughout the film, but it also follows her career closely, not shying away from its highs or lows, meaning that Tucker doesn't gloss over the struggles of the industry, and the resulting stress Westwood endured. Tucker explains, "I thought if the whole world could see this really powerful woman doubting herself and being vulnerable, people can relate to her instantly." It's possible this level of transparency is another reason Westwood revoked her endorsement. It's clear Tucker wasn't interested in putting out a reductive portrait of the designer, though Tucker emphasizes she never went into the project with malice. "I wasn't out to make an exposé, you're never going to make a film that's going to show anyone in a bad light, but you have to be honest," she says. "If you take out anything that shows emotion, drive, and passion, then all of a sudden it's just a commercial."
And that's what people come to documentaries to see: real, authentic depictions. In fact, it's quite appropriate that Tucker is releasing a film that ruffles some feathers because Westwood is a designer who has ruffled a bunch herself. It's a punk film, and Westwood is punk for protesting it as well. Even so, Tucker never imagined that this documentary, which was meant to celebrate her subject, would end up alienating her. 
However, Tucker hopes people walk away from the film feeling inspired and appreciative of the work that Westwood has done. "The film is a portrait of an artist, of somebody who has changed culture and defined fashion, and has fought against classism and the patriarchy in the fashion industry," Tucker says. "This is pre-#MeToo, this is pre-Women's Movement, and this is someone who purely fought to get to where she is now. And now, she is trying to stay at the top of her game and change the fashion industry from within, and this was the story that drove me and inspired me, and that was the story I wanted to tell the world."
Westwood: Punk, Icon, Activist is in select New York theaters today, and in Los Angeles on June 15.