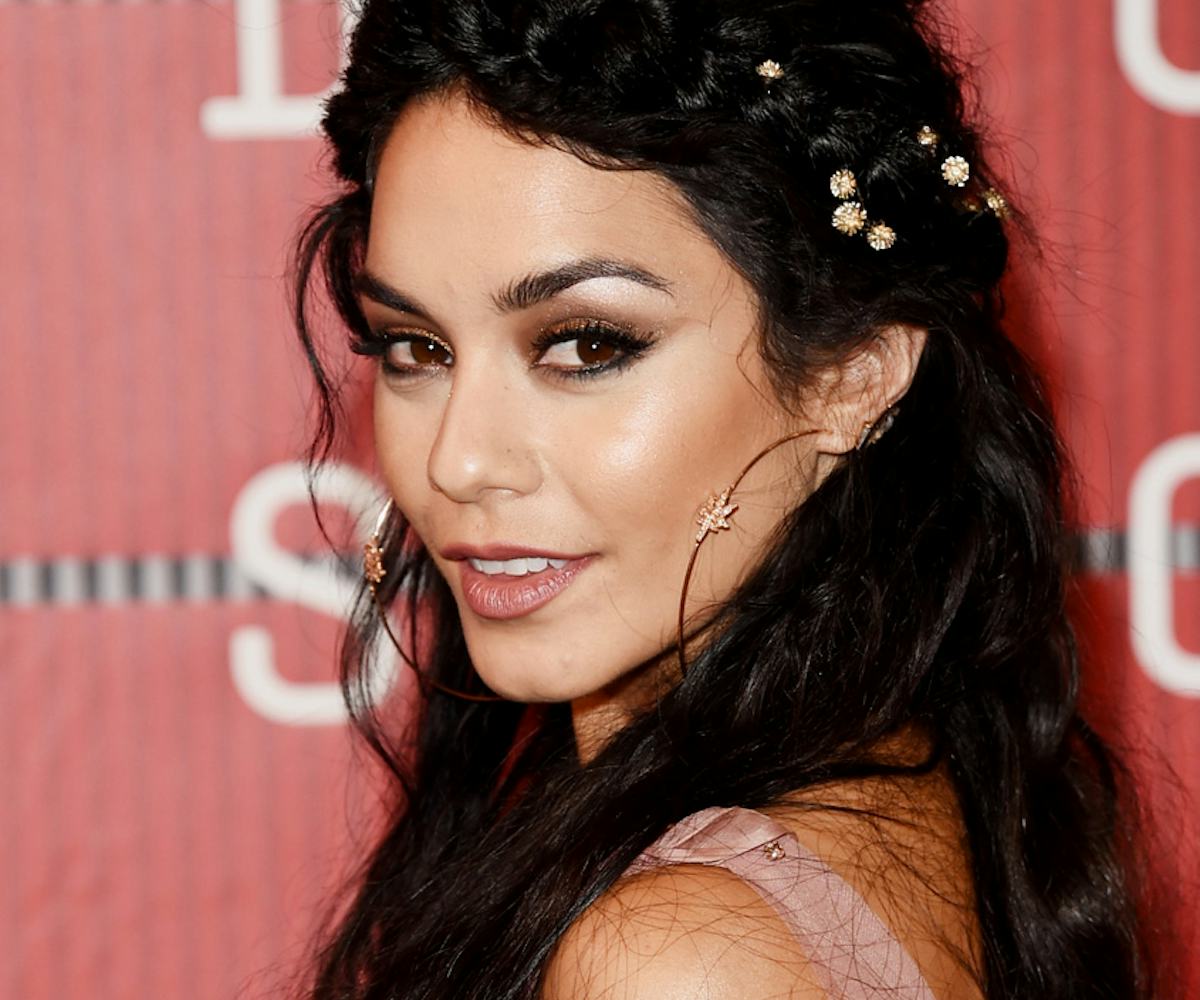 Photo by Jason Merritt / Getty Images
the 10 most rockin' beauty looks from the vmas
eyeliner goals everywhere
The fashion at this year's VMAs was pretty eye-catching—from feminist reclamations to nip-slip-ready dresses—but a hot awards show outfit would be nothing without a seriously solid beauty look to back it up. After we tore our eyes away from the couture, we couldn't help but zoom in on the cat-eyes, the braids, and the glowy complections of our favorite stars. Certainly some pretty gorgeous inspiration for our next major event. Click through to see our favorite beauty moments of the MTV Video Music Awards. 
FKA twigs
Your average person might shy away from bold makeup while wearing a cagey black spider-goddess dress, but FKA isn't your average person. With a vivid red lip, perfect cat eye, and a classically glamorous, curly bob, she's working it in all the right ways. Oh, and if you're wondering how to recreate that lip look ASAP, makeup artist Mai Quynh lined her lips with Urban Decay 24/7 Glide-On Lip Pencil in Bad Blood and then filled them in with Matte Revolution Lipstick in Bad Blood.
Taylor Swift
Girl-squad queen Taylor Swift is also officially the cat-eye queen, too: Check out the way her eyes are fully lined in black, from corner to corner, and dramatically flicked outwards. (#FlickGoals, right?) You can bet we'll all be wearing this eyeliner the next time we need to make a scene.
Rita Ora
Adding this one to our list of ponytails to try. (Ok, we don't have a running list of ponytails to try, but this is making us want to start one.) With a series of tight twists leading into a low pony, she's as red-carpet ready as she is gym ready. Also, that is one flawlessly smoked out cat-eye.
Rebel Wilson
Pastel hair may be so last year, but Rebel Wilson's vibrant pink tips have us itching to go back to the dip dye. It looks even better with her bangs pulled back into a punk-inspired poof, with the sides slicked back to create a faux-hawk silhouette. Also, can we talk about that hot pink lipstick? Just, wow. Makeup artist Matthew VanLeeuwen used Urban Decay 24/7 Glide-On Eye Pencil in Anarchy and then applied a coat of Matte Revolution Lipstick in Menace on top.
Nicki Minaj
Nicki Minaj kept her hair simple, letting her bangs frame her face to show off an extremely dramatic cat-eye moment (another majorly good flick here, too). Paired with a nude lip and clean, natural face makeup, it was cool-girl red carpet beauty at its finest.
Kat Graham
One of the more natural looks of the evening (which isn't saying much), Kat Graham's elegantly curly bob offset her '90s-inspired shiny nude lipstick. Subtly edgy, it was the perfect VMA spin on an Old Hollywood look.
Chrissy Teigen
Chrissy Teigen's hair looked simple at first glance—surely it was just loosely, elegantly piled onto her head—but upon further inspection you'll notice little braided buns. It's a whimsical touch that makes this look feel like it's magic. Chrissy, you are magic.
Aubrey Oday
Holy braids! There is a lot going on here, but we're not mad at it: Inside-out French braid pigtails are created tight to her forehead and then turn into gloriously messy, tightly woven fishtail braids, secured with black elastics. Must have taken hours, and we appreciate all the effort. 
Vanessa Hudgens
Looking like she floated right out of a Free People catalogue, Vanessa Hudgens was 100% boho, with a lovely braid crown to match. But instead of piling all of her hair up, the braids frame her face and leave plenty of locks free to fall, creating more of a tiara effect rather than a full-on crown situation. Extra floaty and lovely, for sure. 
Halsey
Proving that a beauty look doesn't have to be traditionally "feminine" to be totally sexy, Halsey rocked some seriously cool slicked-back tomboy hair. With her orangey-red lipstick and tattoos, it's fair to say that we've got a new beauty icon.