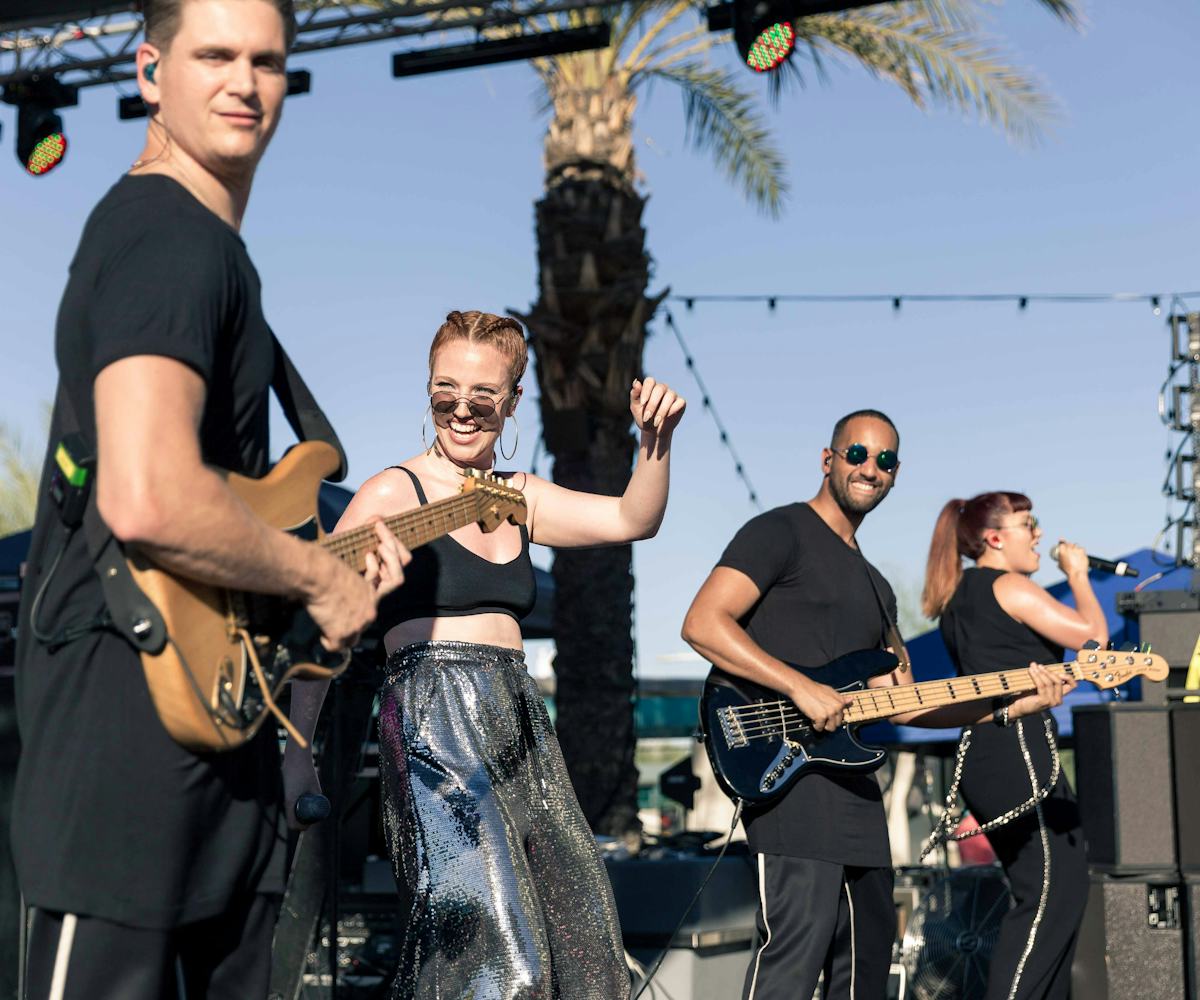 Photo by W Hotels/Cesar Mateo
Wake Up Call Is The Festival Reinvention We've All Been Waiting For
"Festival" is a loose term in 2016. Everyone rotates between the same handfuls of artists, placing them on big stages that read like a Stefan skit from SNL ("This stage has everything! Fire, C02, big, flashy, seizure-inducing light shows!"), and slaps on a semi-catchy name with some iteration of the word "glow," "lights," or another twee-like trend-of-the-moment portion of our lexicon.
Thankfully, this has also been the year that some festivals have recognized the scourge of mediocrity. In the quest for weirder, greater, and peak FOMO, 2016 saw parties happening everywhere from ice caves to old castles and hot springs, all in the name of music. But, it's not just a bonkers location that can refresh a tired old trope. This past weekend, in the cradle of the dusty rose-colored mountains surrounding Scottsdale, Arizona, W Hotels held its first festival—Wake Up Call—and simply focused on what a hotel does best… hospitality.
At a very basic level, holding a festival at a hotel just makes sense. Gone are the long treks to and from festival grounds, the Uber clusterfucks, the confiscations of a pack of gum you just opened, the panic at realizing you forgot your portable charger (RIP phone battery). Instead, imagine the sheer joy of knowing you can simply walk to your room. And you can drunkenly eat room service in your bed without judgment. And if you forgot to pack anything, there's someone ready at a snap to go fetch it for you. AND THERE ARE SPA SERVICES. (After this weekend, we're fully convinced every festival should offer a spa to help rejuvenate oneself after dancing, drinking, and tomfoolery.)
A luxe three-day excursion, Wake Up Call combined all of this with a list of performers that spanned from tropical house to pop bangers, all on an intimately styled stage that sat atop the pool on the WET Deck. Each afternoon, it was a full-on South Beach-style party. Featuring a slant on local DJs, the deck buzzed with tan-catching bodies while the real dance floor was in the water, drinks held above heads as everyone collectively splashed to each song's drop. Sunday, Matoma and Nico & Vinz helmed the afternoon, blasting everything from Skrillex and Rick Ross' "Purple Lamborghini" to their own lighter hits like "Am I Wrong" and "False Alarm." For a weekend, we forgot it was October, kicking our feet in the pool under the dry sweat of the desert sun.
Come evening as the sky began to match the surrounding landscape, there was an intermission so a crew could cover the water, giving us time to touch up and partake in every ounce of fanciness available. And oh, we did. Friday was a triple oxygen facial at Bliss Spa, a 75-minute procedure that combined refreshing masks with massage, extractions, and a peel that left us feeling bold enough to go makeup-free for the evening. Saturday we dined in-house at wood-wrapped scenester cave Sushi Roku, drooling over crisped brussels sprouts generously doused in truffle oil and tuna carpaccio so delicately plated, we felt completely un-basic photographing it for the 'gram (it would have been a crime not to, really). And Sunday, we did the aforementioned guiltless session of a burger in our bed, giving zero fucks as we lay propped up by oversized 300-thread count pillows with a smear of ketchup across our cheeks. In the background, with palm trees gently wavering outside the windows, we listened as Mayer Hawthorne soundtracked our gluttony with a cover of Tears for Fears' "Everybody Wants To Rule The World." No matter where you are from, there is a certain joy in the indulgence of overindulgence.
Each night, the mood at Wake Up Call distinctly changed as bottles of water were swapped for flutes of Champagne and sandals for needle-sharp stilettos (save for one girl we quietly obsessed over with pink hair and platform sneakers who resembled the lost child of Sailor Moon and Tumblr). It felt like a private club experience, exclusive, as a few hundred danced away up close with some of radio's most star-laden names. Mike Posner was thrilling, brandishing his guitar and leaning into the audience's rapture as they screamed the introductory notes of "I Took A Pill In Ibiza." Cee Lo Green DJed, dotting across genres and decades for a set that was as joyous as the artist's permanent signature smile. Pop's current cool girl, Bebe Rexha, rifled through her catalog of hits from "Me, Myself & I" to new Martin Garrix collab, "In The Name Of Love," to "I Can't Stop Drinking About You." (Here, she notes this song is about an ex-boyfriend. "He sucks," she dryly slides in.) Jess Glynn, De La Soul, Lost Frequencies, and more rounded out a weekend that left us invigorated, despite endless hours of rollicking adrenaline.
When we slapped the alarm Monday morning with the realization that we were boarding a plane to go back home, a place without oversized hand-and-foot service in an undersized VIP environment, there was an audible sigh. That night in a poor replica, we'd be eating Thai delivery in our own bed with Spotify nursing our withdrawals, but it wouldn't be the same. W Hotel's Wake Up Call and the city "where rain seldom falls and there is no cold" gave us a special weekend, showing us that bigger isn't always better, but that just being better is.