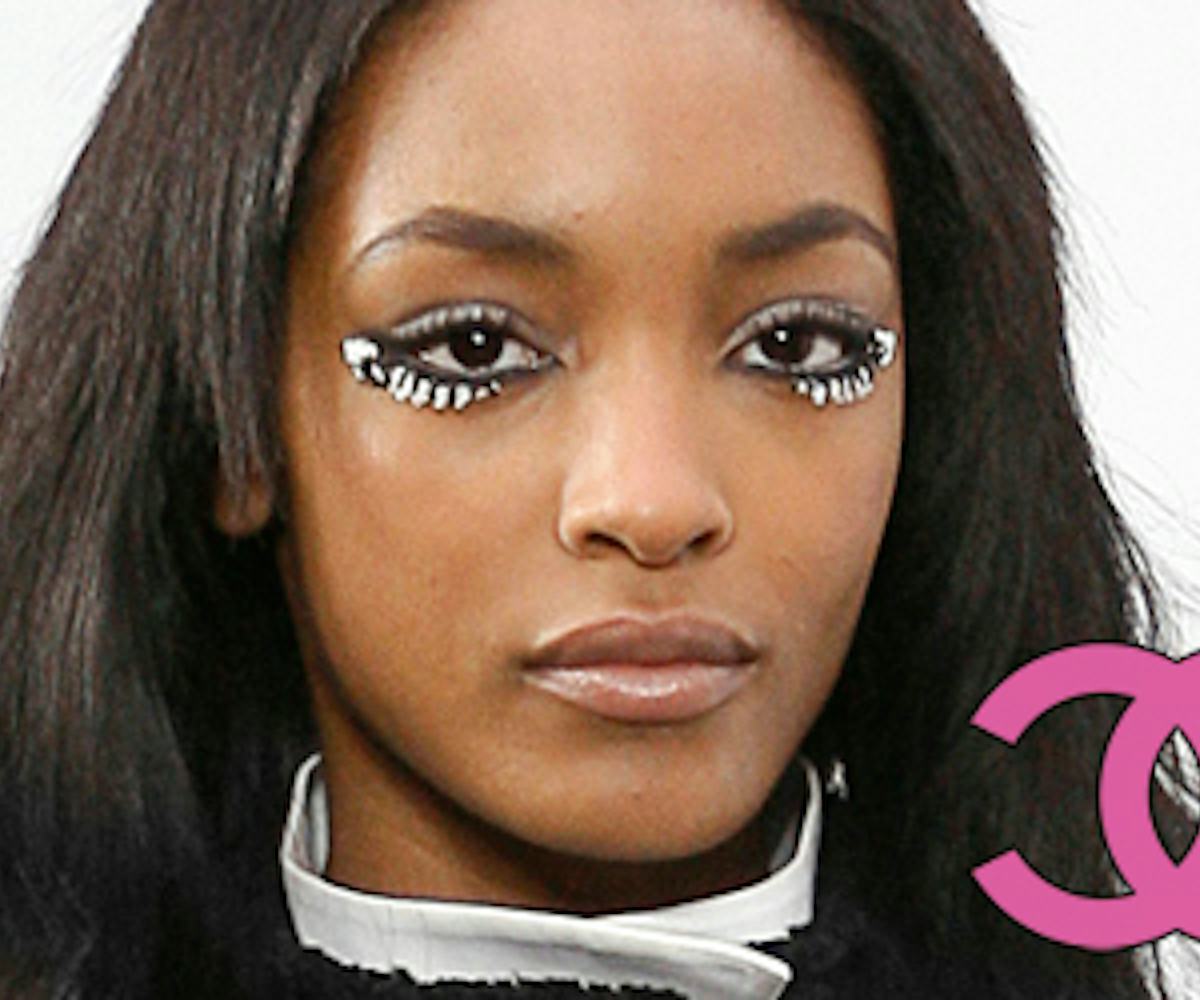 WAKEUP MAKEUP
greetings from the makeup chair of chanel!
Chanel may be best known for its quilted purses and prim-rocker jackets, but the Parisian label has a knack for setting beauty trends months in advance.
See: black nails, severe bobs, and smoky eyes.
After yesterday's fall '09 show, you can add sequined eyes and jade nails to the list.
The look is a mix between '60s mod and Belle Epoque porcelain doll, devised by beauty superstar Peter Philip (the Creative Director of Chanel Makeup). But don't be fooled—it's not quite as complex as you think. For a similar look, line the inner rim of your eyes in white, then the outer rim in black, and then brush a cream shimmer shadow on your lid. The key, though, are the silver sequins that look like Twiggy lashes. You can either go all out and get a pair of press-on jewels, or use a liquid liner for something a bit subtler (although by no means is this look subtle).
To balance out the strong eye, Philip kept nails low-key. Chanel deviated from the richer, darker shades it has used in the past few seasons (like the dark navy, deep purple, and shimmering brown), going with a soft green that matched the jade Art Deco jewelry. Expect to see the mint shade popping up on nails before summer even starts—Essie is releasing the aquamarine "Greenport" in April, and Deborah Lippmann has a jade shade coming out this fall.
These bright eyes? They just might turn everyone green with envy...
Jessica Stam at Chanel
Freja Beha at Chanel
Chanel's jade green nail polish
Red hair and white lashes at Chanel
Liya Kebede with kohl-rimmed eyes at Chanel
Sasha Pivovarova at Chanel
Jourdan Dunn at Chanel
Obsessed with the nails!