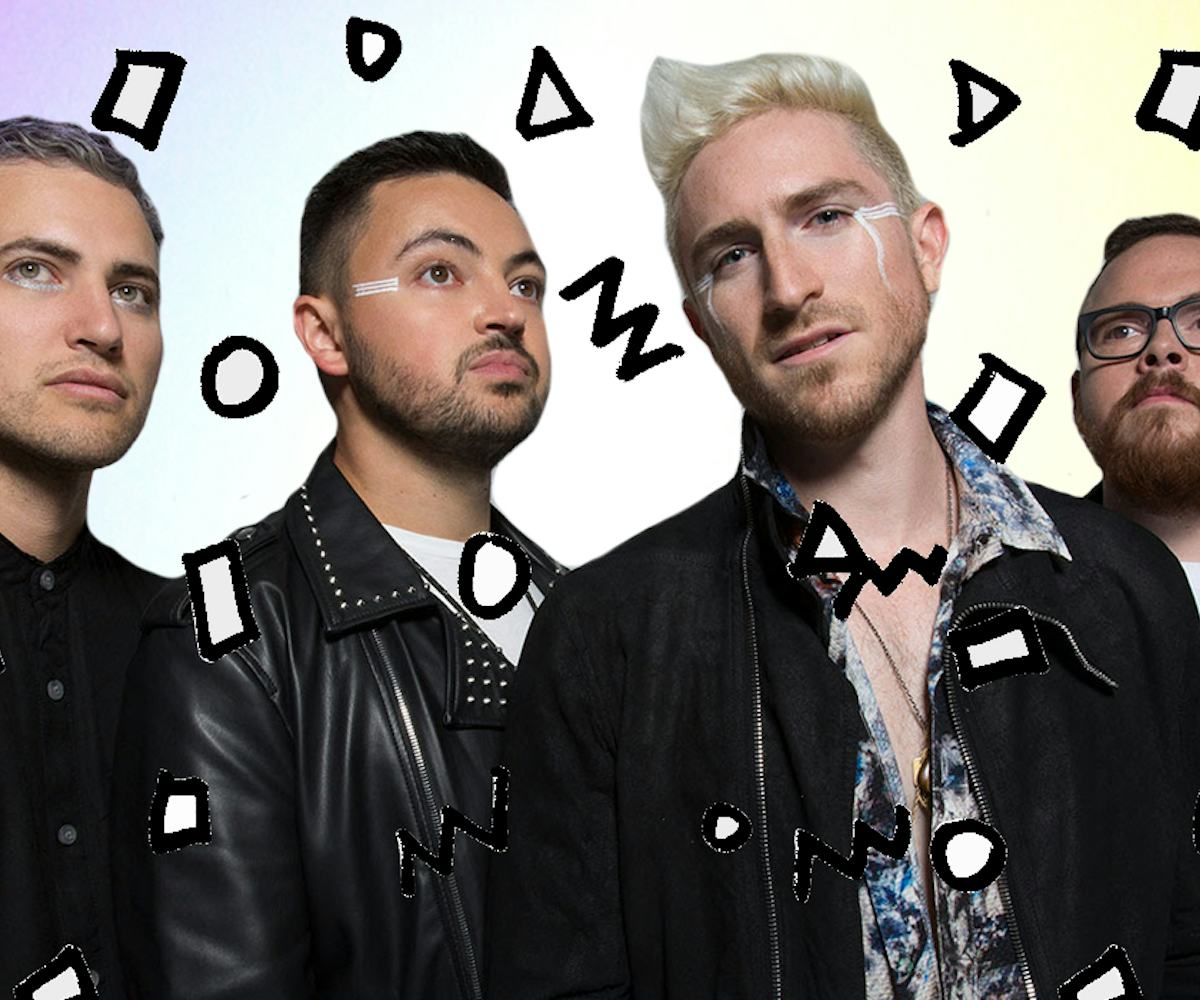 Photo by Brian Ziff
Allow Walk The Moon To (Re)introduce Themselves
The most we can expect from musicians—any artist for that matter—is growth. To hold them to a certain standard, that being they produce more or less the same thing every time, is to hold them back. That, in turn, holds us, the audience, back from growing with them. For Walk the Moon, the Cincinnati quartet whose song "Shut Up and Dance" you couldn't escape in 2015, betterment isn't just a challenge they put on themselves, it's essential.
"Shut Up and Dance" is one of those songs artists dream of: It blew up on the charts and streaming platforms, pushing Walk the Moon toward new ears, new award shows, and new festival lineups. It also pigeonholed them. 
"['Shut Up and Dance'] became so global and so famous that the personality of the band, at least to us internally, felt a little confused," Nick Petricca, Walk the Moon's lead singer, tells me earlier this week. Cue those misunderstood teenager feelings many of us believe will dissipate once our twenties begin. "Some part of the old Walk the Moon had to die, or be shed, in order for this record to be possible," he says.
So, the band set out to create an album that acts as both a reclamation and rebirth of their identity. The result is Walk the Moon's third LP, What If Nothing, a 13-song deep project that's at its best when Petricca and his bandmates go for the sublime and the anthemic. Lead single, "One Foot," does well as the album's call to arms; it boasts a chorus worth belting out alongside Petricca and a strong, catchy message of unity. "Headphones," the album's second preview song, is a nod to Walk the Moon's rock-meets-pop roots while the album's fourth and final pre-release song, "Kamikaze," dives deeper into the heart of What If Nothing: an ego death.
Before you go playing ayahuasca card, know that the ego death Walk the Moon explores isn't inspired by some medicinal experience. It's more intimate than that, smaller and personal. "It's about releasing the attachment to the idea that you are the center of the universe," Petricca says, "and knowing that there is something greater than you." In a way, "Shut Up and Dance" and the narrative surrounding it had to be released. Yes, it's Walk the Moon's biggest song. Yes, it's good and yes, of course, Walk the Moon is so much more than that song. "We had to shed the fear around that idea and the attachment to it, in order to get in touch again with who we really are as a band and redefine or reimagine who we are, so that in writing this record and in releasing this record, it could be as pure and raw as possible."
Which brings me to the album's third pre-release song, "Surrender." Spread over a driving bed of '80s-tinged bass, kick drum, and shimmering piano, "Surrender" is one of those songs that has the ability to make you feel infinite and small all at once. The climax isn't found in a drop but in Petricca's soaring vocals and the longing that he evokes. It's here that Walk the Moon shines. "Tiger Teeth," a song Walk the Moon has been sitting on for a minute now, finally gets its studio recording due and, in doing so, provides What If Nothing an undeniable transcendence. 
"Each new song on this record is so different from one another, but they're all very, very true and pure," Petricca says. "No matter how far away we go, how far we experiment, or how far down the wonderland rabbit hole we go, there's still some thread of pop music that is at our core and ties us all together." It's found in the distortions of "Sound of Awakening" and in the frenzied rock of "All I Want"; you hear it in the Bon Iver-meets-Bleachers opening track, "Press Restart." Walk the Moon wraps What If Nothing with another call to action: Get lost in the wild—a wild that is undoubtedly bursting with color and vibrating with the sublime desire to connect with something higher than us, humans. In order to get there, though, we must surrender and, yes, press restart. We'll grow from there.
What If Nothing drops tomorrow, November 10, via RCA Records.