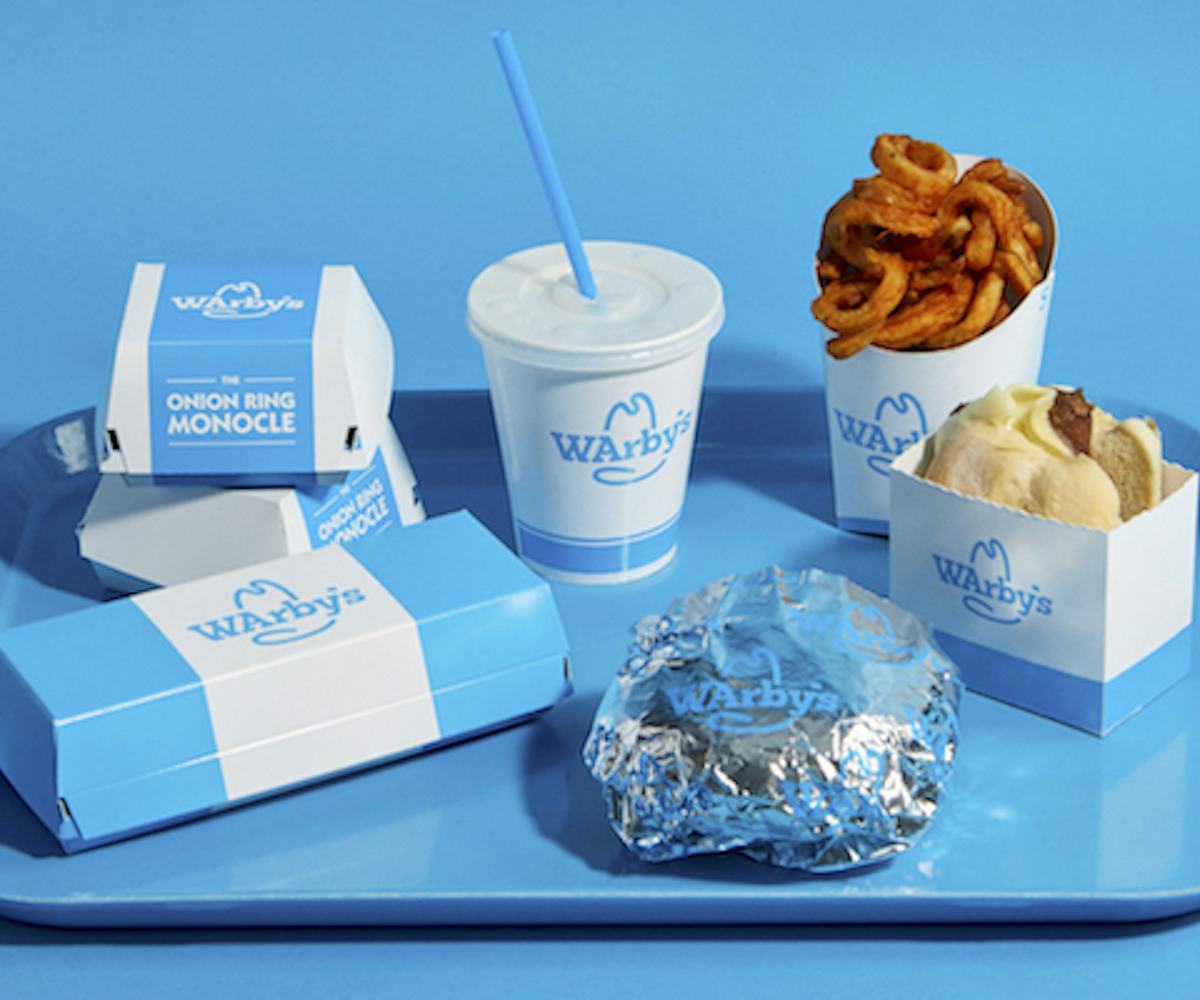 Photo courtesy of Warby Parker
This Is One Weird Fashion Collaboration… And We Dig It
Be warned: It might be an early April Fools' joke
The latest soon-to-be-cult-favorite fashion collaboration is here, and it's a bit different than the rest. Eyewear brand Warby Parker has teamed up with meat-heavy fast food chain Arby's on a new collection, and it's fast food streetwear at its finest. We may not entirely get it, but we're so here for it. Meet (or should we say, "meat"?): WArby's.
The WArby's collection includes a logo-emblazoned tee, baseball cap, and pool slides; tote bag that reads, "Nice To Meat You"; a pack of sandwich-themed microfiber cloths (don't worry, vegetarians, only one depicts meat); and a raw beef patterned pair of glasses. Who knew beef could look so chic?
Photo via WarbyParker.com
Are you scratching your heads as much as we are? Well, according to Warby Parker co-founder and co-CEO, Dave Gilboa, "One question we always ask ourselves before deciding on a new initiative is, 'Why?' In this particular case, our names marinated together so well that the question became, 'Why not?'" Well, there you have it.
Equally-as-excited Arby's CMO, Jim Taylor, added, "This is an exciting next chapter in the Arby's story. We really changed the game simply by adding a 'W.'"
Not only did both brands join forces, but they're are giving back in celebration of this new, kind of weird partnership. Warby Parker will be making a donation to VisionSpring, a mission that works to make affordable eyeglasses accessible to all, while Arby's will be donating to No Kid Hungry, a national campaign that aims to end child hunger.
The collection, which ranges from $10 to $95, drops online today at TryWArbys.com and in stores on Friday, March 30. If you're lucky enough to be in NYC that day, be sure to pop by Warby Parker's SoHo and Flatiron locations for free onion ring monocles (which are, well, just onion rings) between 11am and 2pm.
Hear a special message from both brands and take a closer look at the new merch, below.
The pairing of the two brands is so strange that some are assuming it's all an early April Fool's joke. All we know is that we got a sampling sent to the office, and some of the items are available for purchase now. However, some of the star items, such as the meat glasses and pool slides, are already labeled as "sold out." Hmm. I guess we'll have to wait and see. We're into it either way.