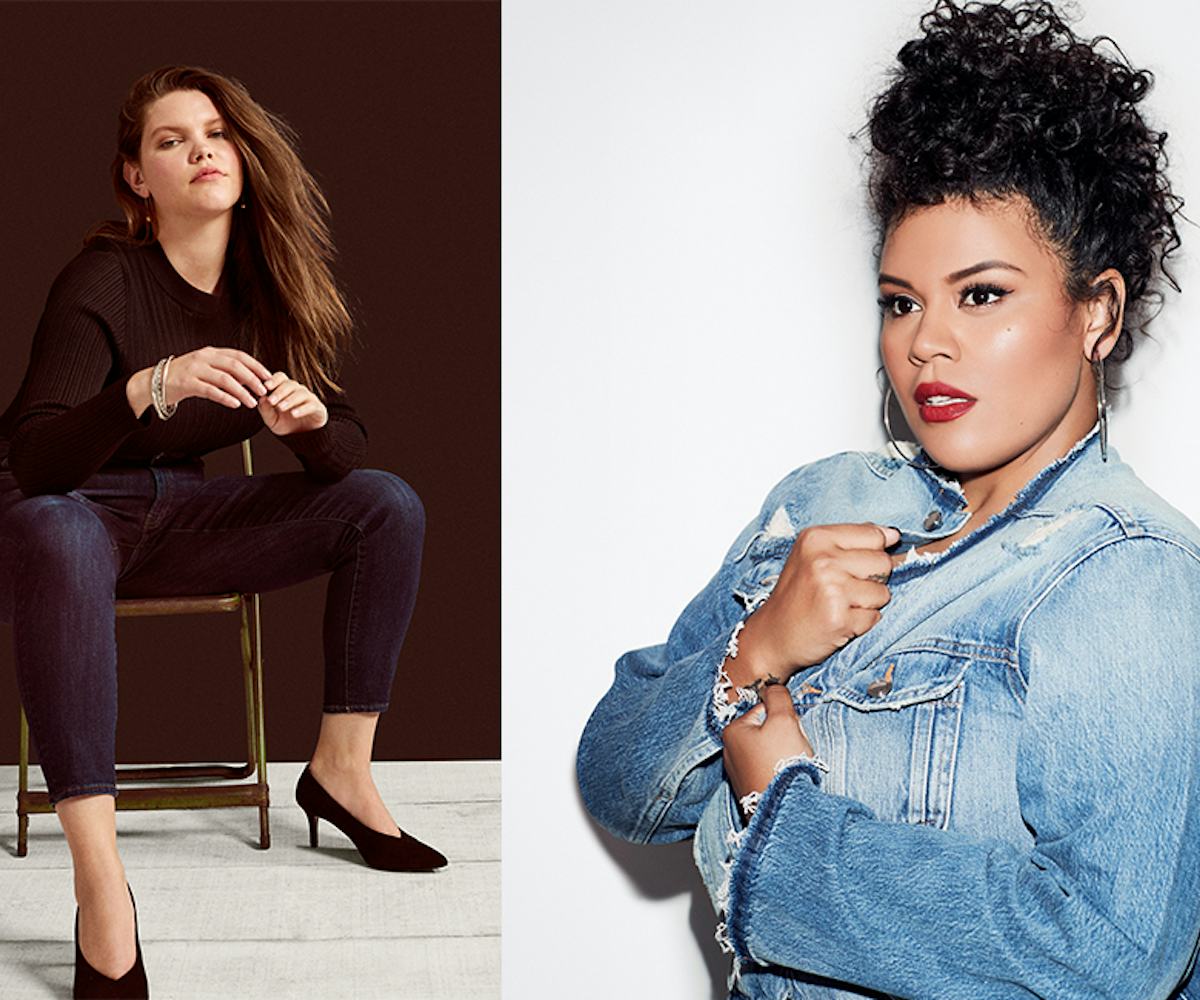 Photo courtesy of Warp + Weft / Photo courtesy of Good American
How Instagram Can Help You Find The Perfect Pair Of Jeans
Sometimes internet comments are good
You can leave a review online for your avocado toast, your haircut, and your Lyft driver, but have you ever considered that leaving one for your denim can result in a better fit down the line?
This is the type of thinking that more and more brands are adopting, as they try to expand to offer sizes for women of all body types. One example of this is the recently launched direct-to-consumer Warp + Weft, a brand that religiously checks their inbox for fit comments (and that landed on NYLON's list of favorite new brands for that!).
"If someone emails us and says that the pockets on our jeans look a little small, we have our designer Kathleen respond, showing what she changed. She sends a picture from the production floor, showing the update," founder Sarah Ahmed explains, adding that she wants to show that her brand is more like a community than just another corporate machine.  
The stats show a huge gap in the plus clothing industry, as 67 percent of women are over the size 14, but only 17 to 18 percent of the market caters to those sizes. For those curvy women, that results in a lot of ill-fitting clothes, including denim, that doesn't feel trendy, cool, or even comfortable. Which is why some of the newest and most exciting denim brands are offering inclusive sizing, but are also interested in hearing their customers sound off on what they like, love, and hate about their designs. 
Ahmed—who has spent the last decade in the denim industry at DL1961, where she is currently creative director—has turned the first few Warp + Weft customers who emailed over their opinions into evangelists of the brand. These women are now continuous beta testers, trying out new jean styles for upwards of three days and offering firsthand advice on what they want. 
But Warp + Weft is not the only brand seeking their customer's advice. When Emma Grede and Khloé Kardashian set out to create Good American, they began the design process only after sitting down with a focus group. They wanted to figure out what experience women were facing when shopping for denim and what stops them from taking home a new pair of skinny jeans.
"We thought we would get almost two sets of completely separate data; a set for everyone under a size 14 and a set for everyone over a size 14. But the same issues arose time and time again." Grede says. In addition to complaining about the waistband gapping in the back and having an incredibly hard time figuring out their true size, the test groups all wanted trendy jeans, regardless of their measurements.
"It was a pretty simple thing that, if you launch a brand, it should be for everyone at every size. We started with that on day one," says Grede. The brand now offers every single style they produce in sizes 00 to 24.
But in order to make plus size jeans, these brands can't just produce a larger version of the smallest sizes. They actually use one pattern to make straight sizes and have to create an entirely new pattern for the plus offering. Because, as Ahmed points out, curvier bodies have different issues with fit and more variation in body sizes, which requires the expertise of specific plus-size designers, who understand these proportions and must-have features. That takes into consideration waist gaps, knees that are too tight, fabric that pooches out at the belly, or crotches that blow out after just a few wears.
In order to made sure their jeans were not only comfortable but flattering, too, Warp + Weft actually started from the beginning, developing their own yarn in their factories in Pakistan. That's why their jeans offer "superior stretch, retention, softness, and sustainability," per Ahmed. Yes, as an added bonus, these jeans (which only cost $95 per pair) are sustainable, made with solar panel energy and a special water filtration and purification system that is less harmful to the environment. Ahmed also worked with her team to develop a contoured waistband that creates an hourglass shape, due to being cut higher on the sides and back but lower in the front. They also tighten the leg from the back, to offer a little lift to your booty. And their plus-size skinny jean is unlike most others.
"We found that a lot of brands take the jeans out from the knee and make it straight. We have the knee, which is very narrow, the pant goes out around the calf and narrows around the ankle, which gives it the perfect skinny look," Ahmed explains, adding that she's not a fan of frumpy pant legs.
Good American has also focused their attention on the top of the jean, creating a four-piece trouser waistband with reinforced belt loops, that can withstand years of being yanked up over hips and thighs. As such, some of their best-selling jeans in plus sizes are some of their trendier styles. The super high-rise Good Waist style is always a hit among their customers, including those with frayed or staggered hems, exposed zippers, and expert fading.
But still, Grede and Kardashian are listening to what the Good American girls wants—and actually putting those ideas into their execution.
"We got a lot of reviews written, and then people leave a ton of comments on social media. We have a whole team that is very actively answering comments. We're now at the top of designing for Spring 2018, and those comments are definitely something we look at," says Grede. The brand just launched Body, a full-size range of very sexy bodysuits with lace-up details, sheer paneling, and just the right amount of Kardashian sparkle.
Next up for Good American is a range of sweats, which incorporates all the fit knowledge they learned from their denim launch. But, as Grede points out, this body-friendly brand wants to make sure they're getting every product right, in every size, which is a process that takes longer but is surely worth the wait. 
Warp + Weft similarly has plans to offer head-to-ankle outfits to all of their customers, including jumpsuits, jackets, and T-shirts. They will also be expanding their denim offering to include some edgier styles, including a high-rise straight pair and a cropped boot pair. Considering the brand, which launched in May 2017, is currently selling 20 pairs of jeans per day, they must be reading and reacting to all of those comments; so don't be afraid to express exactly how your jeans feel. These brands want to hear it all.