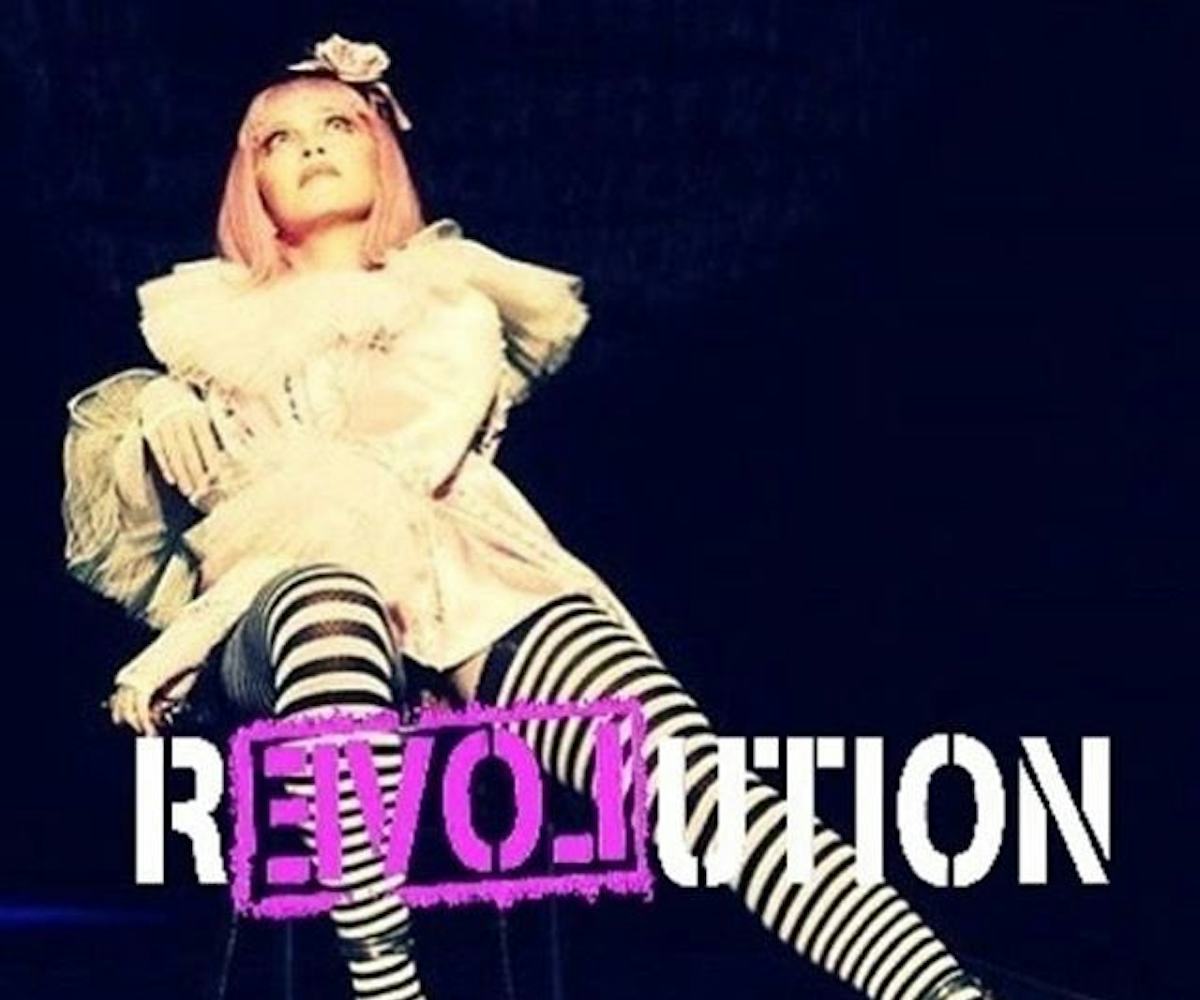 Image via @Madonna Twitter
Watch Madonna Cover Britney Spears' "Toxic" At Art Basel
Complete with a Trump diss
Madonna called Trump "Toxic"... during a cover of Britney Spears' 2003 hit, that is.
The Queen of Pop gave us the unforgettable live rendition during a fundraising concert at Art Basel this weekend, in which she helped raise $7.5 million for her Raising Malawi charity, Rolling Stones reports.
At one point, the 58-year-old icon pulled a Drake, uttering the famous "You know that you're toxic" line while an image of Trump appeared on the projector behind her.
Oh, did we mention Madonna's ex Sean Penn and pop starlet Ariana Grande were also part of the fundraiser? Outfitted in a pink and black clown look, the pop star came ready to perform (and raise cash for a good cause).
The evening's show, dubbed the "Night of Art, Mischief & Music," the Tears of a Clown event—and streamed live on Facebook—featured several performances of Madonna's famed catalog, along with an auction of personal items to help fundraise for Malawi's first Pediatric Surgery & Intensive Care Unit. Attendees of the James Corden-hosted show included David Blaine, Leonardo DiCaprio, Dave Chappelle, Courtney Love, and Chris Rock.
As for the charity portion, Madonna helped auction off coveted items, such as a private David Blaine performance and a weeklong stay at her Palm Springs, California home—which went for $140,000. Another huge bid went to a set of photos from Madonna and Penn's '80s wedding ($230,000) and a tour costume from Madonna, which Ariana modeled!
Of course, it wouldn't be a Madonna set if she didn't give the crowd some of those classics that made her the Queen of Pop. Along with the "Toxic" cover, she also performed her tracks "Beautiful Stranger," American Life's "Easy Ride," "American Life," and "I'm So Stupid," along with Confessions on a Dance Floor's "Like It or Not."
Watch the video here.