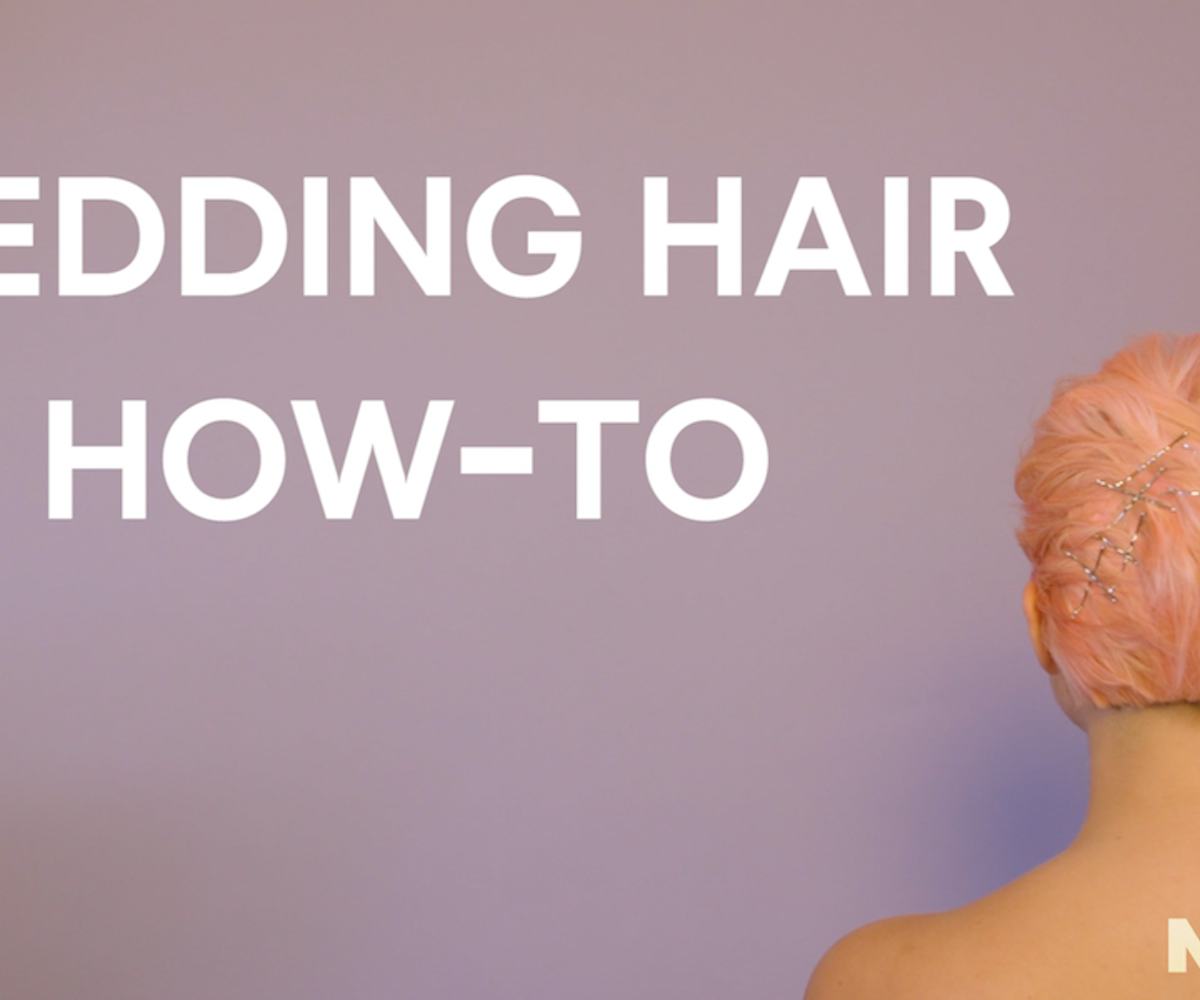 Here's How You Can Do Your Own Hair On Your Wedding Day
Two Bridal Fashion Week pros show us how to pull off looks for short and long hair
While we are usually more awestruck by the incredible dresses and jumpsuits that are shown during Bridal Fashion Week, this season we couldn't help but take note of the amazing updos that the models sported while showcasing the wedding garbs. In lieu of rigid and perfectly done-up hairstyles, the looks we saw exuded effortlessness and ease with perfectly messy buns and locks on the loose. So much effortlessness, in fact, that it made us wonder if we can recreate some of the looks for ourselves at home. We enlisted two Bridal Fashion Week pros, to style long and short hair, to find out.
Giovanni Vaccaro, creative director for GLAMSQUAD, the on-demand, at-home beauty service that offers bridal updos as part of its menu, created "whimsical, lived-in, pulled-off-the-face, twisted bun" for the fanciful Lela Rose presentation held at the Elizabeth Street Garden in Manhattan. "We added wired flower embellishments to the hair to accentuate the long, decorative statement earrings."
While styling my long hair into a low twisted bun, he tells me that the biggest mistake he sees people do, when doing their own hair, is "trying to create an updo on clean hair. With hair that is too silky and shiny, it's tough to make the updo last, while dirty hair is ideal to create an easily moldable look." He also swears by bobby pins and hairspray to ensure the style lasts. "I also love spraying hairspray on bobby pins beforehand for added grit, as well as teasing at the root of where you're putting the bobby, so it has something to cling onto," he adds.
Naeemah LaFond, global artistic director for amika, a professional hair care and styling tools brand that has a salon in Brooklyn, New York, that just recently launched bridal services, created a sleek, parted bun look at the Dennis Basso show. "I wanted to create a style that would let the bride be the center of attention—no matter which gown she was wearing. Every bride wants to wear her dress and not let the dress wear her," she says. "This sleek, low bun is simple enough to be worn with any gown, yet still offers personality with its untucked ends."
Styling assistant editor Jenna Igneri's short pink locks, LaFond emphasized the importance of using products with hold. "A good hairspray goes a long way," she says. "Brides can dance the night away and not have to worry about keeping every hair in place." She also stresses the importance of using actual bobby pins—especially for the style she created for Igneri. "One of the biggest mistakes I see when people style their own updo is using the wrong pins—this can make for an updo that looks homemade and falls out before the ceremony," she says, further explaining:
Bobby pins are for hold and security, while hairpins are for placement. If you need to hold a piece of hair down, you should use a bobby pin; however, if you need to place a section of hair on top of another, you should use a hair pin. The difference is that bobby pins are closed, therefore they will hold on to hair tightly, while hairpins are open and will provide a softer look to your style.
Watch the two experts show how to create at-home wedding looks in the video, above.
Credits:
Produced and directed by Shruti Rya Ganguly
Shot by Aurora Alange and Shruti Rya Ganguly
Edited by Tina Vaden
Music: Parisian Swing Guitars 01 and Swing Manouche 1 by John Åhlin via Epidemic Sound