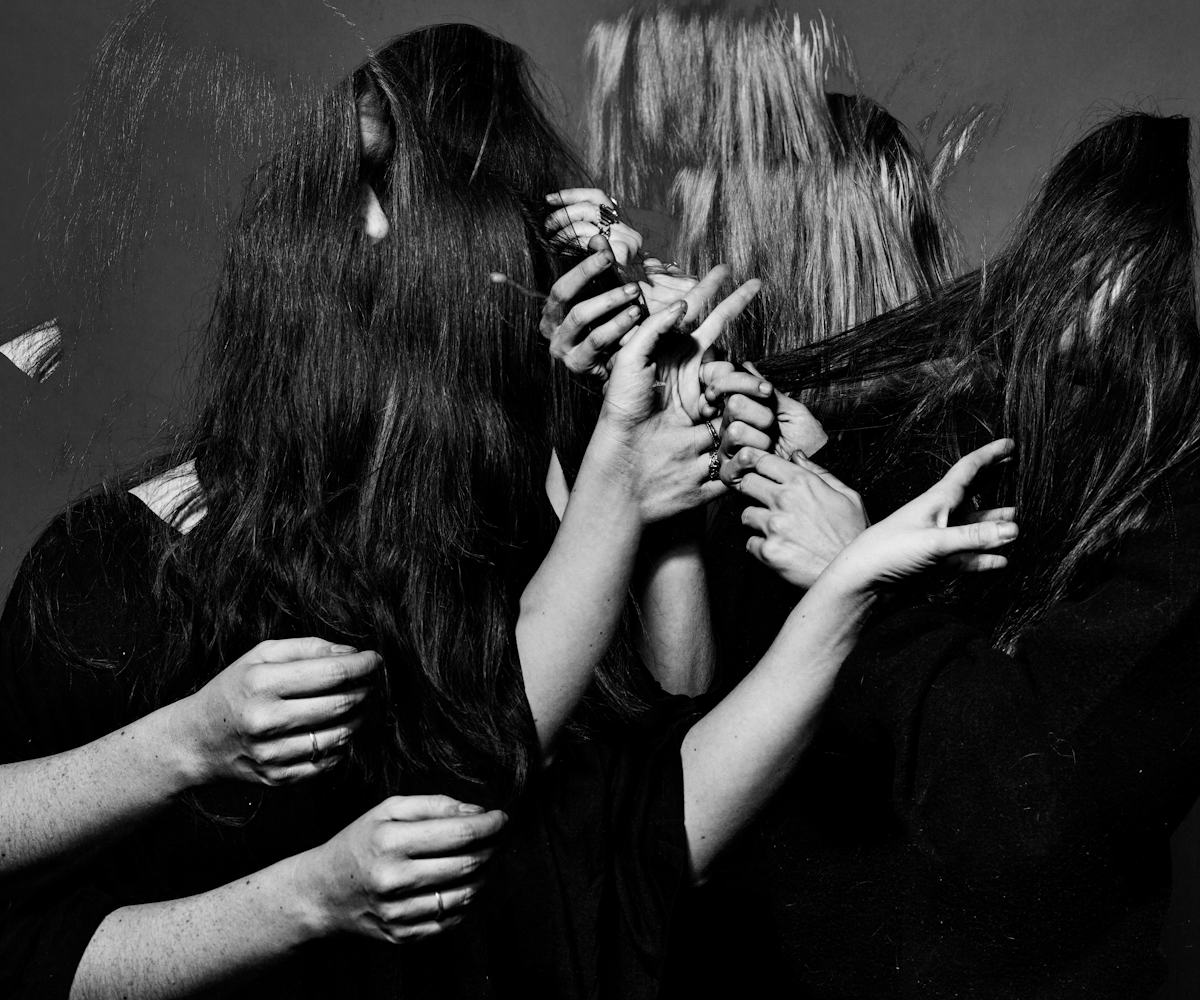 Photo by Erin Albrecht and Nothing Matters
This Song Embodies The Rage Women Feel About Street Harassment
"I'm not afraid of you this time"
There's a feeling familiar to all women who have walked down the street and received unwanted and aggressive attention from men. It starts under the skin, the prickly, red hot rage that comes in a flash, building and building, like a scream in the back of the throat—a scream that we all too often stifle and swallow. But the energy of that scream, that charged heat, stays within us, making it easy to recognize when we hear it coming out of someone else's mouth; we're drawn to it, a wail like an open wound, raw and rough and sticky.
This is the sound of "Jail Billz," a new track we're premiering today by Weeping Icon. The song's snarling vocals are delivered by Lani Combier-Kapel (who also wrote the lyrics), with backup vocals by Sara Fantry (also on the guitar), Sarah Reinold on bass, and Sarah Lutkenhaus on synths and electronics. (Yes, that's a lot of Sarahs.) The song's power is in its driving chaos of noise, but there's nothing cluttered about its direct message: "I'm not beautiful," Combier-Kapel almost boasts, later singing, "I'm not afraid of you this time." The message is clear: I am not who you demand that I be. My power comes from inside me.
The band explains: 
"Jail Billz" is about street harassment and taking the power back from the aggressor. When someone approaches you in a public setting and comments on your presence, demanding a particular response, it's a form of bullying. They're making space for their desires, opinions, and ego, but your privacy and comfort levels aren't considered at all, which is enough to make anyone feel humiliated and insecure over their own safety. "Jail Billz" is a response to that. It's about acting more frightening than the person doing the harassing, and making them feel as unsafe as they make us feel. We're not kidding around—we're frustrated, angry, and unified. But ending this isn't simply to retaliate; it's to demand recompense: "If you touch me and I have to fight you, you're paying for my jail bills."
Listen to this anthem of empowerment for yourself in the link, below.
Weeping Icons' EP, Eyeball Under, will be released digitally July 14 and on vinyl September 22 by Fire Talk/ Kanine Records.