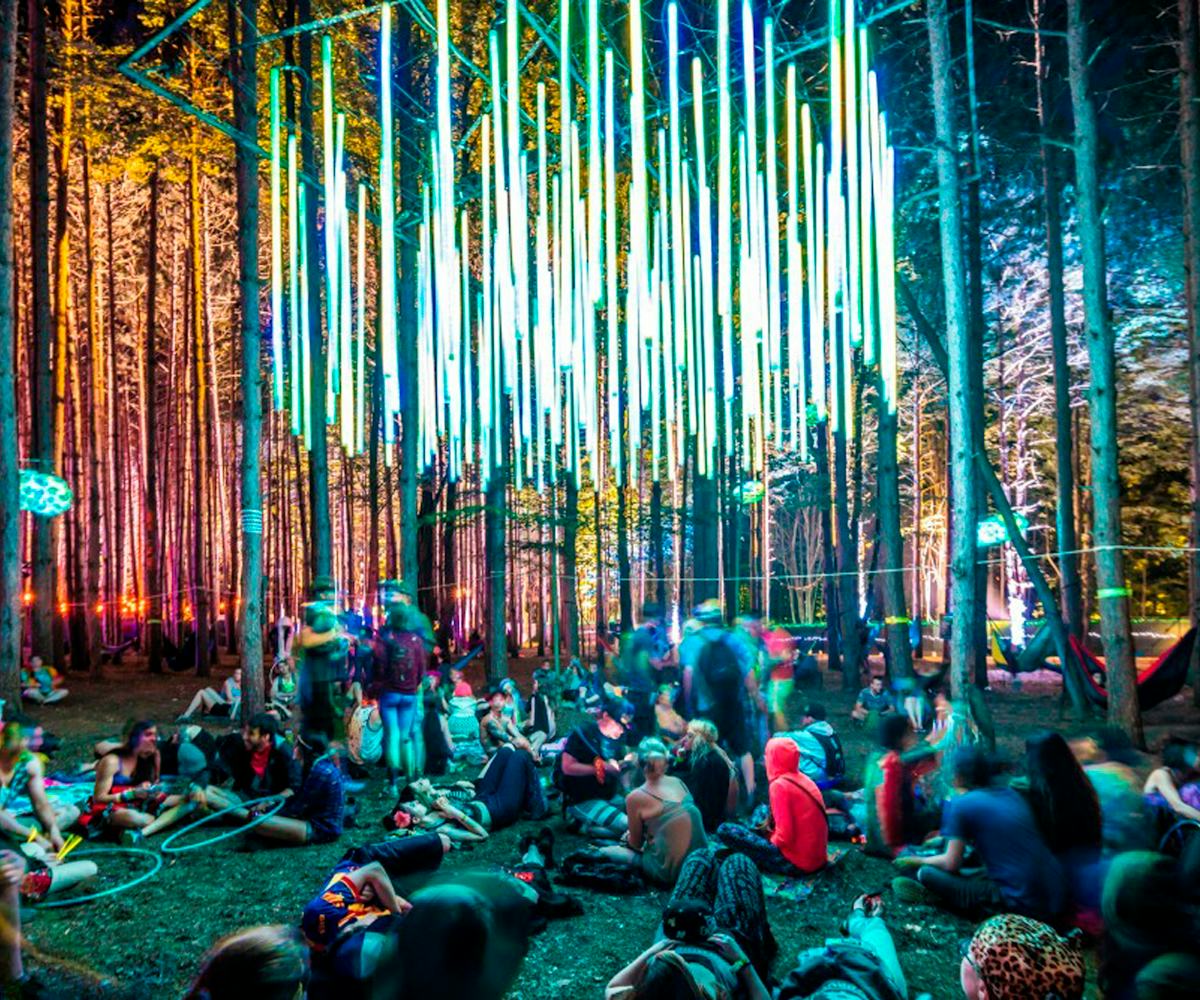 Photo courtesy of Electric Foresst
The 9 Most Unorthodox Music Festivals From Around The World
The summer music festival circuit is dominated by familiar names like Bonnaroo, Coachella, and Lollapalooza, monolithic events that are different on the micro level, but in many other ways are largely indistinguishable from one another. They're held for tens of thousands of revelers in expansive fields with mainly interchangeable lineups. But the world is a big place, and people have eclectic tastes, so music festivals catering to all sorts of subcultures and people with adventurous spirits have been popping up all around the globe, providing us with an antidote to the corporate overlords that tend to dominate the scene. Below are some of the best.
Your average music festival lasts about a weekend. Not Kerrville. In fact, this folk-tinged marathon, taking place annually since 1972, runs for an astonishing 18 consecutive days at Quiet Valley Ranch near the town of Kerrville, Texas. Many patrons camp and die-hards stay for the entirety. As one Yelp user bluntly puts it: "It's two and a half weeks of beautiful music." Sounds good to us.
Google Image Electric Forest and you'll get a pretty good idea of why this festival made the list. The festival is held in Rothbury, Michigan, but really, it's held in the middle of a goddamn forest. Giving off strong hippy vibes, the program leans toward psychedelia, both of the electro and jam band variety, with The String Cheese Incident, Major Lazer, and Bassnectar headlining this year's version (happening this weekend!). Admittedly, we've never been, but apparently, the light show is not to be missed. 
Into the Valley has arguably the most unique setting of any music festival on the planet: inside a limestone quarry in Rättvik, Sweden. The venue itself, called Dalhalla, is actually centered around an amphitheater, and organizers have managed to fit three other stages inside. Behind the main stage is an aquamarine pool of water, lending to the otherworldly feel. The lineup is mostly made up of little-known Scandinavian electro asks, making it an ideal place to discover new music. 
Taking place in an "open-air" museum near Gräfenhainichen, Germany, called Ferropolis, this festival is surrounded by behemoth iron beasts—industrial machines from the mid-twentieth century—giving off a distinctly dystopian nightmare vibe. Except that this year, both Disclosure and CHVRCHES are headlining, so it's the opposite of a nightmare. 
Taking place all throughout the quaint Welsh village of Portmeirion, this festival, which dubs itself "a bespoke banquet of music, arts and culture," is named after the lead character of the cult sci-fi television show The Prisoner. In that '70s-era series, a man wakes up in an enigmatic coastal village that is not what it seems. As for the festival, it's exactly what it seems: a kaleidoscopic fantasy come to technicolor life. 
Founded and hosted by Bitchin' Kitchen host and celebrity chef Nadia G, Riot Grill takes three things very seriously: music, food, and girls. Dubbing itself as an "all-femme fest that brings together punk music, comedy, and delectable grub in celebration of LGBT rights," this year's one-day fest takes place at The Regent in downtown Los Angeles, and will feature Babes in Toyland, Le Butcherettes, Slutever, and The Menstruators, along with a pop-up food situation, courtesy of Nadia G. If you're in the area on August 7, you should probably go.
Calling this German festival a goth music fest would be misleading. Wave-Gotten is open to all those who have given themselves over to the mystical. Pagan rituals, Viking re-enactments, medieval markets, and gothic romance feels, this festival is like the darkest nether regions of human imagination come to glorious life. And of course, bands from all sorts of subgenres—from cybergoth to death punk—play throughout the four-day event.
Underwater Music Festival
The name says it all. A music festival, under water. Each year, music-loving divers and snorkelers head to Looe Key Reef in the Florida Keys to play "instruments" made by local artist August Powers, while aquatic-themed songs play over loudspeakers. Did we mention this all happens underwater? The songs are selected by festival founder Bill Becker, and the instruments have whimsical names like "trom-bonefish" and "fluke-a-lele." Basically, we are ready to dive in. 
Set in one of the most beautiful places on the face of the earth, the Traena Festival is a must for anyone who likes their music set to jaw-dropping backdrops. It takes place on two tiny islands off Norway's northern coast that are only accessible by ferry, making it one of the few festivals where the journey is almost as rewarding as the final destination.