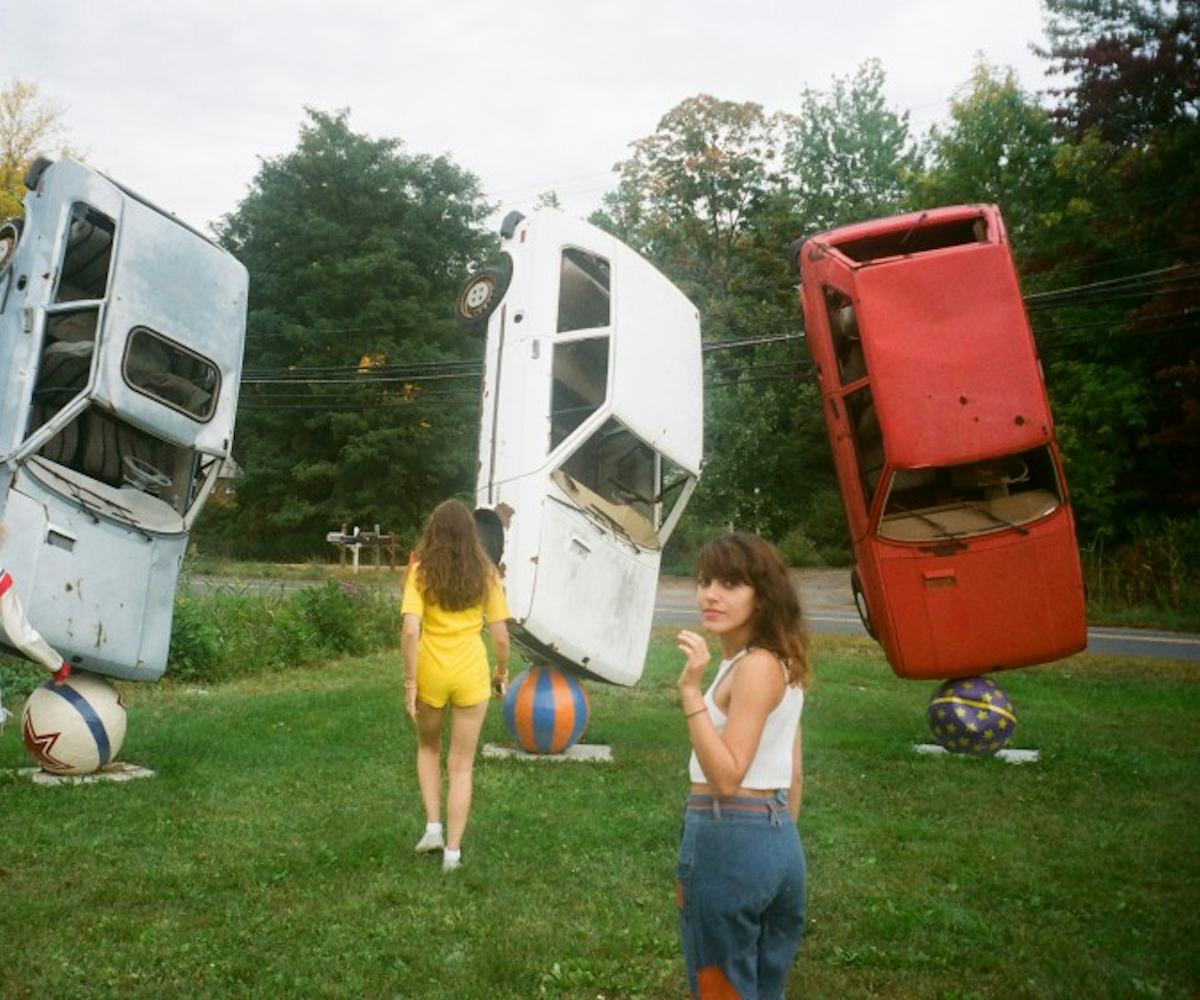 photo by zara mirkin
Weird, Wild, U.S.A.: Everywhere You Need To Stop Along The Bizarre, Wonderful American Highways.
the greatest road trip itinerary ever.
With 50 states and over 3.8 million square miles, there's bound to be a ton of weird places across the good old U.S.A. We scoured the country and found every place you need to stop along the bizarre, freakish, and wonderful American highways and byways. Click through the gallery and start gassing up the car—you're going to want to head on a good old fashioned road trip.
Ed's Museum, Wykoff, MNThe elegantly curated life of a hoarder, complete with every TV Guide issue from 1954 to 1989, Ed's string collection, and his dead cat in a box. Not stuffed—just in a box.
Allen County Museum, Lima, OHPerhaps the holy grail of weird county museums: it's got John Dillinger's death mask, an iron lung, and a dentist's mid-century collection of objects swallowed by his patients. Not to be missed are the animatronic taxidermy dioramas, lovingly crafted in 1902 by a local undertaker-cum-shoe salesman. 
Oasis Bordello Museum, Wallace, IDIn the '80s, this was a working brothel, until whispers of an FBI raid led all the girls to ditch in a panic. After sitting vacant for years, it eventually was sold to new owners, who found everything just as it was on that fateful night in 1988, minus the girls. The solution: They stuck mannequins—dressed as hookers—in each of the time-warped rooms, and opened for business.
Musée Mécanique, San Francisco, CA A warehouse filled with hundreds of working vintage fortune-teller machines, including a mechanized mannequin from the '40s that actually types out your fortune in front of you. And—bonus—River Phoenix shot part of Dogfight here.
Creation Evidence Museum, Glen Rose, TXA quaint little place devoted to the idea that (duh) humans and dinosaurs lived together. 
Butcher Hollow, Johnson County, KY In rural Kentucky, the house Loretta Lynn grew up in still stands. Stop in at Webb Grocery down the road, and ask for a tour from Herman—Loretta's 80-year-old brother. 
Kurt Cobain's Childhood Home, Aberdeen, WA You can't go inside, but just knowing you're 20 feet from Kurt's childhood mattress (yes, it's still there) makes it the ultimate pilgrimage. Also of note in Aberdeen: Young Street Bridge, which Kurt may or may not have lived under.
Buddy Holly Plane Crash Site, Clear Lake, IA For full effect, visit this (very) desolate cornfield in the middle of the night. It's supposedly haunted, with visitors frequently reporting a faint sound of strings playing the melody to "Peggy Sue." 
Hala Kahiki Lounge, River Grove, IL In the suburbs of Chicago sits a perfectly preserved 1960s tiki hut!
The Cave, Richland, MOIt's as if David Lynch's mind manifested a restaurant built into a limestone bluff. Try the stalagmite burger special, because if you can finish it within 30 minutes, your meal is free. You'll also get your photo added to the hall of fame, with all the other special people able to eat four pounds of ground beef in one sitting.
Everglades Rod and Gun Club, Everglades, FLA wood-paneled gentleman's club from the '20s, filled with stuffed barracuda, grandfather clocks, and mint green leather chairs. 
Kowloon, Saugus, MAA sprawling chinese restaurant modeled after an ancient temple on the outskirts of Boston. Inside, it's like an untouched cruise ship from the '70s. If that doesn't sound weird enough for you, knock back some popcorn shrimp and check out the adjoining comedy club, which runs like a live public-access TV program.
Santa's Pub, Nashville, TNSanta's Pub is a double-wide trailer covered in twinkling Christmas lights, plopped in the middle of a clearing in the woods. It's the kind of place that leaves you with a lot of questions when you wake up the next afternoon. Is karaoke ever a good life choice? Who is this Uncle Bob that keeps texting me? Was it even real—and if it is, should I just move there?
Ginny's Little Longhorn Saloon, Austin, TX The night to go to Ginny's is Sunday—that's when chicken shit bingo happens. Emceed by the enigmatic Dale Watson—a local playboy who also happens to be an acclaimed country singer—the game is pretty self-explanatory: chickens are released onto a giant bingo board, and whoever has the number upon which the chicken, uh, defecates, is the winner.
Jumbo's Clown Room, Los Angeles, CA A clown-themed bar/strip club where Courtney Love used to work. 
In the hills above New York City is America's oldest and largest pet cemetery. There are some 80,000 dead pets buried here, including one of Mariah Carey's prized Jack Russell terriers. Also interred at Hartsdale is Goldfleck, the pet lion of Hungarian-born Princess Elisabeth Vilma Lwoff-Parlaghy. According to legend, the cub lived with Lwoff-Parlaghy in her 14-room suite at the Plaza Hotel, along with a full menagerie that included an owl, two small alligators, and a bear. 
One of the last American myths, the Salton Sea is sort of an ugly stepchild for the California tourism board. Turning this place into a beach destination really didn't work. For starters, the sea is actually a 300-square-mile polluted lake in the middle of the Imperial desert. It's like going to an apocalyptic third planet—startlingly quiet, heavy air, nothing for miles but sun-bleached billboards. A few of the '50s beach towns are left—the most romanticized of which is Bombay Beach, population 374: a jumble of deteriorating houses, boarded-up trailers, and a dollar-bill- covered bar called the Ski Inn. 
Wild Bill's doesn't really know what it wants to be, and we're totally OK with that. Equal parts antique shop and pop-culture museum, the store portion of Bill's empire was a pretty famous nightclub in the 1940s. Now covered in a neon psychedelic mural, it's apparently haunted by the ghosts of club nights past. Or so says the Connecticut Paranormal Investigation Society, which, until this February, headquartered here after-hours. Inside, the place is teeming with everything Bill likes' and whatever Bill likes, Bill buys. There are dead-stock band patches, tons of vintage posters from the '70s, and millions of bobbleheads. Bill really likes bobbleheads. He also likes hanging things from the ceiling at odd angles: Look up and it's Pee-Wee Herman's bike and the disco ball from Studio 54. Outside, there's a giant—mostly complete—fun house, and the world's largest jack-in-the-box' essentially a giant clown head, rigged inside an old corn silo. The clown head, Bill says, once belonged to the guy who played Captain Kangaroo—we swear we're not making this up. 
Don Q Inn, Dodgeville, WIWhen the concierge tells you the bar is "just through the secret tunnel," you know you've got a winner. The theme motel to end them all: igloo beds, a space-capsule suite, and a Farrah Fawcett-autographed, full-sized airplane on the front lawn. 
Best Western Movie Manor, Monte Vista, CO The world's only drive-in-movie motel: all the rooms have large windows that look out on to massive screens that stand across the parking lot. the sound is piped in through your room's radio. there's even an on-site snack shack.
Wigwam Village Inn #2, Cave City, KY Once a staple of the American highway, this is one of the last remaining wigwam motels. It's the ultimate in genuine kitsch.
Maine Idyll Motor Court, Freeport, ME Tiny cottages, deep in the Maine woods, complete with a flickering neon sign—kind of like living in a Stephen King novel, but way cuter. As a special bonus, it's right down the street from the world's only 24-hour hunting megastore.
UFO Watchtower, Hooper, CO The truth is out there—especially along the so-called extraterrestrial highway, a strip of Colorado desert with the most reported UFO sightings in the country. For 10 dollars, you can camp in the watchtower's "vortex- filled" garden—abduction not included. 
Energy Vortex, Sedona, AZAsk around, or search out one of the Juniper Trees with twisted bark and stacks of rocks on its branches. That means you're near one of Arizona's alleged "energy vortexes": loosely defined as a different plane of being where your spiritual and psychic powers are enhanced. Warning signs of entering a vortex: tingling skin, vibrating ground, and a weird feeling in your neck and shoulders.
Lily Dale Assembly, Lily Dale, NYSince the late 1800s, Lily Dale has been a town inhabited only by mediums. In its storybook Victorian cottages, readings to the otherworld are given year-round, but the best time to go is in the summer. That's when you can witness the free sessions at the "inspiration stump," where a spirit medium stands near Lily Dale's most revered tree stump and relays messages from the dead to unsuspecting members of the audience. 
Devil's Hole, Amargosa Valley, NV Charles Manson was so obsessed with this Death Valley cavern, he famously meditated here for three days straight, finally deciding the seemingly endless pit was the entrance to the underworld. Although he was arrested before he could test his theory out, others have tried, and their bodies have never been found.
Great Serpent Mound, Adams County, OH Some people say it's a Pagan altar, but the real truth is that no one knows why there's a 1,300-foot-long, three-foot-high prehistoric-effigy-shaped grass mound in rural Ohio. 
A private home-turned-acid nightmare—"house" is really a misnomer, it's more of a complex of several structures, joined together by hallways straight out of a claustrophobe's panic attack. Once you make it through the actual "house" section: an orange-shag-carpeted, Tiffany-lamp-lit bachelor pad from the '70s, keep walking. There's a life-size whale being eaten by a giant octopus. Thousands of dolls. Walk some more, and it's a 32-piece, life-size robotic orchestra playing the Beatles. After you make it through the cavern of forever-wound music boxes, you'll finally hear the real soundtrack of The House on the Rock—a choir of gently weeping children (because some sadist decided to bill this as a children's attraction). To be fair, it does have the world's largest indoor carousel, but it's Satan-themed.