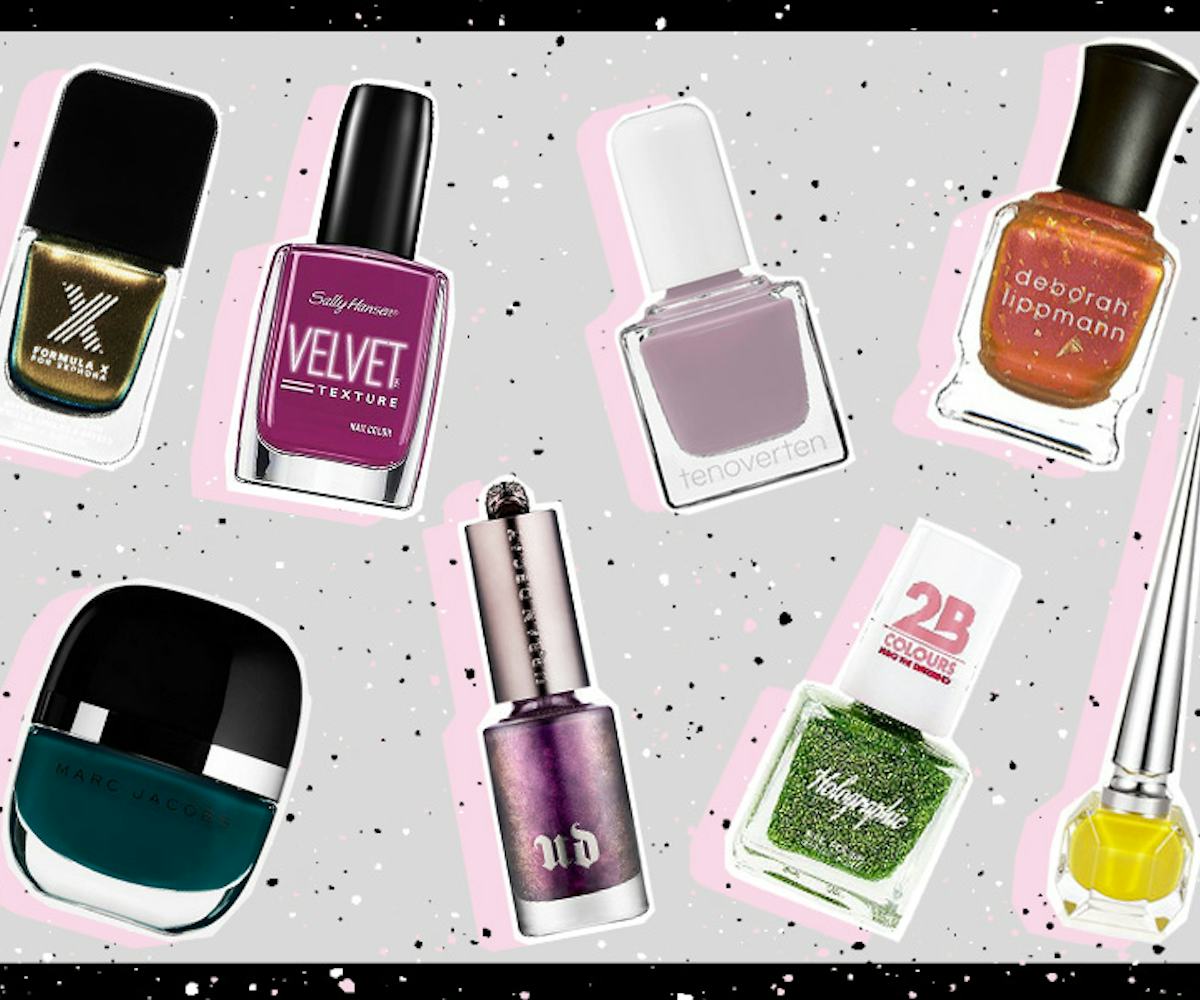 the weird winter nail polish hall of fame
because wearing the same hues every winter is so boring
If you haven't noticed by now, dark nail polish and winter pretty much go hand-in-hand. Perhaps it's the polar vortex-esque weather that has us constantly reaching for moody shades like maroon or black, but whatever the reason may be, we're thinking it's time for a change. You guys on board?
At the risk of sounding like a total cheese-ball, we'll just go ahead and say it: New Year, new nails. Instead of rocking the fail-safe shades we always go back to, let's live life on the edge and incorporate some unique, not-so-basic shades that almost verge on being weird—but in the best way possible. Obviously. 
Click through for the nails colors that made it into our weird winter nail polish hall of fame—all of which will elicit major nail-envy when worn.
For those days when you're feeling like adult life is a total scam, throw on this glittery, goblin-green polish to reconnect with your 13-year-old self.
2B Colours Holographic Nail Polish in Green, $3.99.
This sexy sienna hue reminds us of sunsets and fire, both of which are equally awesome.
Deborah Lippmann Polish in Marrakesh Express, $20. 
This two-toned, shimmering lilac-and-gold lacquer takes metallic and gives it a whole new meaning.
Formula X Shifters in Heroic, $12.50.
With a name that has us missing mimosas and a color so pretty we could look at it for hours, it's no wonder this dreamy polish is a hall-of-famer.
NCLA Nail Lacquer in Let's Pop Bottles… Pink Champagne!, $16.
Stray away from your typical navy and replace it with this iridescent ocean-blue that has us dreaming of our next vacation.
Marc Jacobs Beauty Enamored Hi-Shine Nail Lacquer in Blue Velvet, $18.
This stunning chartreuse shade looks similar to the inside of an avocado, which we're very much into it. Plus, with a fifty-dollar price tag, you know this polish is next-level good.
Christian Louboutin Nail Colour in Mula Lisa, $50.
Somewhere in between pink and purple, this magenta lacquer is essentially maroon's happier, less-jaded cousin. Not to mention, the velvety finish gives your nails a little extra somethin' somethin.'
Sally Hansen Velvet Texture Nail Polish in Crushed, $2.99.
This gloomy, pale gray looks like the sky just after a snow fall, dontcha think?
tenoverten Nail Polish in Essex, $18.
This chocolate-y hued polish with touches of red micro-sparkle throughout is everything we want and more. Don't even bother wearing makeup when you choose to rock this cause' everyone's eyes will be on your nails.
Urban Decay Nail Color in Blackheart, $15. 
Halloween may be long gone but that doesn't mean we can't flaunt bright orange nails. Also, be warned: this fluorescent cheddar shade WILL make you want nachos asap.