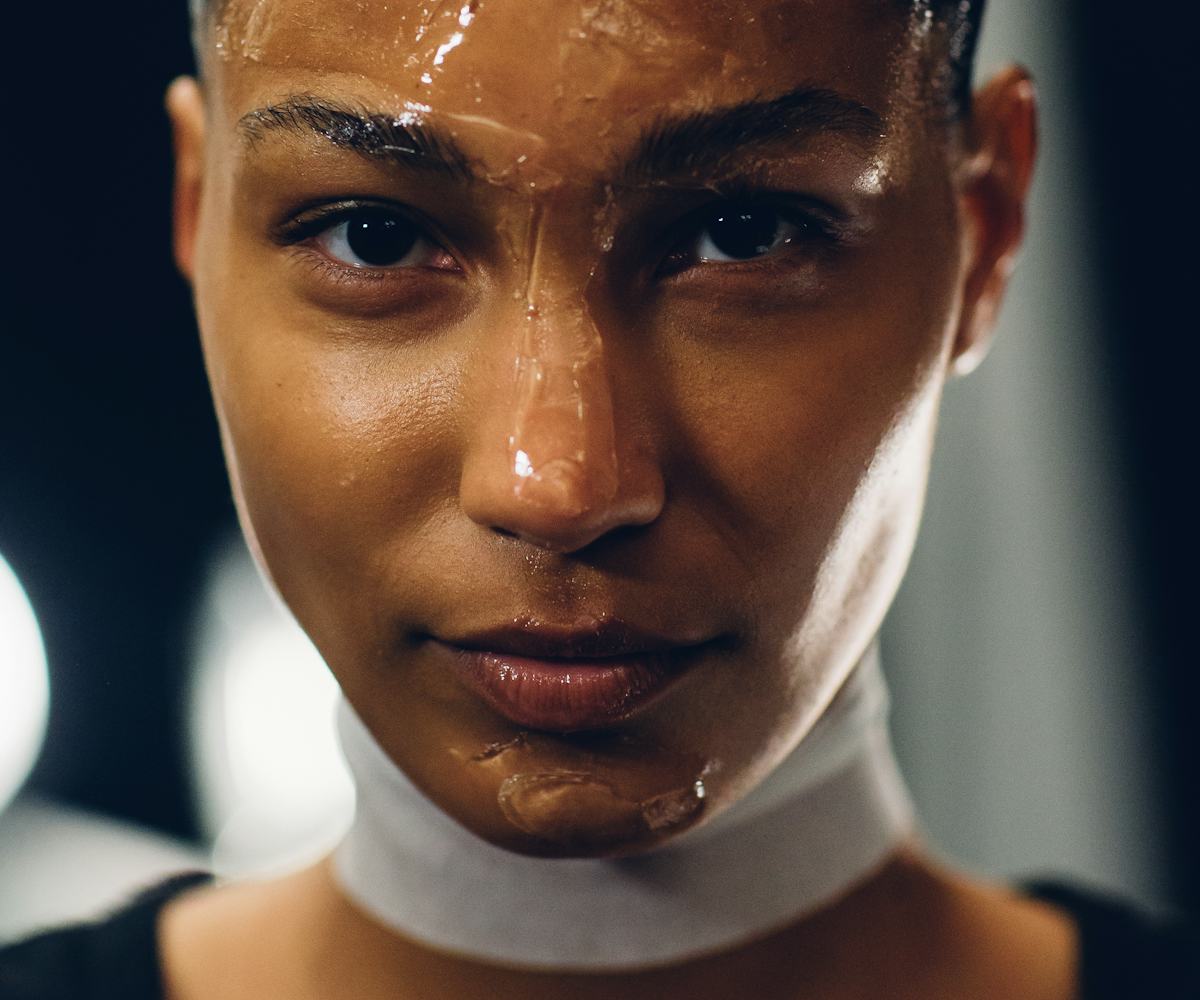 Photo by Paige Campbell Linden
18 Weird But Cool Beauty Looks From NYFW
While New York Fashion Week provides us with insight on what fashion and beauty trends we'll be all about the upcoming season, we can also always count on a few oddball moments to take place that really catch our eye. Those moments often involve beauty; we're talking hair, makeup, nails, or all of the above.
Runways shows are where beauty experts let their most creative ideas take root and come to life. From the quirky and cute, to the flat-out weird, there were definitely some noteworthy looks on the spring 2017 runways—like a slew of models covered in Vaseline and a modern update on the beehive, for example.
We kept a close eye on all of the New York Fashion Week happenings last week and rounded up 18 of our favorite moments that will inspire you to take your daily beauty routine beyond the norm. Of course, not all of these looks are easily translatable into real life. It may be hard to pull off carnival face paint and be taken seriously at work, but we would definitely give a bold colored brow a try.
Click through the gallery to peruse our top choices, and get ready to take some notes.
We don't know what's dreamier—the knotted braid crowns or the monochrome blush and shadow situation at Adam Selman.
Custo Barcelona really went for the gold, but kept the rest of the look simple.    
Hood By Air's Pornhub-sponsored show featured models covered in globs of Vaseline. This may not be something we'd try at home, but it did make for an interesting show.
How does one make a goth lip even cooler? Add a ton of glitter à la Pat McGrath for DKNY, obviously.
Say hello to the modern beehive, thanks to Anna Sui. Oh, and let's not forget wine-colored eyes, either.
At Bibhu Mohapatra, models' cat eye continued all the way into the inner corner—and we can't wait to try this ourselves.
Chromat had the sickest graphic liner and nail art we saw all week.
At ThreeASFOUR, liner was dotted outside of the lash line, rather than swiped across in one stroke for quite the interesting doll-like look.
Actual flowers were pressed to models' faces and shoulders at Rosie Assoulin. If that's not spring beauty, I don't know what is.
Meet the softer version of a Siouxsie Sioux eye, i.e. Victoria Beckham's gang of models.
Thanks to M.A.C., the models at Thom Browne had the most perfect pastel-hued pouts.
Models donned floor-length braids at Ottolinger. Though we don't know how well they would translate to New York City streets, the overall look was pretty breathtaking.
The beauty look at Jeremy Scott was out of this world, from the Jetsons-inspired hair down to the futuristic nail art.
The models at Ji Oh had the most gorgeous, ethereal frizzy curls—but what we can't get over are the bold, yellow brows.
At Gypsy Sport, models' individual hairstyles were embraced (and enhanced), while makeup ran the gamut from butterfly-carnival face paint to painted-on brows.
Forget strobing. At Tome, white paint was swiped along the cheekbone.
Barrettes of shredded lace and floral materials were scattered throughout models' whimsical hair at Rodarte.
A two-toned eye was the look of choice at Jill Stuart.