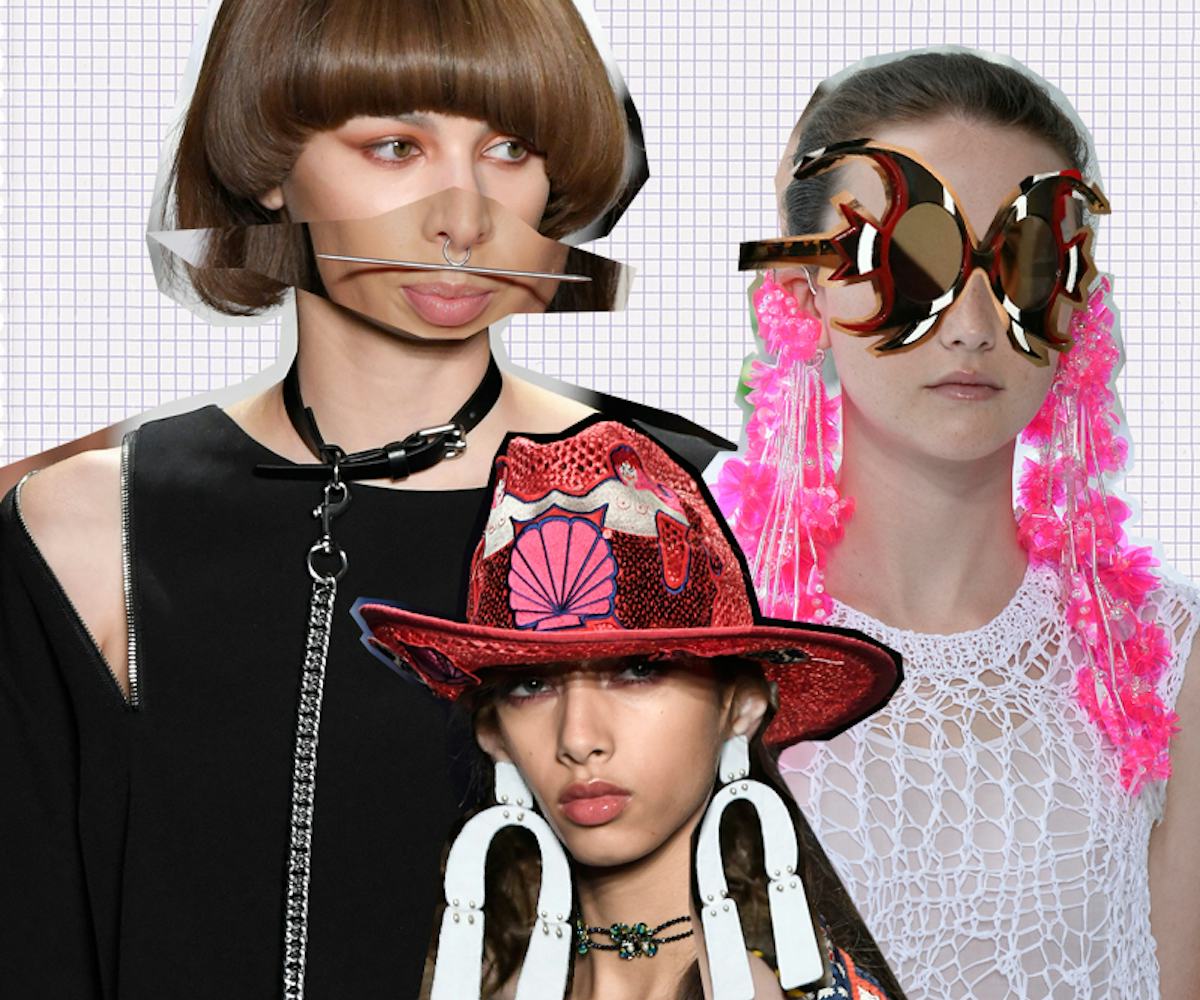 The 12 Weirdest (But Coolest) Accessories From NYFW
From goldfish sunnies to the moccasin creeper
New York Fashion Week has finally come to a close, giving us our first look at what trends will be prevalent this spring. Of course, we still have the London, Milan, and Paris runways to keep our eyes on, so our trend forecasting has only just begun.
While some of what we saw on the runway was anticipated, there were certainly a couple of oddballs thrown into the mix. From "double-sides" boots to marine-inspired hats and sunnies, the spring 2017 runways were definitely filled with some weird stuff. While some accessories had us feeling excited and inspired, others left us scratching our heads.
From the strange and off-kilter to straight-up cool, below are 12 accessories from the runway that are definitely a little out there. We're not really sure whether some of these are translatable from the runway to real life, but we wouldn't put it past some of our favorite celebs and street style stars to try pulling them off anyway.
Click through the gallery below to peruse our picks.
Thom Browne Fish Sunglasses
If Finding Nemo is on your list of top five favorite movies, Thom Browne has some killer shades for you.
Hood By Air "Double-Sides" Boots
We are a bit baffled by these, and imagine that they must be kind of hard to walk in. However, we still think they're pretty rad and are curious to see if these make it onto the feet of any street style icons or other fashion risk-takers.
Delpozo Floral Earrings
These clip-on earrings (more like earpieces) were stunning. Featured in a range of neons and white, these intricate showstoppers really popped against the label's structured and architectural pieces, adding a touch of whimsy to the overall feel of the show.
Libertine Sandals with Neon Hair
Good news for all of you out there that are too scared to dye your hair a fantasy color: You can now wear locks of electric pink and orange on your feet, thanks to Libertine. 
Marc Jacobs Platform Boot
These boots are perfect for the '90s ravers with an affinity for My Little Pony. That is if they can manage to walk in them.
Jeremy Scott Leash
You may snicker when you see people walking their children on leashes, but thanks to Jeremy Scott, you may soon see people walking themselves.
Coach Moccasin Creeper
Coach may have just created an entirely new shoe concept: the moccasin creeper. If you're feeling a little bit punk rock, but can't let go of your inner bohemian, these shoes are for you.
Chris Habana Septum Rings at Chromat
Now we've seen some ornate septum rings in our time, but this bar ring by Chris Habana for Chromat's show was definitely a statement maker (though it looks a bit dangerous).
Proenza Schouler Statement Earrings
While the Proenza Schouler boys may have added a ton of bold, vibrant color to their collection this season, we just can't seem to take our eyes off of these earrings.
Nicholas K Floppy Visor
This is the perfect accessory for anyone who wants to properly shield themselves from the sun while simultaneously letting their Ariana Grande-esque high pony run free.
Anna Sui Straw Cowboy Hat
Anna Sui made all of our mermaid and cowgirl dreams come true, by combining a bit of them both into one hat. Yeehaw!
Marchesa Ear Cuff and Barrette
We can't deny: We're totally obsessed with this gothy, celestial-inspired ear cuff-and-hairpin combination at Marchesa. It looks heavy, but we would wear it anyway for the sake of all pretty things.