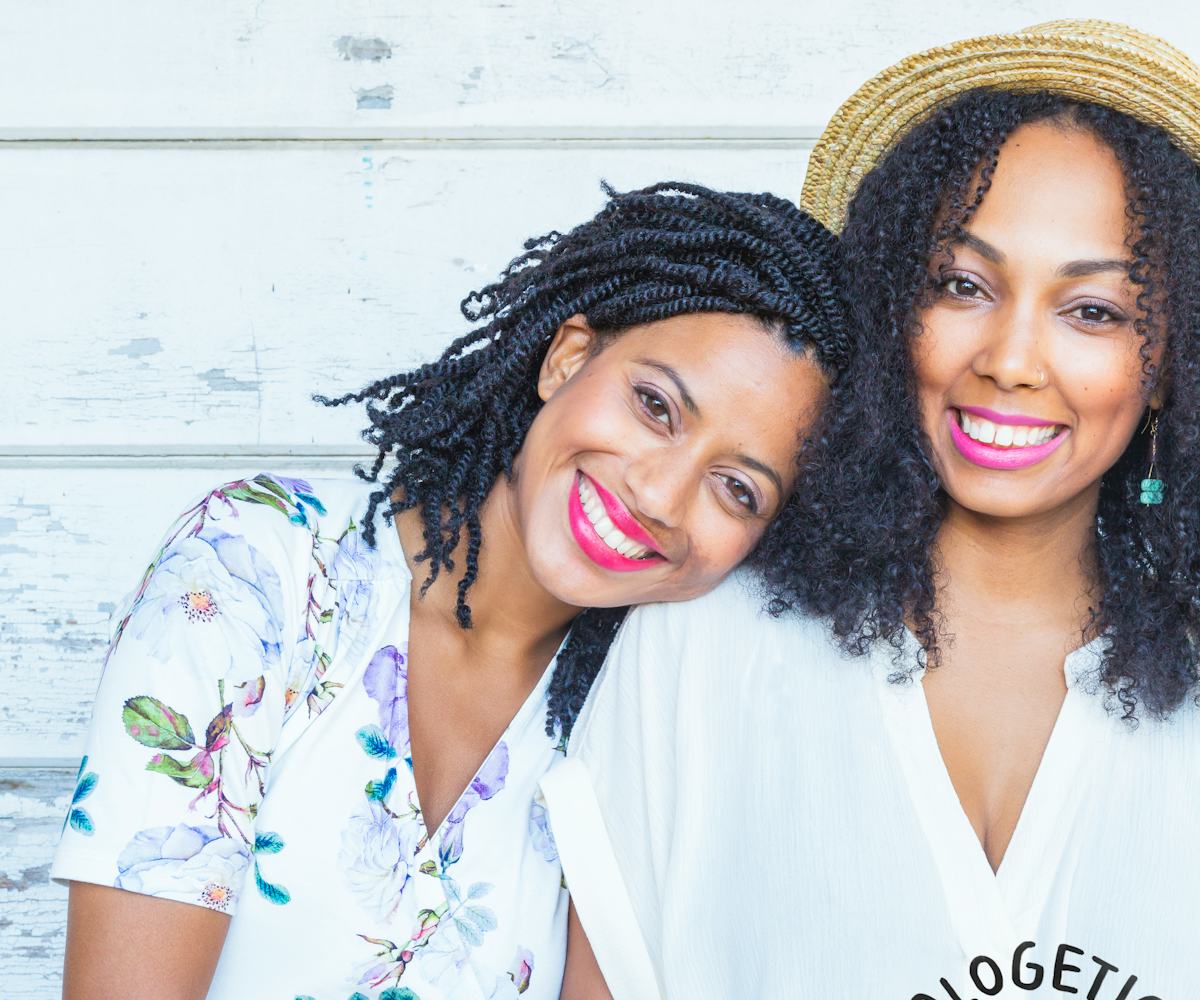 Photo courtesy of Wendy Lopez
Wendy Lopez And Jessica Jones Want To Welcome You To Healthy Food Heaven
In celebration of Black History Month, NYLON is running a spotlight series called UNAPOLOGETIC. Every day, we'll celebrate different aspects of black culture through profiles, interviews, roundtables, reviews, videos, and op-eds. #Blacklivesmatter and we hold that truth to be self-evident.
Dietitian BFFs Wendy Lopez and Jessica Jones created the website Food Heaven Made Easy back in 2011 as a creative outlet for them to share their expertise on nutrition and to guide people into healthier living habits. Although they grew up in different areas—Lopez is from Bronx, New York, and Jones is from Oakland, California—they both recognized the commonality of chronic illness amongst their loved ones. Eventually, they developed a passion for creating healthy eating habits for themselves and, thankfully, they decided to share their knowledge and talents.
Food Heaven Made Easy is their collection of videos, podcasts, recipes, and even apparel, all based on the theme of healthy living. "As a dietitian who grew up eating rich, flavorful foods, I actively work towards debunking the myth that healthy meals are dull and boring," Lopez says. She believes that we can still enjoy culturally relevant foods that are nutritious and flavorful. Jones, who also grew up eating a slew of different cultural dishes, has been a vegetarian since she had her first veggie burger at age 12. "Love at first bite, as I like to call it," Jones adds.
On top of the amazing online presence they have created, the ladies also co-authored a new book. The 28 Day Plant-Powered Health Reboot is a guide for everything you need to know about adapting a plant-based eating ritual. Learn more about these registered dietitians in the interview, below.
What is your background in cooking? How did you initially get involved?
Wendy: "Aside from skills passed down from the mothers in the family, I have no formal training in the culinary arts. My mother always had meals prepared for us, and never pushed us to cook or help out in the kitchen. As a result, I never really cooked much growing up. During my college years, I experienced chronic pain related to nutrition. When I moved back home, my mom convinced me of the importance of developing healthier eating habits. She taught me basic culinary skills, and after that, I started preparing my own meals. It's been lots of trial and error, burned dishes, and learned experiences. I can say now that I feel extremely comfortable in the kitchen, and have grown to love cooking."
Jess: "I had one or two cooking classes in graduate school as part of my nutrition program—including a cultural cooking class. I didn't really start to learn to cook until I worked for the NYC Department of Health as part of their Stellar Farmers Market Program, where I conducted hundreds of cooking demonstrations and nutrition workshops in a farmers market setting. There I learned how to incorporate delicious fresh vegetables into meals. And like Wendy, I cook most of my meals from scratch, and am really into trying different recipes from various food blogs and cookbooks."
What were your undergraduate college experiences like? 
Wendy: "Undergrad was everything. I went to SUNY New Paltz, a liberal arts school in upstate New York. I quickly felt at home, thanks to the students, faculty, and staff. We truly created a special community, and it was during this time, that I came to identify as a black woman. Blackness in Latin America is such a loaded topic, and growing up, I never knew of anyone who identified as a black Dominican. My peers and professors had a strong influence on how I saw race, gender, and identity. I walked out of New Paltz black as ever."
Jess: "I went to San Francisco State University and studied journalism (with an emphasis on magazine writing). I loved every minute of it. Journalism is another passion of mine, and I am fortunate that I get to blend the two worlds together with nutrition articles and cookbooks."
What motivated you to pursue a master's degree in nutrition so you could be a registered dietitian? Why as it important for you to become certified diabetes educators as well?
Wendy: "Heads up: I am not a CDE. When considering going back to school for nutrition, I thought about how exciting and powerful it would be to learn about the healing properties of food. I wanted to learn skills that I could apply to my life personally, and wanted to also share this education with communities dealing with chronic illnesses related to nutrition."
Jess: "I wanted to do something that was very hands on in terms of helping people. I am equally a science nerd. I remember the first day of my human nutrition class—which was at night... and four hours long. I was so engaged that by the time the class was over, it only felt like 10 minutes had passed. I literally love everything about nutrition and am happy that this is the perfect career for me. I wanted to become a Certified Diabetes Educator because 37 percent of the population has prediabetes and about 10 percent has diabetes. So many of diabetes complications can be prevented with better management of the disease. We also know that diabetes disproportionately affects people of color, which makes me very passionate about spreading the word regarding diabetes prevention and management."
What steps did you take to develop your craft professionally? How did you find your way into what you do now for a living?
Wendy: "I initially started volunteering with local organizations that were providing nutrition education and cooking classes to communities with limited access to healthy foods in the Bronx. Then I got my first job in nutrition with the New York Department of Health, as a nutrition assistant. I worked alongside Registered Dietitians, to deliver nutrition education at farmers markets in the Bronx and Washington Heights. After that, I continued to build my experience by reaching out to dietitians in the field and asking if I could volunteer with them to get more exposure. I was always very proactive about obtaining experiences that were relevant to the kind of work I wanted to do."
Jess: "Once I decided to be a Registered Dietitian, I needed to get experience. This happened while I was still completing my prerequisites for graduate school. I remember cold calling the clinical nutrition manager at a hospital in my area and asking her if she was looking for any interns or volunteers. She said they had no internship slots open, but I could come and volunteer a couple of days a week in the nutrition department. I did that for months, and then when I was ready to apply for an official nutrition internship, she was happy to take me on as an intern at the hospital. I also worked with Wendy at the New York Department of Health and have worked as a clinical dietitian in both a hospital and outpatient setting. I regularly attend seminars and trainings on different topics, such as adult weight management, diabetes, and motivational interviewing."
How did you both meet?! How did Food Heaven Made Easy come about?
Wendy: "Jess and I met through a mutual friend. Jess was already in school for nutrition, and since this was something I was interested in, I drilled her with a million questions about how she got started. She provided lots of guidance, and next thing you know I was completing my prerequisite work for consideration into a nutrition graduate program. We then began working together doing nutrition education at farmers markets. Once the farming season was over, we decided to brainstorm ways that we could continue to provide nutrition education year round. Food Heaven Made Easy was born with the intention of providing accessible nutrition education in ways that are creative and interactive."
During this difficult period of social injustice, activists are also calling on artists to create. What keeps you inspired to practice your craft?
Jess: "The great thing about the work that we do is that we are able to witness outcomes in very real and tangible ways. We see how powerful nutrition education is with our patients. It's so meaningful to see how the education we provide can literally transform how someone feels physically and emotionally."
What are some pro tips for people looking to improve their diet while living on a budget?
Wendy: "Stick to the basics. There's no need to purchase specialty 'health foods' that break the bank. Stick to fruits, vegetables, whole grains, beans, nuts, seeds, and other whole foods that are minimally processed. As one of our favorites says, 'Eat food. Not too much. Mostly plants.'"
What vegetables can't you live without at the moment?
Wendy: "Arugula, baby kale, and Brussels sprouts."
Jess: "Butternut squash, dinosaur kale, and all of the herbs."
What are you hoping to accomplish with Food Heaven Made Easy?
Jess: "Ultimately, our mission behind FHME is to create creative spaces that motivate people to live healthier lives. We want to continue to develop multi-media tools and resources that are effective in helping people develop lifestyle changes. Currently, we do recipe and content development, host a nutrition podcast, and just recently started doing webinars. We also recently released our first ever cookbook The 28 Day Plant-Powered Health Reboot. We hope to keep working on fun and dynamic projects that involve food and nutrition."